Your Social Media Management settings contain a wealth of different features for you to manage your organization. Various setting options are available via the Manage settings (gear) icon in the bottom-left corner of the platform. In this introductory article, we'll go over all of the options you can find in settings.
In this article:
Warning:
Depending on your user role, you might not have access to some parts of the Settings menu features.
---
Quick access features
Some quick access options are available at all times from the left-hand navigation sidebar, lower-left corner in the platform:
Find help and support

Manage settings

Switch organization or team

Manage profile
---
Settings features
Profile details
Clicking on your profile icon in the lower-left corner of the platform and selecting Profile details will take you to your profile settings.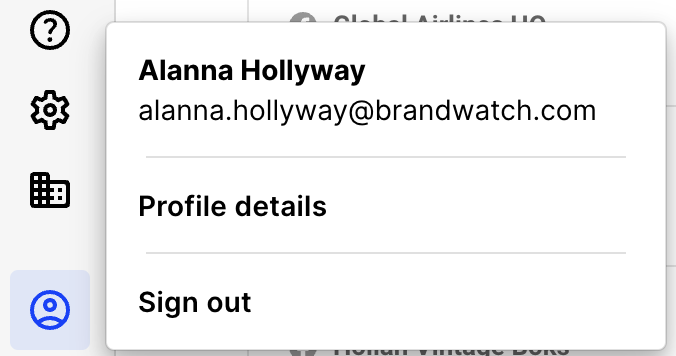 My profile

You can change personal information, set a profile picture, and set your format preferences.

You can also change your password here. We highly recommend that you enable two-factor authentication (2FA) in addition to a strong password.

A social login can be used to sign into Social Media Management through some of your social media accounts. Depending on your organization's set up, this feature may be turned off or enforced.

Lastly, you can see which teams you have been added to.

Notifications

You can choose if you want to receive an email notification each time a new piece of content arrives in Engage. (This is recommended for less active social media channels that are not actively monitored).
Organization admin
Clicking on Manage settings (gear icon) > Organization admin in the left-hand navigation sidebar will take you to your organization admin options.


Overview

The Overview section offers some general statistics of your organization. There are shortcuts for adding channels, users, and teams.

Teams

An overview of all teams that you have access to. For Admin users in Admin View, this means all teams in your organization. For other user roles, it will show the teams you are assigned to.

Clicking on a team will open further options for managing that team. Users and channels can be added or removed to/from teams.

For reporting purposes, you can set Business Hours and Service Targets for the team. This can offer more insights in your Team Performance Report.

Users

Similar to the Teams section, this is an overview of all the Social Media Management users in your organization, or in your assigned teams. New users can be created here and existing users can be deleted or changed.

Clicking on a user will open a detail view. Access levels, user expiration, and default geo-targeting of Publish content can be set there, as well as user roles for individual channels and ad sets.

Label Management

In the Label Management section, you can gain insights into the usage of labels for reporting purposes. You can create, merge, and delete labels, as well as define which Users can create new labels.

Engage Templates

Engage reply templates can be set per team. These let you send a standard reply to common inquiries.

Integrations and APIs

Social Media Management supports a number of third-party integrations. Learn more about what integrations and APIs are available in our help center.

Audit Log

The Audit Log contains most actions taken by users on the platform, such as logging in or deleting a user. Admin users can see an overview of all actions taken by all users, while other user roles can view only the actions they took themselves. For more information, refer to our dedicated Audit Log article.
Channel admin
Clicking on Manage settings (gear icon) > Channel admin in the left-hand navigation sidebar will take you to your Channel admin settings in the platform.


Channels

Ad Accounts

Channel Groups

Campaign Tracking and Tracking Templates