The Publish module is where you can plan, create, and distribute your content. In this article, we'll explore the general functionalities that the Publish offers.
In this article:
---
Creating content
Clicking Create Post in the top left of Publish will launch the post creation workflow.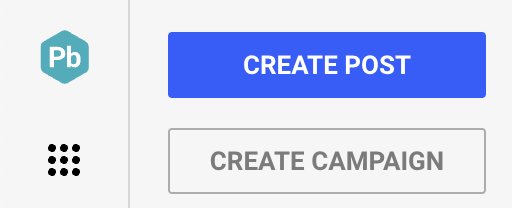 On the following screen, you'll select the network and channel(s) you'd like to create the post for, then click Create Post again to proceed to the post editor.
Note:
Currently, it is only possible to create a post on one network at a time. However, you can select multiple channels on the network to publish your post to.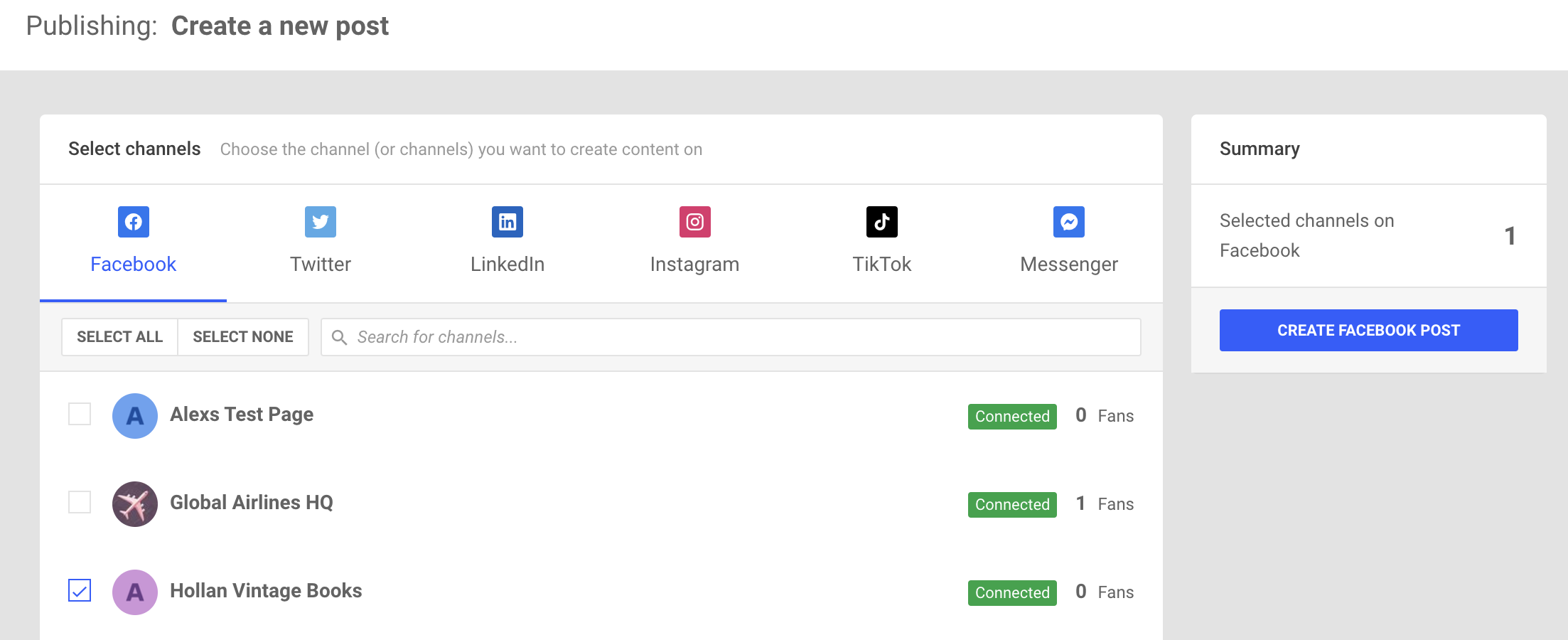 On the left side of the post editor, you will see areas to add your post text and define the properties of your post. The center panel provides a preview of the post as it will appear on the native network. On the right, there's a notes section that can help you collaborate with your colleagues.
Tip:
We support many post types in Publish. Visit the Creating Posts section in the help center to get an overview of how to create each type of post.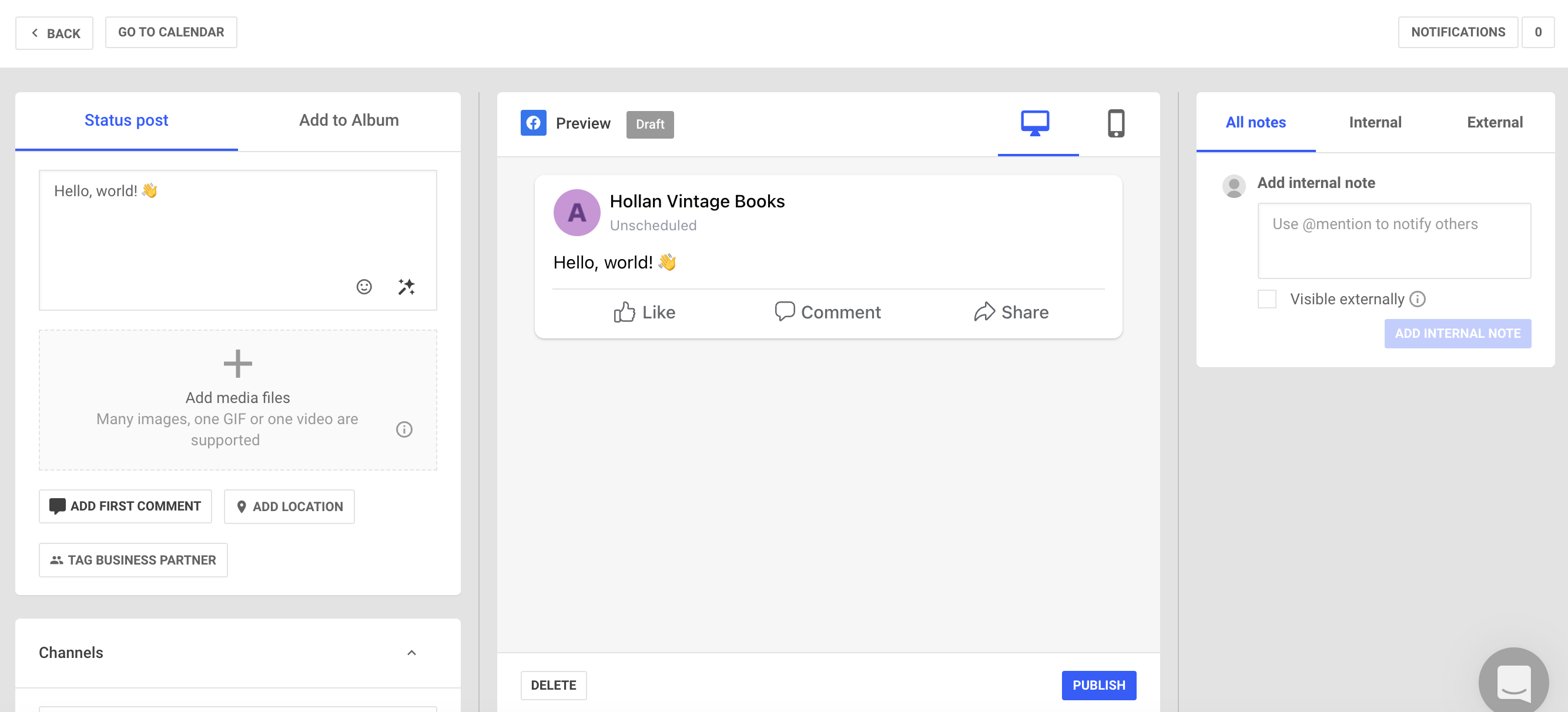 The most basic type of post you can create is a simple text post. You add the text in the top left text box and publish it to your channel by clicking the Publish button in the bottom right.
There are many additional options that can help you plan and customize your content. For example, you can add additional channels to publish your post to, schedule your post to go live on a specific date and time, promote your post, or apply geo-gating and feed targeting.
Tip:
Adding media such as images and videos to your content? Be sure to review our media attachments guide for file specifications.
We highly recommend adding labels to your posts to optimize filtering for your content and reporting on its performance. Some other features of Publish include cloud storage services for easy access to post attachments, a built-in photo editor, automatic link shortening with UTM tracking templates, and the option to copy your post from one network to another.
Lastly, we support approval workflows with the option of choosing an approver for your content. This will notify the chosen user(s) that a post is waiting for their review. They can make the necessary adjustments and approve the post when it's good to go.
---
Mobile publishing with the Hub app
For those times you'd rather publish on the go, we've got you covered with both our Quick Publish app and Hub app, available for Android and Apple devices.
---
Creating campaigns
Campaigns are a way of communicating your goals, aligning your content, and providing relevant assets across your teams. Under the Details tab, set a running time, description, notifications, and reminders for your campaign. Under the Stock Items tab, add the assets that will be used for your campaign posts. Once your campaign is created, it will display in the Publish calendar and serve as a powerful tool for telling your campaign's story across your brand.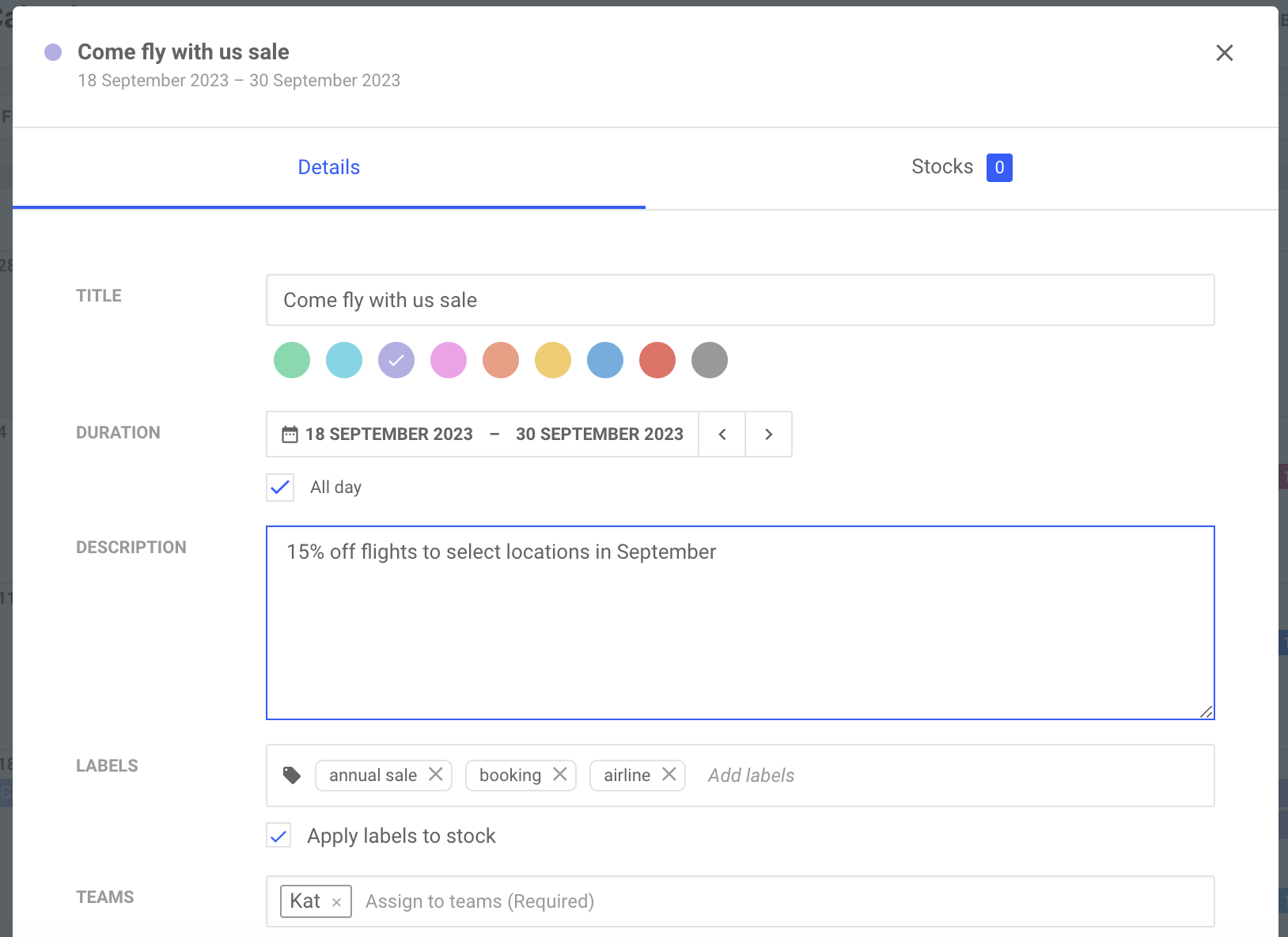 ---
Using the content pool
The Content Pool is an available tool to align your content across your organization. It serves as a content storage solution from which assets can be copied to your posts. By default, all users and teams have access to the same Content Pool, which makes it a breeze to share assets across your organization.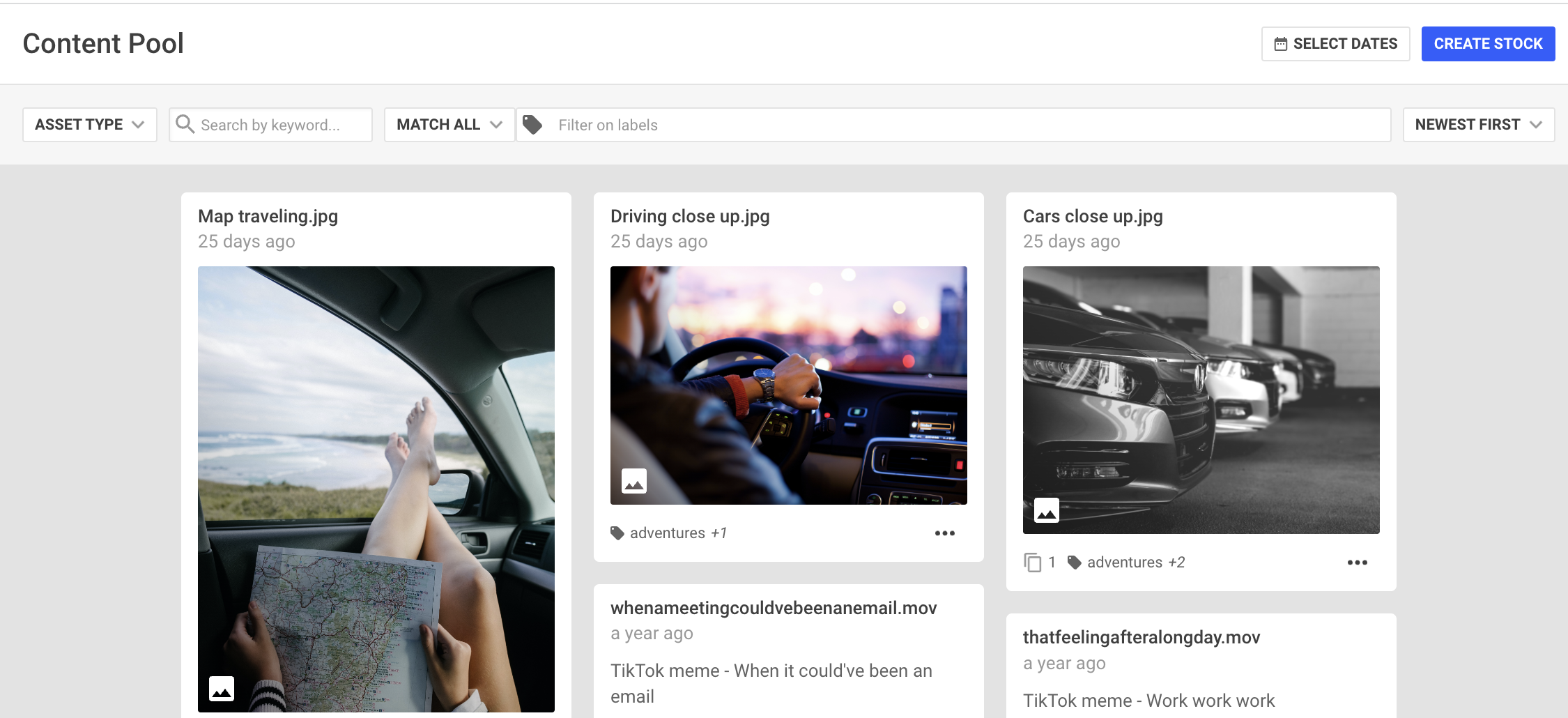 Note:
Not all Social Media Management packages include access to the Content Pool.
---
Viewing content by state
Apart from content creation options, Social Media Management offers a number of content overviews.
When you first open Publish, you will see the Calendar in week or month view. All past and future content can be seen at a glance.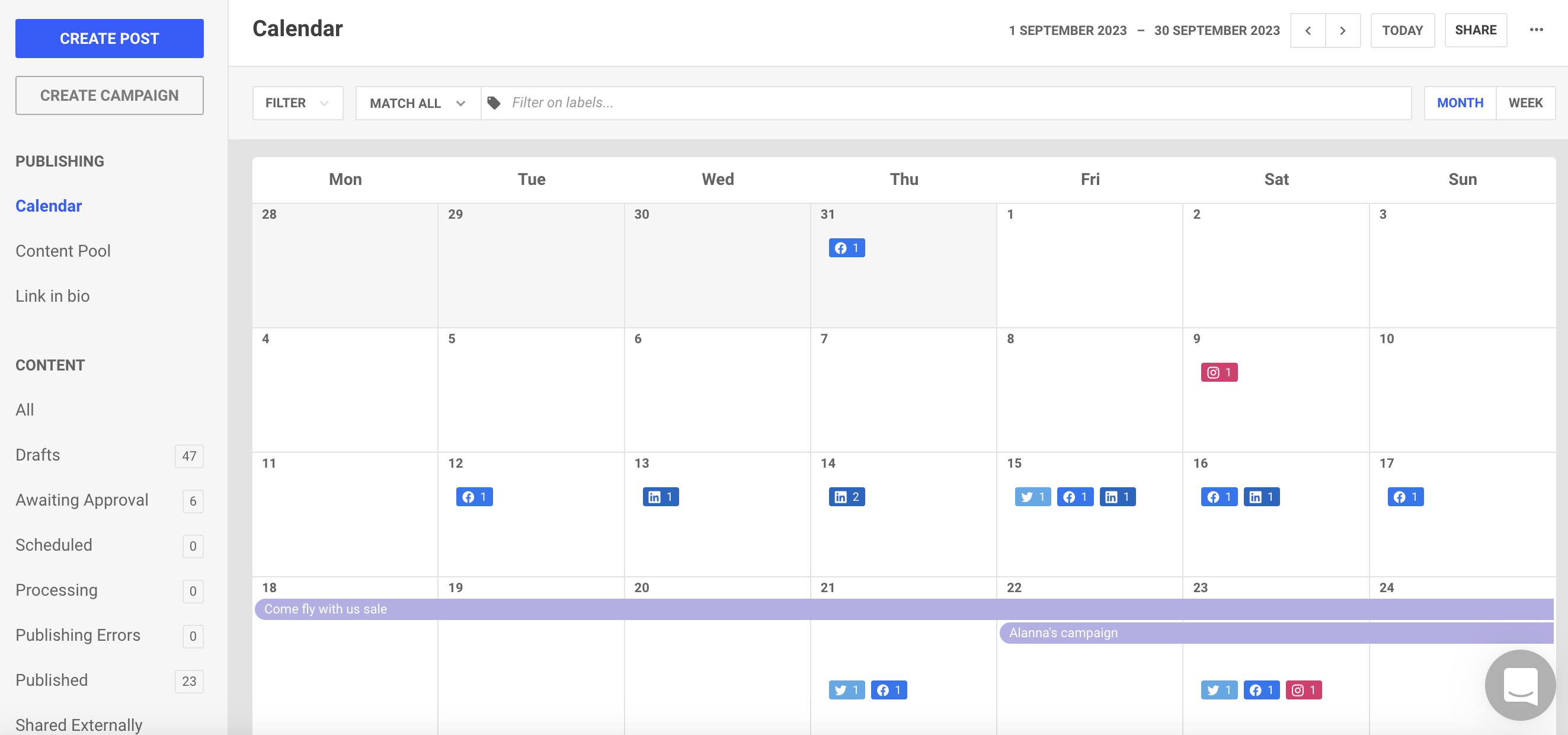 Clicking on any date or post will give you further options for copying, editing, or viewing.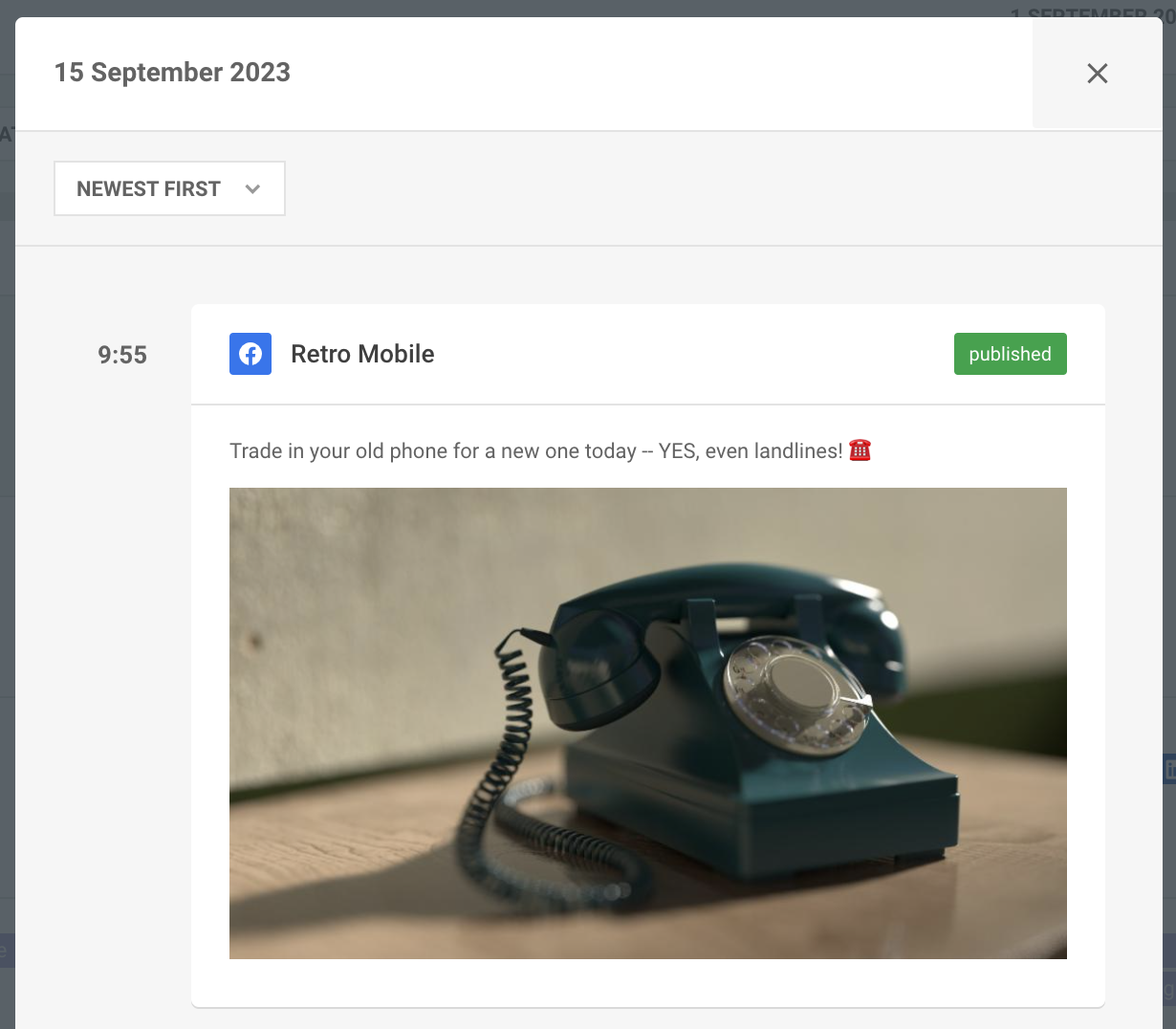 In the Publish menu on the left, you will also find content by state sections. For example, you can find your Drafts, Published, and Scheduled content there. Click on a Content by State section to see all of your posts currently in that status.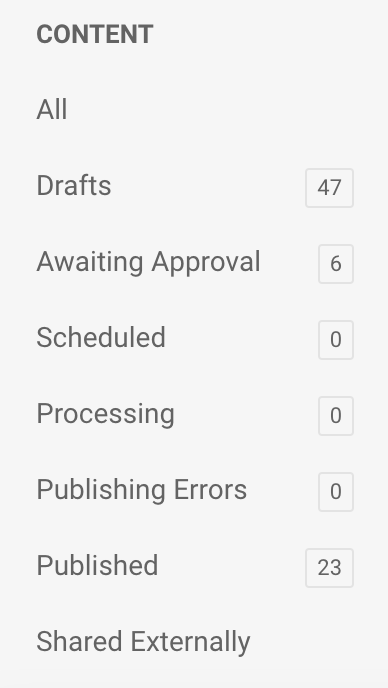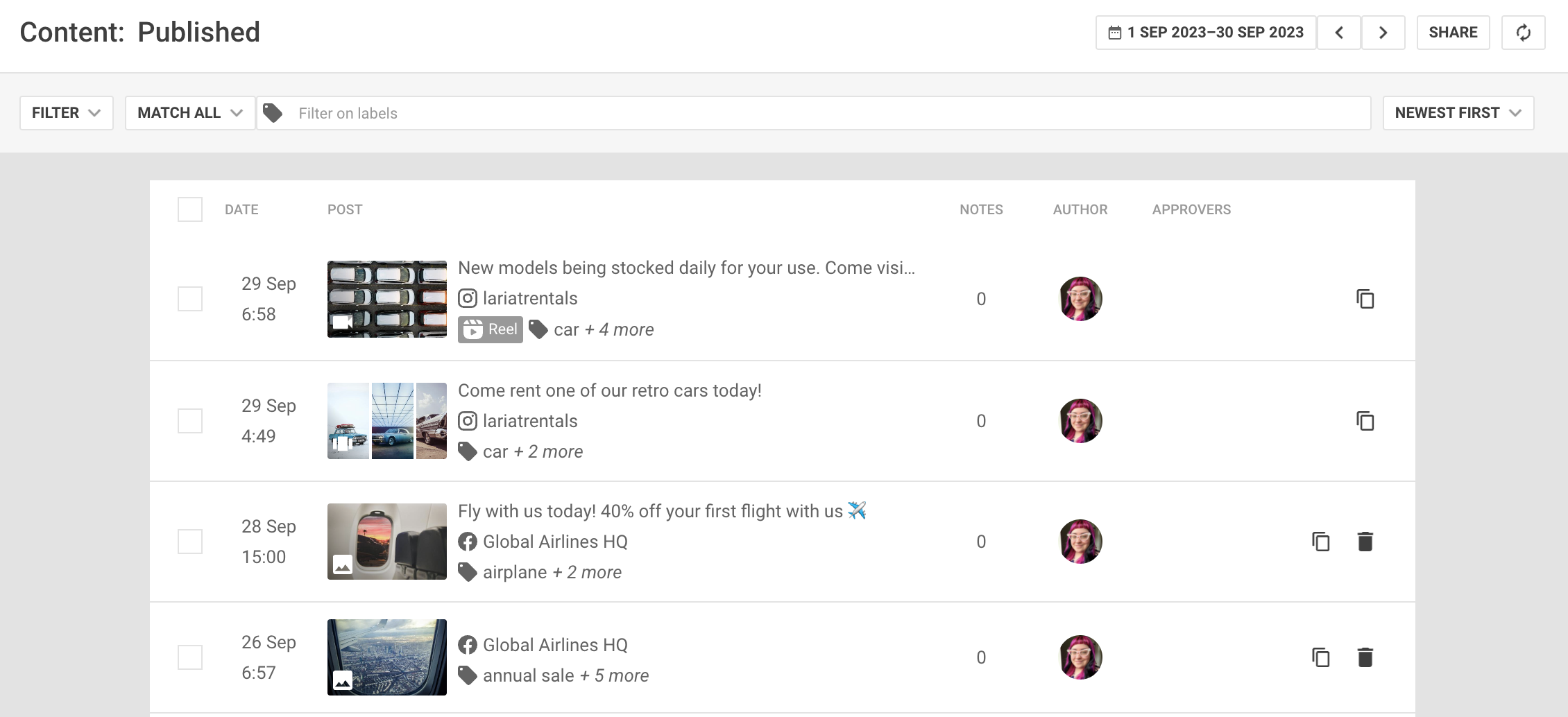 The Processing section shows posts that are currently in the process of getting published, such as Instagram stories that are waiting to be published with the Hub app.
The Awaiting Approval section will show you any posts that need to be approved by you or one of your colleagues in order to be published.
The Publishing Errors section will contain posts that encountered an error during the publishing process. You will find an error message attached to the individual post explaining why it failed. If you need any assistance resolving publishing errors, please reach out to our Support team.
Under all Content by State sections, you have the option to select and share posts externally for third parties to view. Any posts you share will populate on a shareable view URL that you can send to your third party stakeholders. The Shared Externally section in the Content by State menu will house any externally viewable pages and URLs of posts you have shared.
---
Using the calendar
Once you start creating and publishing posts with Publish, you will see your content populate on the Publish calendar. The calendar offers filtering options at the top for you to quickly filter and sort through your posts. On the right side, there's a date range option that lets you decide which timeframe you want to see content for. In the center, you can filter for labels that you have applied to your posts. On the left side, there's a number of filtering options for the type of post, channel, network, or the assigned approver for example.

---
Eager to learn about Social Media Management's other tools? Continue your journey by visiting our other introductory articles.