Find out which exciting new releases made it to the Social Media Management platform in September 2022.
---
Advertise
Ad accounts in the URL
Now all links (URLs) in Advertise include ad account ID and additional details. This means you can view different ad accounts in different browser tabs and send URLs to specific campaigns, ad sets, or ads to your colleagues.
---
Publish
Updated Instagram file requirements
These changes apply to single Instagram videos and Reels only and not for Instagram carousels, stories, and images. The changes include:
Accepted file types are MOV or MP4
Aspect ratio can be between 0.01 and 10.0. Recommended is 9:16
The width of the video can be up to 1920 pixels. Height depends on the width and aspect ratio.
Length can be between 3 seconds and 15 minutes
Size can be up to 1GB
Note:
Although you can publish reels with longer durations and different aspect ratios, only reels with durations between 5 seconds and 90 seconds and aspect ratio of 9:16 are eligible to appear in the Reels tab of your Instagram channel.
Twitter Card preview
Now you can see the Twitter Card (a preview of how the link in the post will look when published) of the links in the Twitter posts you prepare.

The type of preview depends on the meta tags the target website has. There are 4 types of previews that Twitter can display:
large image preview
small image preview
player
app
---
Measure
Label performance Widgets in the Measure Dashboards
With the new 'Label Performance' widget in the Dashboards, you can get more detailed information about your labels. This lets you analyze the performance of your posts grouped by labels. You get the number of posts that have every label for the selected time period, their impressions, reach, engagement and many other metrics. If there are posts without label, they will be grouped in the "Posts without label" row, and this combined row shows the same metrics. You can filter for labels, post type and the other filters available for post performance. You can also click on each label and see all posts with that label.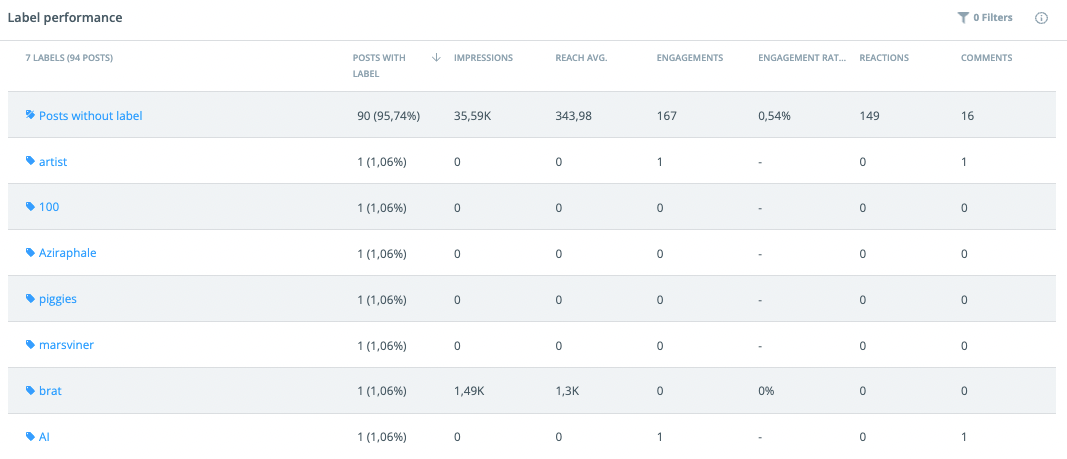 Additionally, you can use the new Label performance dashboard template and create a new dashboard dedicated to label performance only. In this dashboard, you'll get the Label Performance widget and the Labelled Content Performance widget, which shows the best performing labelled posts.
---
Engage
See Reactions across public conversations
Now you can see the type and number of Reactions (Like, Love, Heart, Care, Haha, etc.) that have been left on public posts and comments. This is available for Facebook, Instagram, Twitter, LinkedIn, YouTube and TikTok.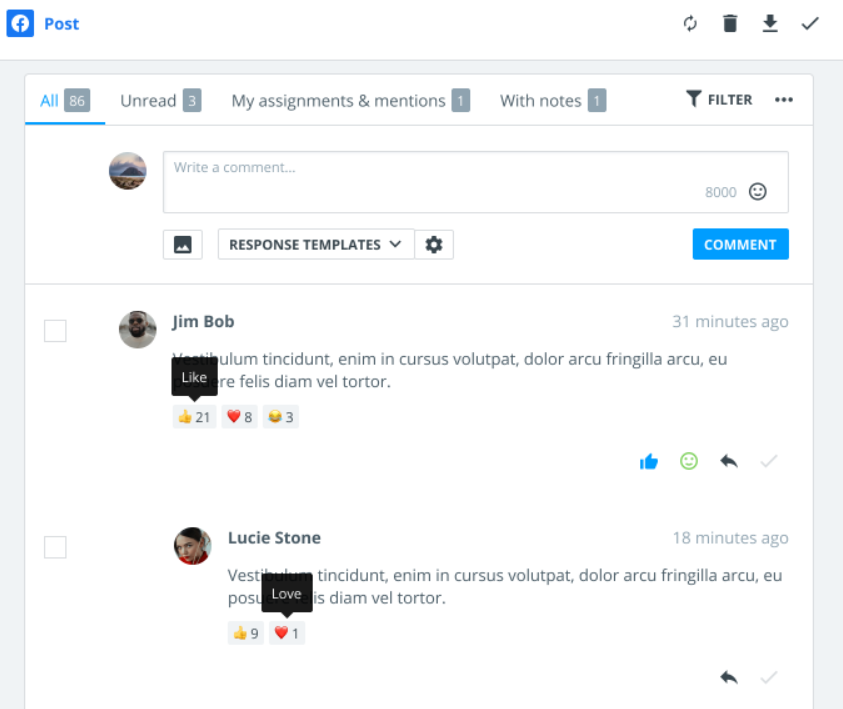 Instagram Reel Mentions available in Engage
You can now see Reels or comments under Reels in which your brand channel has been mentioned. The feature is the same as our support for regular Instagram Mentions.
Reel filter for Engage feeds
A specific feed filter for Instagram Reels got introduced in Engage. You can now select Reels as a post type, so you can include only Reels in your feeds. Reels are shown in feeds with their own 'Reels' label, compared to regular Instagram content, which is shown as a 'Post'.