Find out which exciting new releases made it to the Social Media Management platform in May 2022.
---
TikTok
Introducing TikTok to Social Media Management - In May, Social Media Management partnered with TikTok to allow you to directly view your content, track success, and engage with your TikTok conversations directly in the platform.
What was Introduced?
Following Social Media Management's new partnership with TikTok, it's now possible to connect your TikTok Business accounts to Social Media Management. Once connected, you can view and interact with your TikTok content directly in the Publish, Engage, and Measure modules. Please click the headings below for more information on what you can see in each module:
For the full overview and introduction to TikTok in Social Media Management, please visit the guide here.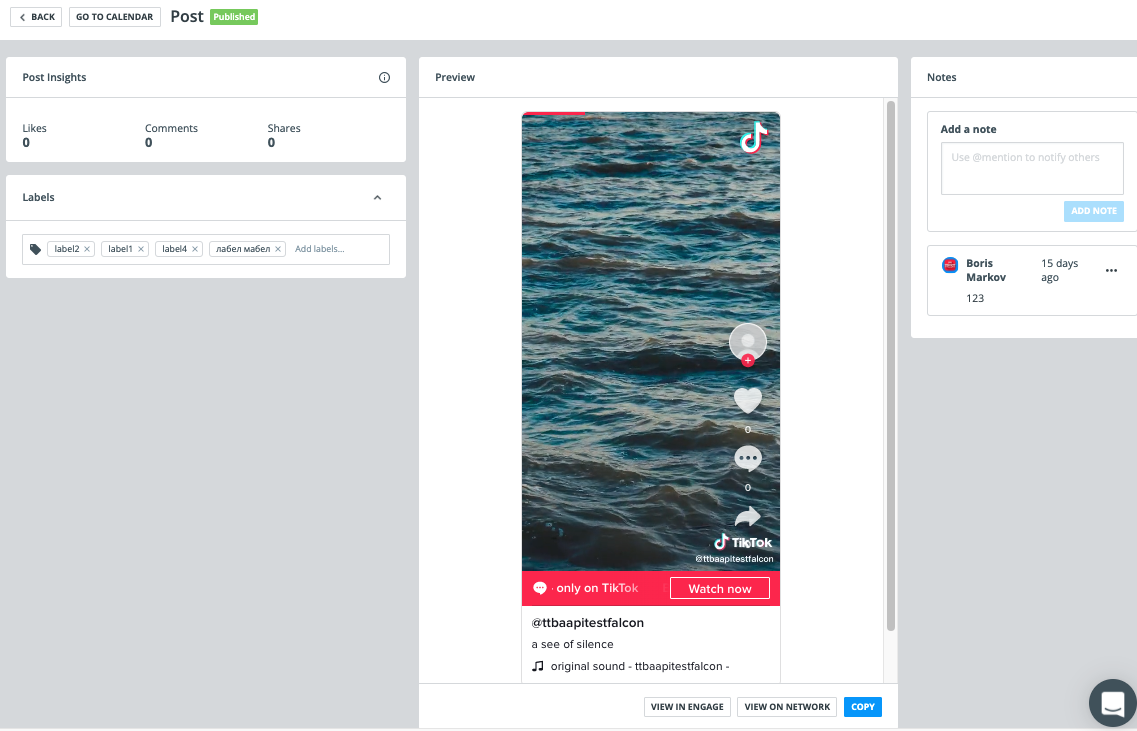 ---
Publish
Instagram carousel publishing
In publish, content creators can simplify their publishing flow for Instagram carousel posts. Thanks to a recent update on Instagram's API, it's now possible to publish carousel posts directly from Social Media Management, without the need to use the Hub App.
You don't need to make any changes, and you can begin scheduling your carousel posts for all connected Instagram Channels. For a full overview of the available post-types in Publish, please visit the guide here.
Recurring Notifications
Some customers may miss out on your published content, or prefer to interact with your brand exclusively by direct message. To keep your direct message customers updated, you can now offer the chance to send your marketing content via recurring notifications instead.
Once a customer agrees to receive your recurring notifications, you can send updates on an agreed-upon frequency, regardless of Facebook's response time policy.
Please visit the full guide for more information how it works, and how to get set up.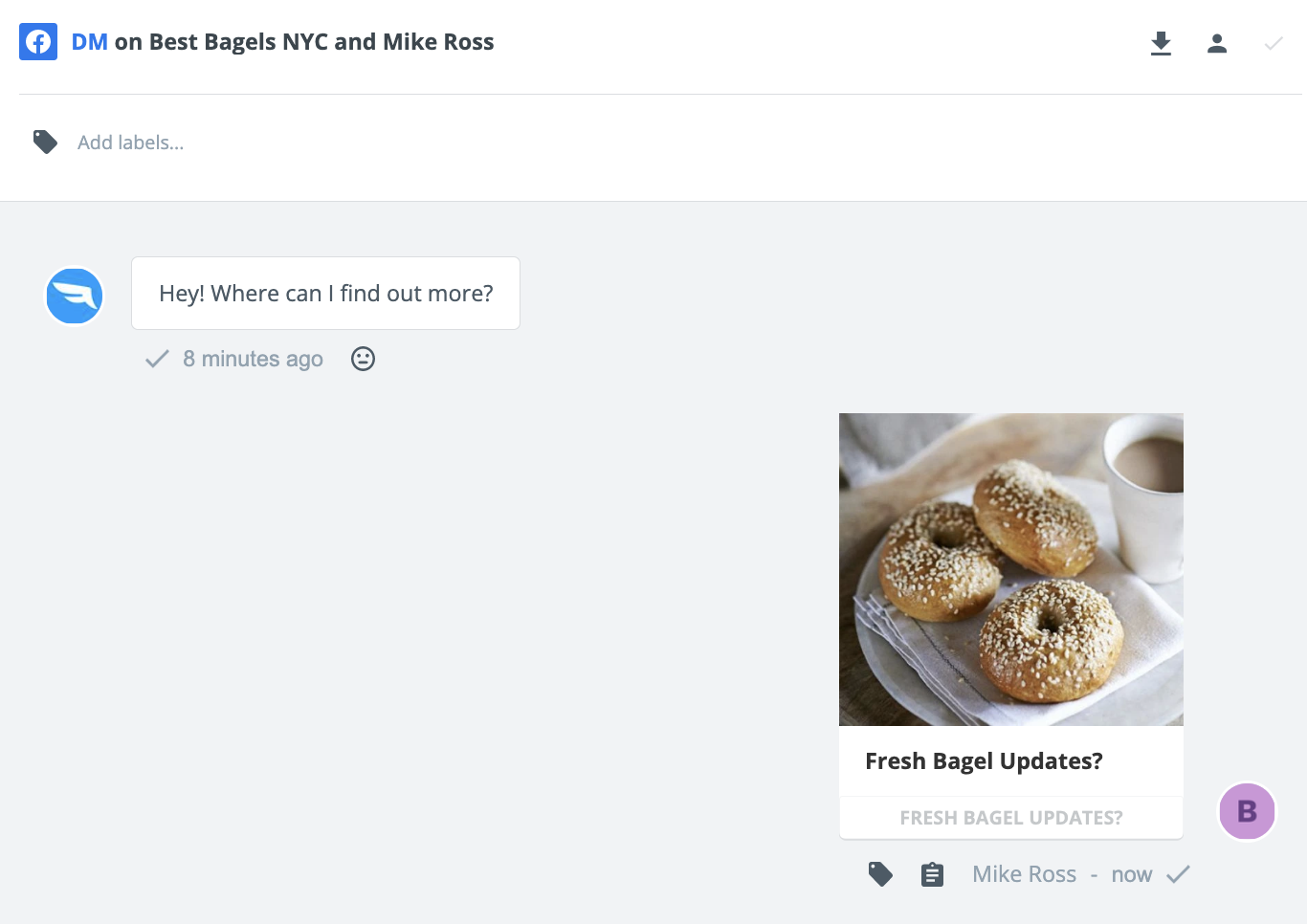 ---
Engage
Optimize your automation in Engage by sharing your response templates among your other Teams and Channels.
In Engage, you can now create one template and choose to share it with any combination of Teams and Channels in your organization. In addition, you can choose to share your template with specific Channels, including any current and future Teams they may be included in.
For more information on how you can configure your template's settings, please visit the full guide here.
To get started setting up your templates, follow the steps below:
If you are an Administrator or Team leader, go to Engage and open a message from any of your feeds.
Click Settings next to Response Templates.
From the top right, click New Template.
Create a name for your template. Enter the text you want the template to contain in the message field.
Under Teams and Channels, select which teams and channels you would like to be able to use the response template.
Hit Save. Your template is now saved and available to the selected teams and Channels.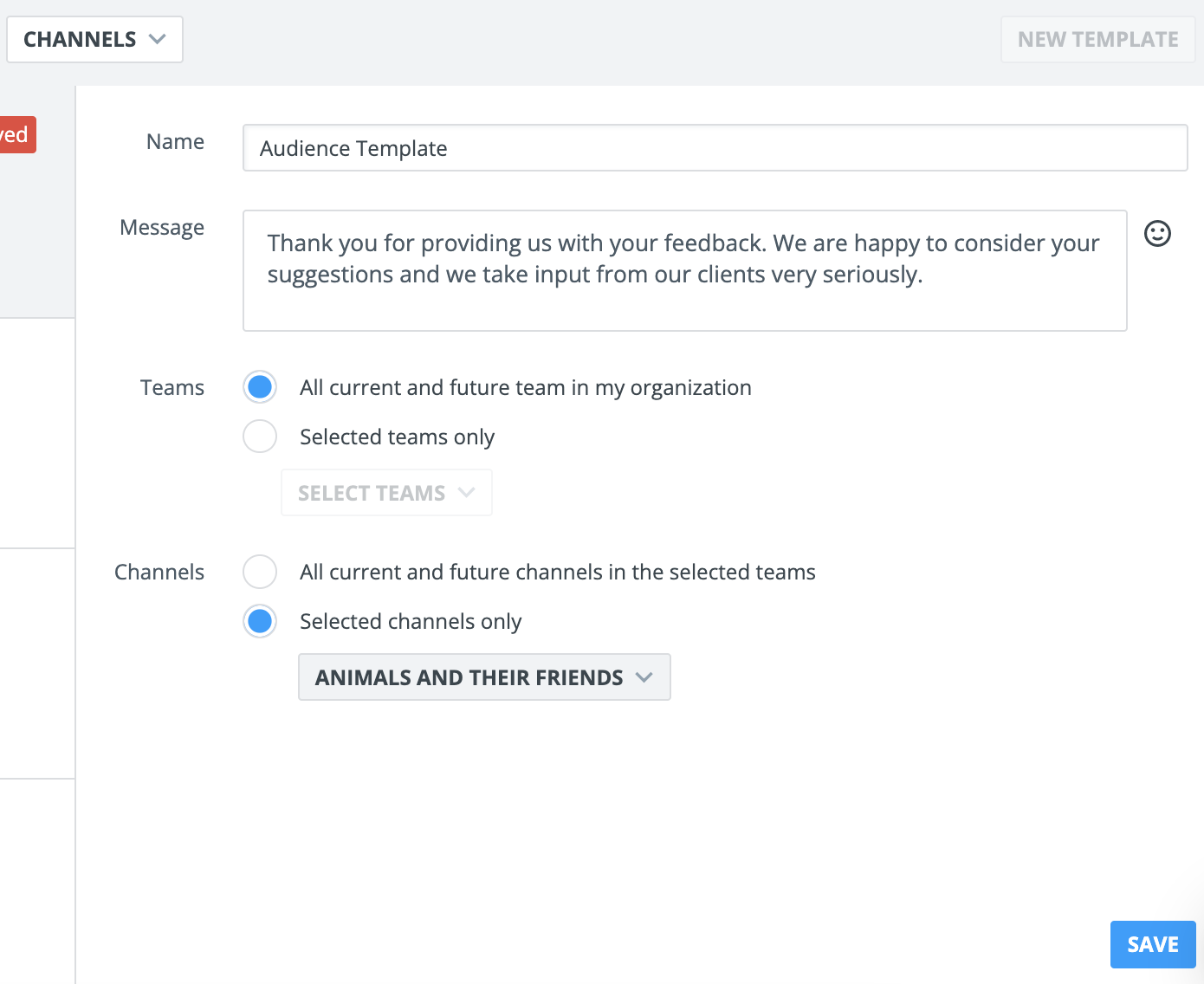 ---
Listen
Export mentions in PDF
For a visual overview of your Searches in Listen, you can now choose to export up to 500 mentions in PDF format.
Keep your stakeholders in the loop about important mentions without taking screenshots - In Listen, you can now easily export up to 500 mentions in a PDF format.
To get started, please follow the steps below:
In Listen, click the Saved Searches tab.
Select the applicable existing Saved Search.
If applicable, apply any filters to limit your mention results. Please visit our guide to filtering your searches here.
Use the calendar icon in the top right to adjust the timeframe.
Above the list of mentions, click Export.
Choose either PDF or CSV.
Specify the number of mentions you would like to export.
Click Export.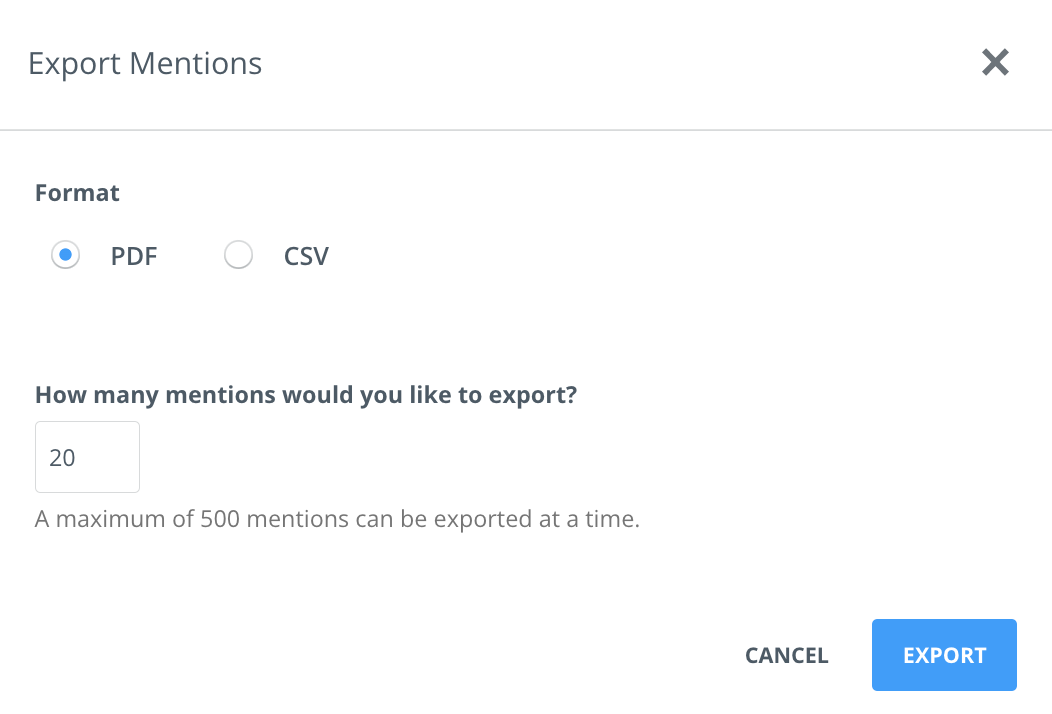 Top authors component
Gather a better understanding of your search's top authors by viewing their social impact. The improved Top authors component will now highlight your author's name, profile pic/site icon, location (where available), reach, and follower count.
In addition, you can scroll through up to 50 top authors, and choose to rank your top authors based on mentions, twitter followers, or reach score. By clicking on any author, you can view all filtered mentions by that author from the Mentions list on the right-hand side.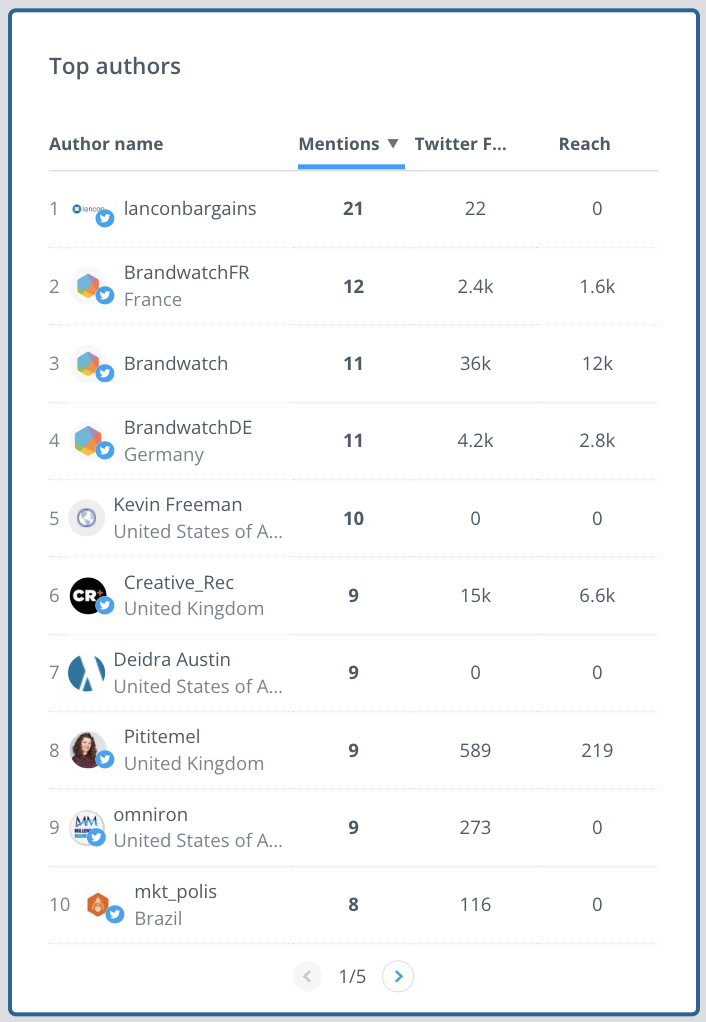 ---
Settings
App Switcher
As we take the first steps towards bringing the Brandwatch and Social Media Management products closer together, you can now choose to easily navigate from one platform to the other with the click of a button.
As of May, 2022, provided you meet the necessary criteria highlighted below, you will be able to log into one product (either Social Media Management or Brandwatch) and seamlessly navigate to the other using the app switcher available on the sidebar. While switching to another product, you will not be asked to log in again, and you can easily choose to switch back.
This will allow you to save time navigating and logging into each platform separately. You can check out some key highlights of the new feature below:
The new product switcher will be available from the sidebar in both Social Media Management and Brandwatch.
You can choose whether to log into Social Media Management or Brandwatch first.
While switching from one platform to another, you will not be asked to log in again.
Your passwords/login credentials for each platform will stay the same.
To get started, please follow the steps below:
In either product (Social Media Management or Brandwatch), get started by entering your email address and logging in with your applicable login method. Please see the attached guide for help logging into Social Media Management.
From the sidebar on the left, click the More products dropdown..
Click Switch to Consumer Intelligence (from Social Media Management). Or Switch to Social Media Management (from Brandwatch).
For more information and eligibility criteria, please visit the full guide here.