Audience gives you a unique insight into your existing and potential customer base. It combines information from multiple touchpoints, giving you a unified customer experience solution. Audience helps you manage individual customer interactions and offers aggregated customer data from all your connected Channels.
In this article:
---
What Are Audience Profiles?
The Audience module revolves around so-called 'Audience Profiles'. Each profile is a collection of data associated with one or more social media profiles. Usually, this data relates directly to a person.
A profile can contain the name of a person, email, links to their social media profiles, address, profile picture, and job title, among many other details.
Indexing this information can happen in multiple ways. Audience automatically interacts with the Engage module to pull in any profiles of users that engage with your published content.
Note:
Audience profiles are created from Engage when a person leaves a post, comment, direct message, or a tweet. An Audience profile is not created for other actions, such as likes.
Warning:
Instagram has anonymized the data of users when delivering content over their APIs. Therefore, Audience profiles cannot be indexed from Instagram content.
Finally, you can always go the manual route by importing profiles through a CSV file.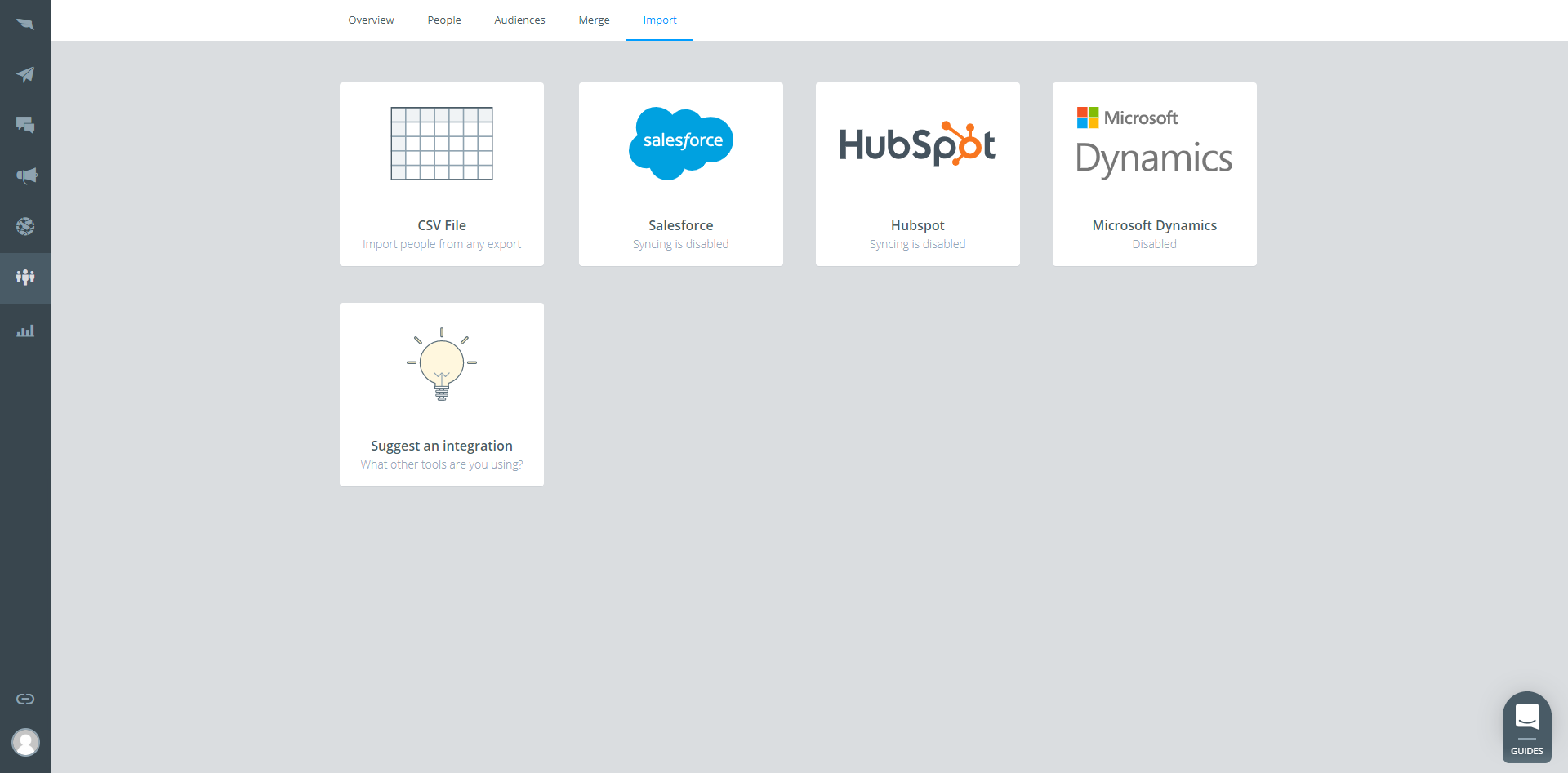 All these sources combined will give you a powerful database of insights. You can leverage this in shaping your customer experience just right. One way is by always having your individual customer data at hand in all your Engage conversations. Another way is through 'Custom Audiences'. Read on for more about those.
---
Overview Section
Opening Audience gives you a high-level overview of a few important statistics, such as what people are talking about in connection to your brand, how many profiles are being indexed, and where they are coming from.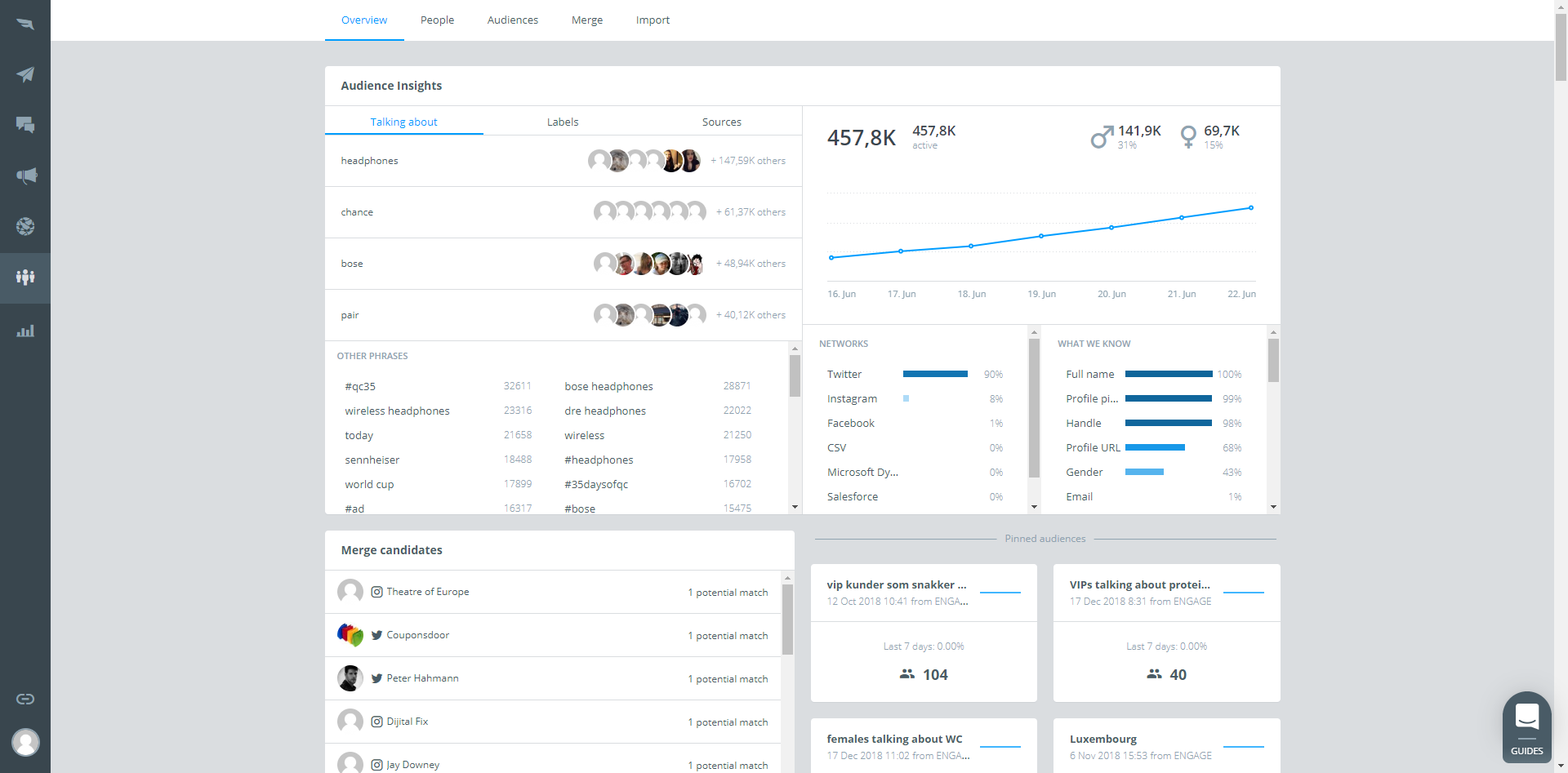 You might also wonder what the 'merge candidates', and 'pinned audiences' sections are about. These are connected to their respective tabs at the top of the Audience module. Next to the Overview tab, there's the People, Audiences, Merge, and Import tabs. Let's look into the other tabs below here.
---
People Tab
Under the People tab, you can navigate through all indexed profiles. The left side has a list of data points by which you can filter. In the center, you can see the list of results. Clicking on any of them will open a detail view where you can see all the available information for that profile. You can also set Labels there, which in the future can help to quickly identify the type of customer.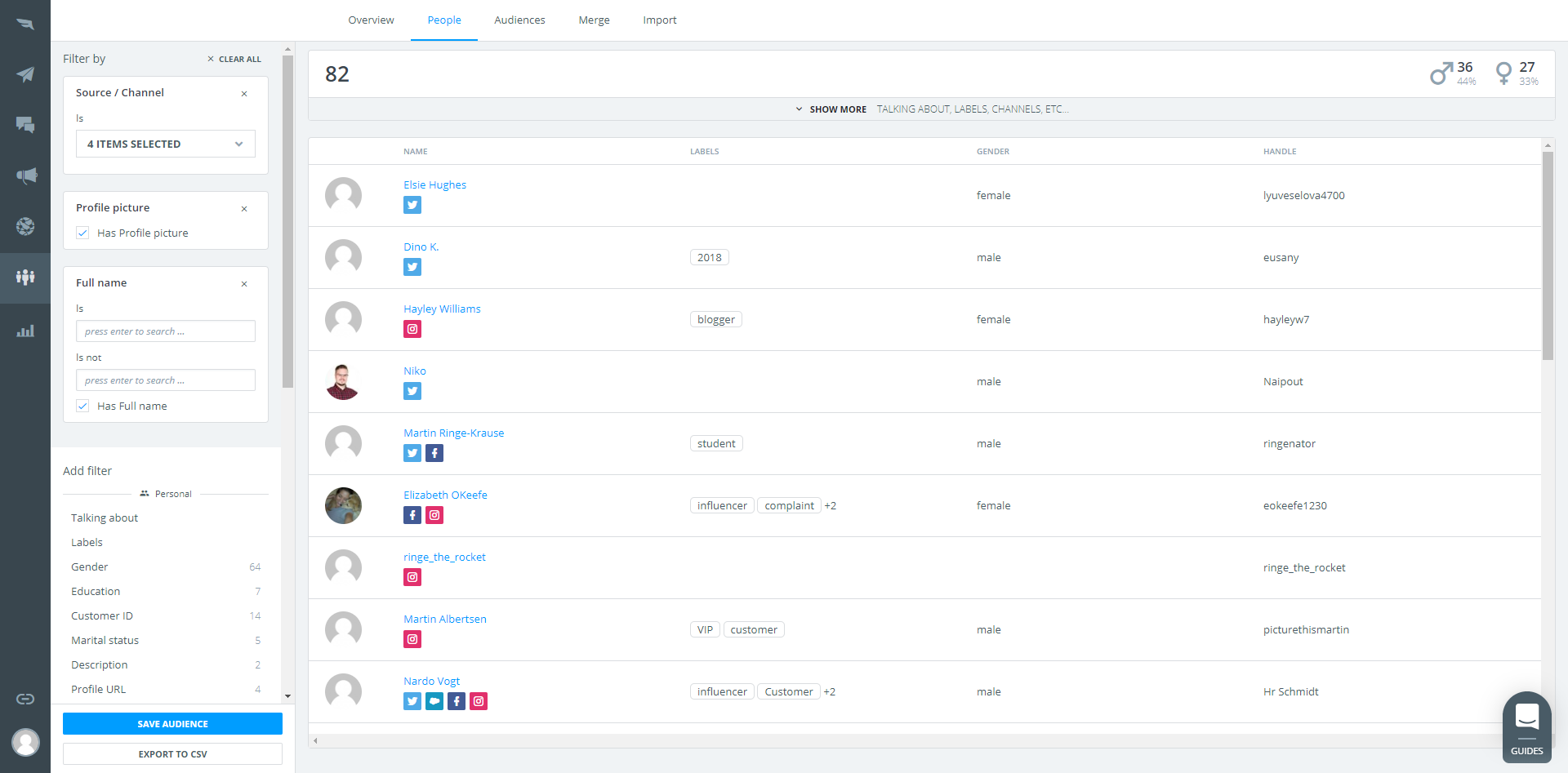 An important aspect of filtering through your Audience profiles is the fact that you can save a specific selection. We call these saved results an 'Audience'. For example, you can create an Audience containing all profiles that are male and with a location in Germany. Or an Audience with users whose email you have indexed.
Once you save an Audience, it will appear in the Audiences tab. Let's go over that one next.
---
Audiences Tab
You will find all your created Audiences in this tab. You can open them to view the individual profiles, or you can perform further actions such as exporting or creating a Custom Audience in Facebook.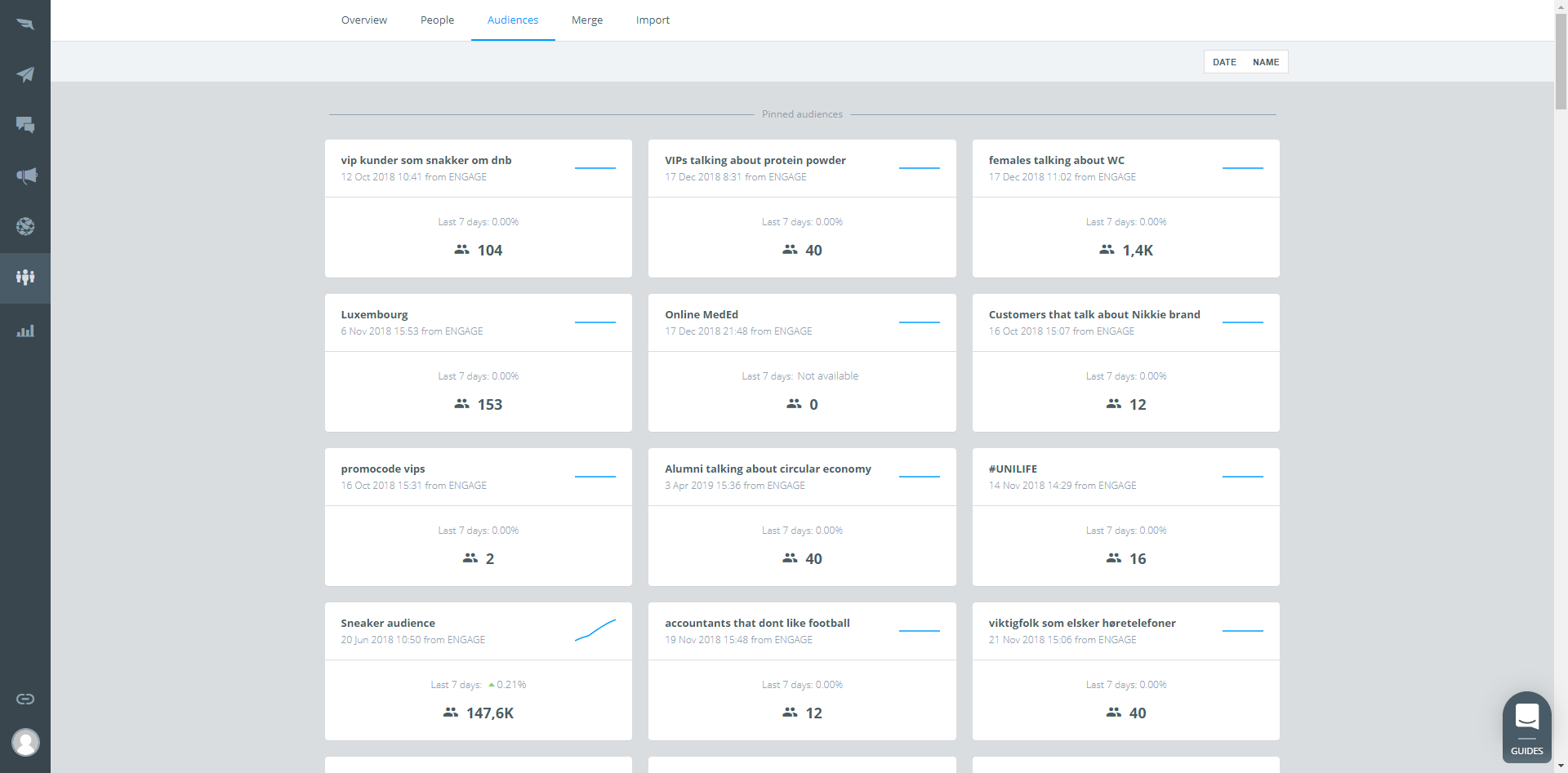 ---
Merge Tab
Sometimes, there are two or more profiles in Audience that seem to belong to the same person. For instance, someone may have reached out through their Facebook account, and another time through Twitter account. Social Media Management tries to detect these overlapping profiles, and gives you the option to merge them. That is where the Merge tab comes into play. At the top, you can select a view of high, medium, or low probability matches. For each suggestion, you can decide to merge the profiles or leave them as they are.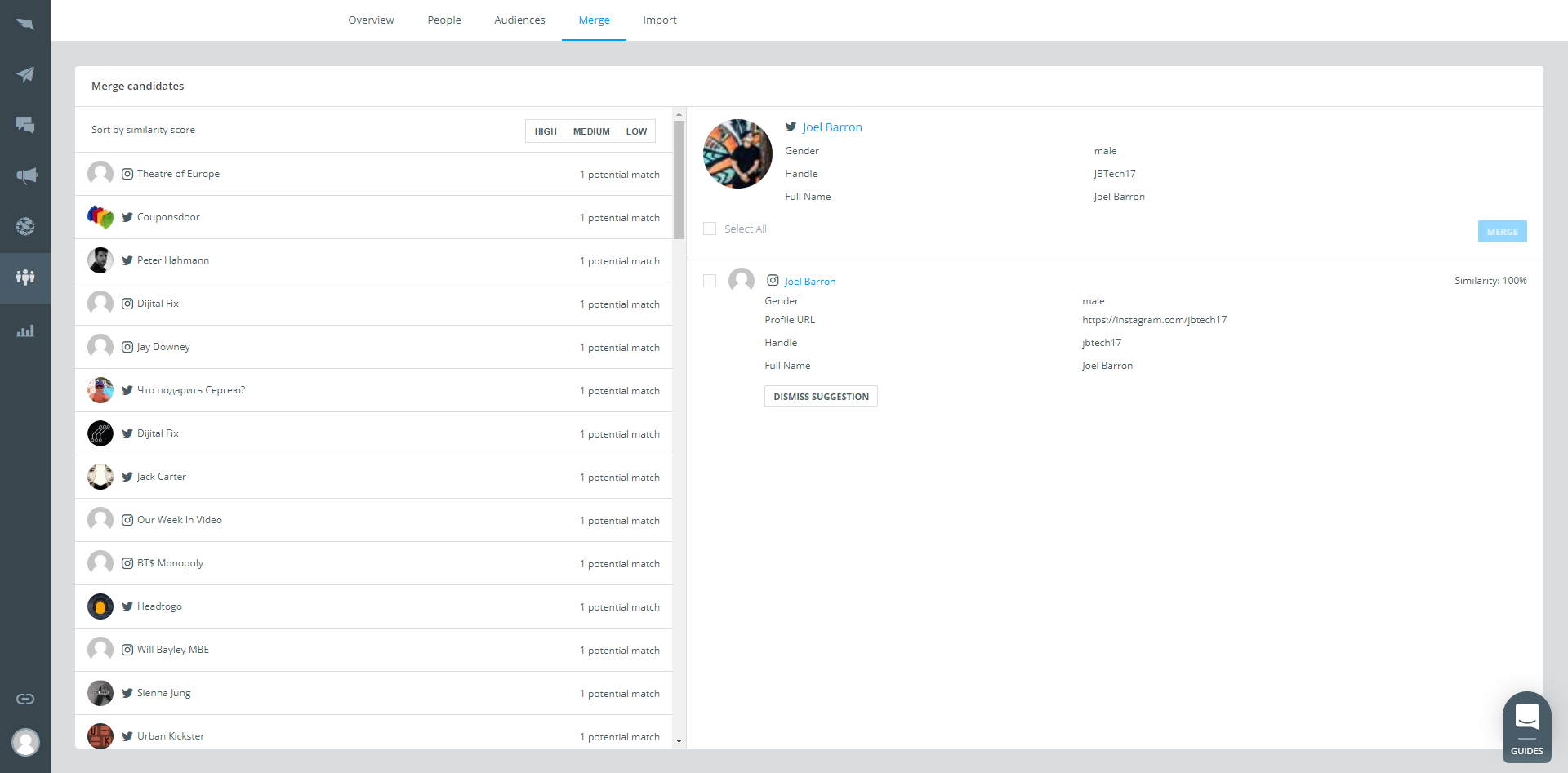 ---
Eager to learn more about our modules? Continue your journey of discovery by visiting our other module introduction articles here.