We want to ensure that your first experience with Social Media Management is a smooth one. So here we walk you through the basics to ensure you feel at home right off the bat.
In this article:
---
First Login
Once your account for Social Media Management is created, you will receive an email with instructions on how to finish your profile. By following the link in the email, you can set a password for your User in Social Media Management. After that, you are automatically logged into the platform.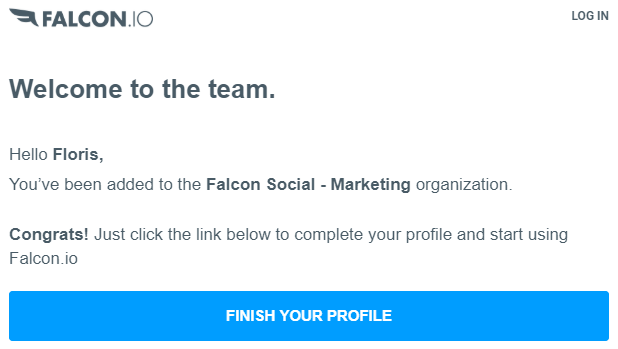 Note:
Registered for one of our Essentials (Base and Base+) packages? It may take up to one business day before your account is ready for use.
Tip:
Saving our login page as a bookmark will give you quick and easy access to Social Media Management. You can find the login page at https://app.falcon.io.
Tip:
Before logging in, it's a good idea to go through our System Requirements guide. A key bit of advice in it is that we recommend accessing Social Media Management in the Google Chrome browser for the best experience.
After logging into Social Media Management, you will land on our Home module. If you are the first user of your company to log in, this will naturally appear empty. No worries though, we will get that sorted soon enough.
You might get prompted right away to create your first Team in the platform. If you're ready to give that a go, we recommend reading about Teams in our Quick Starter guide.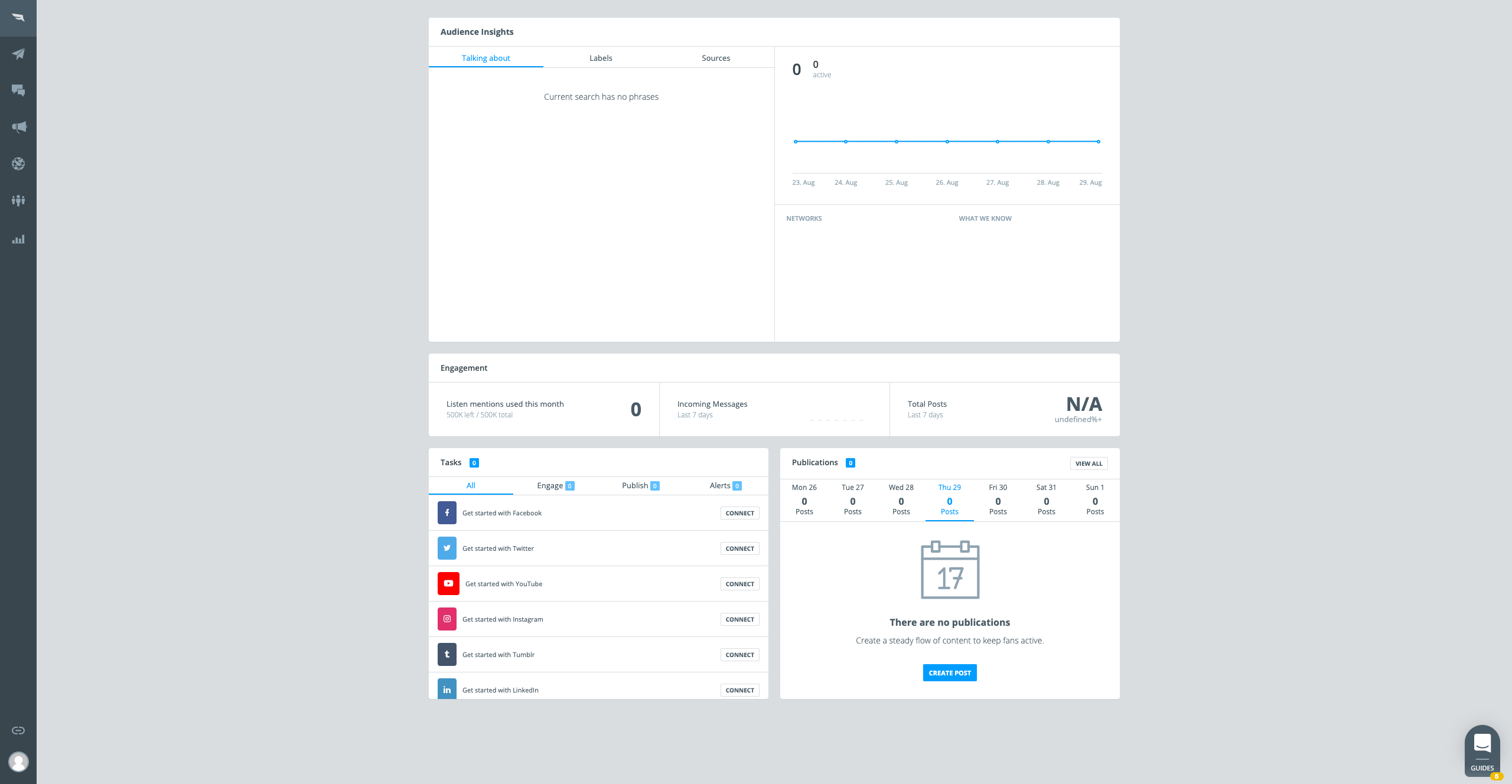 ---
Left Menu
On the left side of your browser window, you will find the Social Media Management menu bar. This is the main navigational menu that gets you from one place to another. Hovering your mouse over it will expand the menu and reveal the names of all the major Social Media Management modules.
Modules
Social Media Management consists of eight modules which, together, house all of the features of our platform. Most of them interact with each other, making the whole of them into an integrated experience. Let's take a look at what you can expect from each of them.
Home

After logging in, Home is the page you arrive at. It includes statistics from each of the other modules, to give you some general insights, as well as to notify you of any pending tasks and upcoming scheduled social media content.

Publish

Publish is where you can create, plan, and manage the content that you want to share to your social media profiles and pages. Find out more here.
Engage

Advertise

Listen

Audience

Measure

Settings
Warning:
Depending on your company's Social Media Management package, and your user permissions in Social Media Management, you might not have access to all modules or features.
---
Ready to get started using Social Media Management? Continue to our Quick Starter guide.