Benchmark is an add-on module for Social Media Management that allows you to monitor and compare social metrics from your brands and your competitors' brands. Gain real-time insights about your competitors' social media strategies that can inform the strengths and weaknesses in your own brands.
Tip:
Interested in Benchmark? Contact us to request a demo!
Note:
This article offers information about the updated Benchmark product in Social Media Management. For assistance with the legacy Benchmark product, Unmetric, please visit the Unmetric help center.
In this article:
---
How does Benchmark work?
Benchmark allows you to analyze groups of social channels together as brands and see a cross-network view of social insights for the specific brands you would like to monitor. When setting up a brand, you will choose which channels you would like to associate with the brand, and Benchmark will then pull in aggregated dashboard insights for the channels under that brand.
Note:
By default, Benchmark offers 20 channel slots to utilize for your brands and additional channel slots may be purchased. Channels may be used for multiple brands that you create.
Benchmark uses the power of the Measure platform to pull in real-time metrics for your brands via two dashboards: the Brand Insights dashboard, which offers channel-level metrics, and the Content Analysis dashboard, which offers more detailed, post-level content and metrics.
---
Setting up Benchmark
After you purchase Benchmark, you will see the Benchmark icon in your Social Media Management sidebar and a "Welcome to Benchmark!" landing page when you click to open the module. Click the Get Started button on the Benchmark landing page to begin setup.
Note:
You will need to have a user role of Administrator in your Social Media Management organization to set up Benchmark.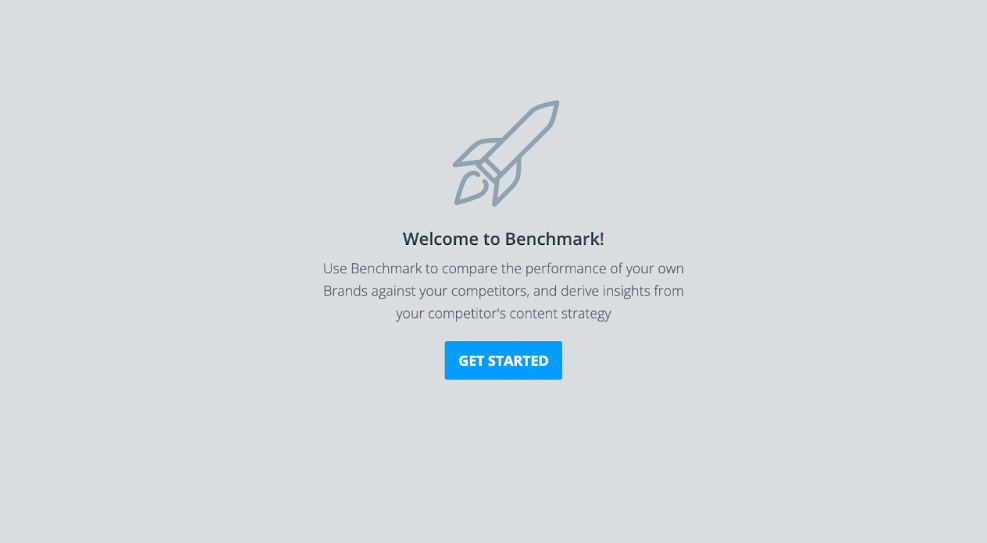 To start gathering data in Benchmark, you will need to enter information for one of your own brands and one competitor's brand. Fill in the Brand Name and a Facebook, Instagram, and/or Twitter channel for each brand (the minimum number of channels needed to begin benchmarking is one channel per brand). As you type in a channel, you will see a list of suggested channels to add to your brand. There will be a short delay for the channel list to appear.
Note:
To add an Instagram channel, you must provide the exact Instagram handle name.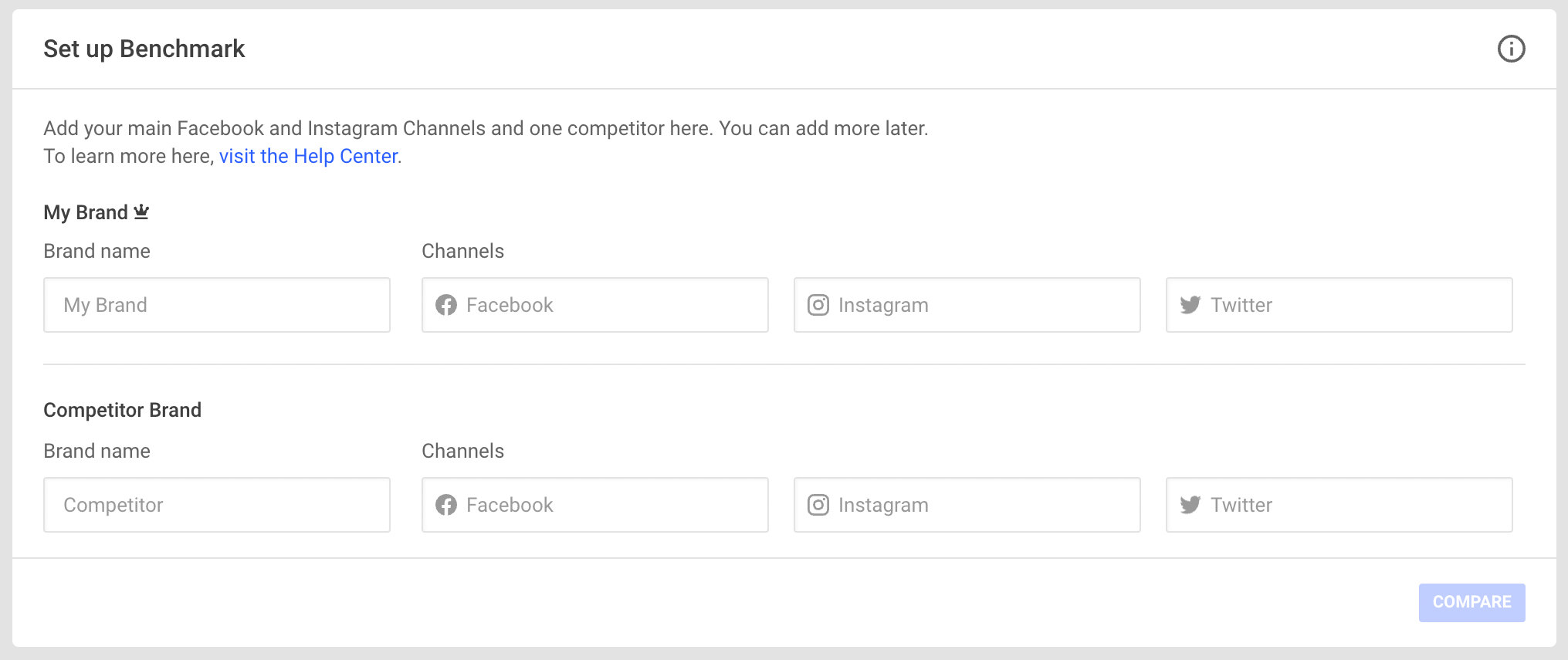 After entering in your brands and channels, click the Compare button and Benchmark will set up your dashboards.
---
Benchmark dashboards
While the Brand Insights dashboard and Content Analysis dashboards have different focuses (channel-level metrics vs. post-level metrics respectively), both dashboards include a built-in feature to compare your brands against your competitors'.
Brand Insights dashboard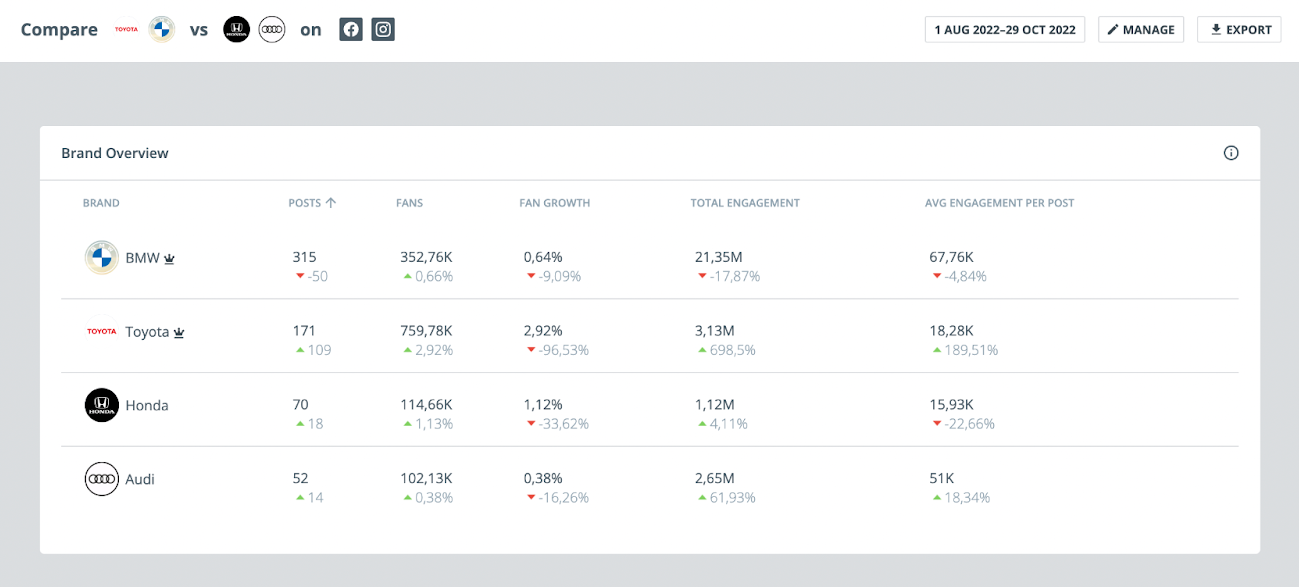 The Brand Insights dashboard features a Brand Overview widget that displays channel metrics for your selected brands, as well as widgets that drill down into specific insights for each brand's fans and engagement. You can filter by a specific time period and also select which brands and networks to include. When both networks are selected, the metrics are aggregated. You can also export a Brand Insights PDF report of the data.
For more details on using the dashboard and what metrics are available, visit our full article on the Brand Insights dashboard.
Content Analysis dashboard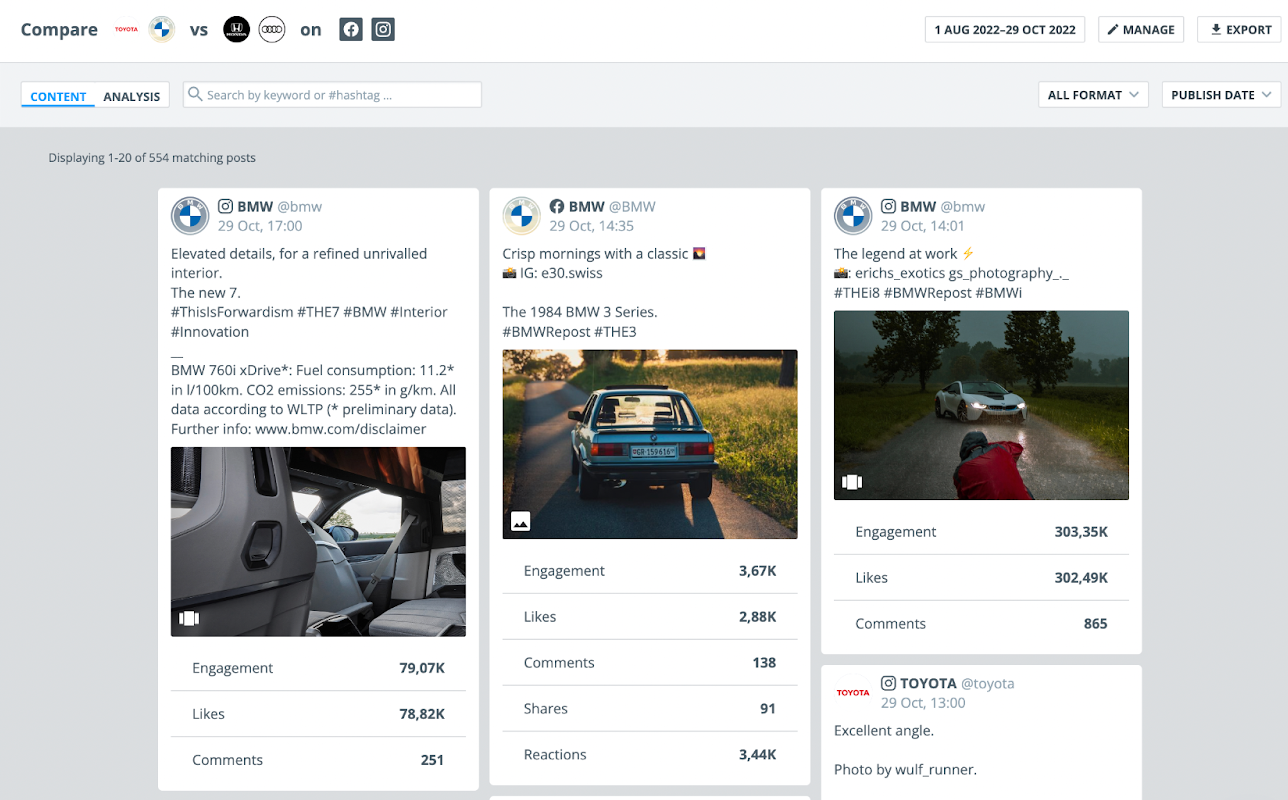 The Content Analysis dashboard provides a detailed look at the post content and performance for your selected brands. The Content tab will display individual post content and metrics and you can filter by which post type(s) to include. The Analysis tab displays an Analysis Summary widget with additional widgets for Publishing Activity and Engagement. Under both tabs, you can filter by time period, select which brands and networks to include, and export a PDF report of that tab's data.
For more details on using the dashboard and what metrics are available, visit our full article on the Content Analysis dashboard.
---
Benchmark settings
Once Benchmark is added to your Social Media Management suite, you will see a new Benchmark > Brands section in your Social Media Management Settings list. You will use this menu to create your brands for Benchmark.
Note:
You must have a user role of Admin for your organization in order to add and manage your Benchmark brands.
By default, the Settings: Brands menu will display your currently set up brands, the total channels under each brand, how many channel slots you have used for Benchmark, and the date that each brand was created. You can also search your brands list and filter by All Brands, My Brands, or Competitors.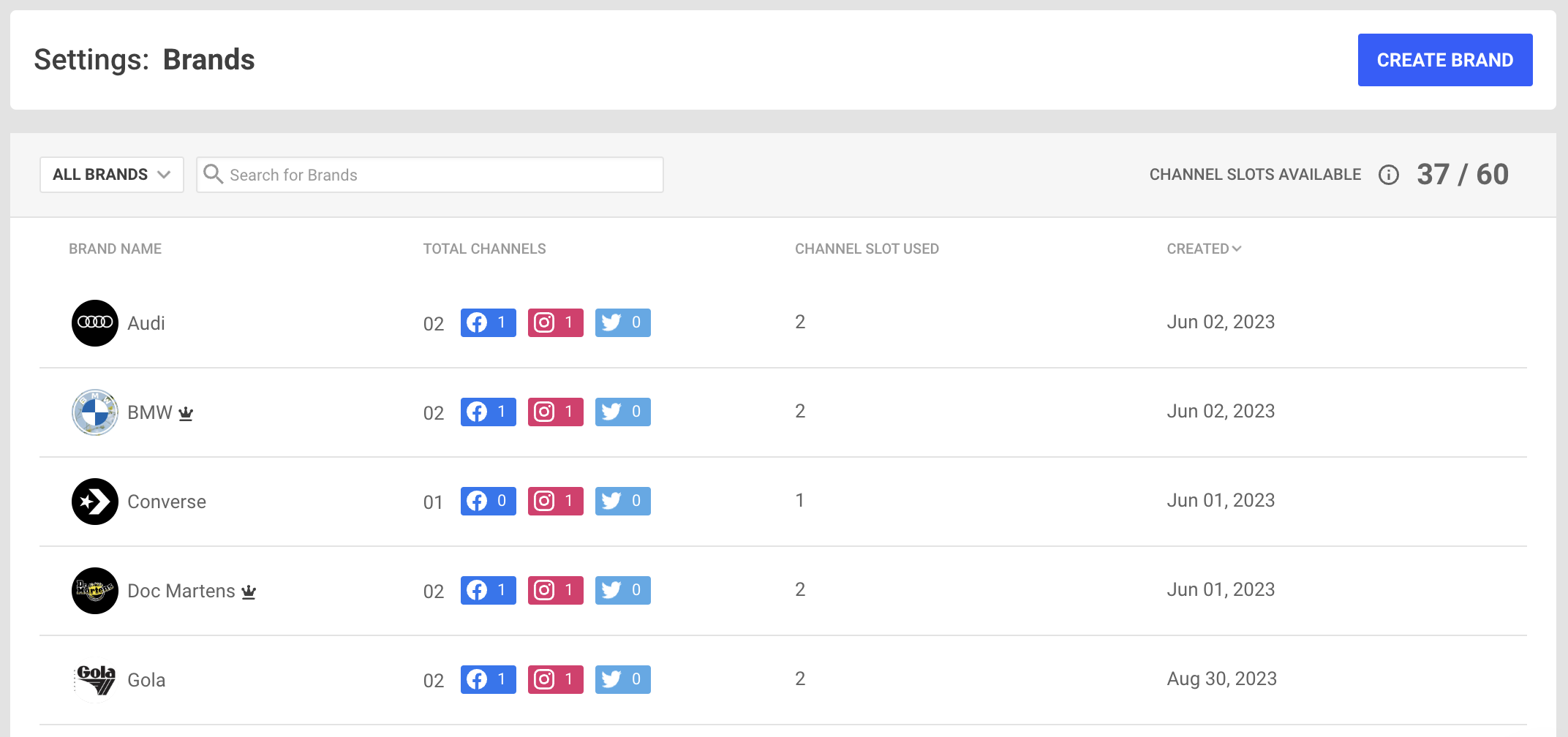 ---
Benchmark brands
When you click the Create Brand button in the Brands menu, you will be asked to name your brand and add channels to it. You can search for applicable Facebook and Instagram channels to add to each brand. After adding a channel, you will see the channel name, network, number of Fans, Username/handle, Indexing status, and Data availability. At the top of the panel, use the Mark as My Brand toggle to identify your ownership of the brand. Your brands will be indicated by a crown icon in your brands list. Leaving the toggle deactivated will mark the brand as your competitor.

After you have added your brand(s), they will be available to select in your Benchmark dashboards for analysis. For a full step-by-step guide on creating brands, check out our article on Creating Benchmark Brands.