Properly setting up your campaigns in Advertise can help you better organize, optimize, and measure the performance of your ads. The right structure can help you:
Measure results. Choose an advertising objective for each of your campaigns to help you better measure results and allocate budgets to achieve goals.
Test different audiences. Create an ad set for each audience so you can determine the most responsive audiences.
Identify which ads work better. Easily create multiple ads so our system can optimize for the top performing ad based on variations in images, links, video or text.
In this article:
---
Creating New Campaigns
Click the  Create New Campaign button in the top right-hand corner of Advertise, which will open a new page where you can start building your campaign.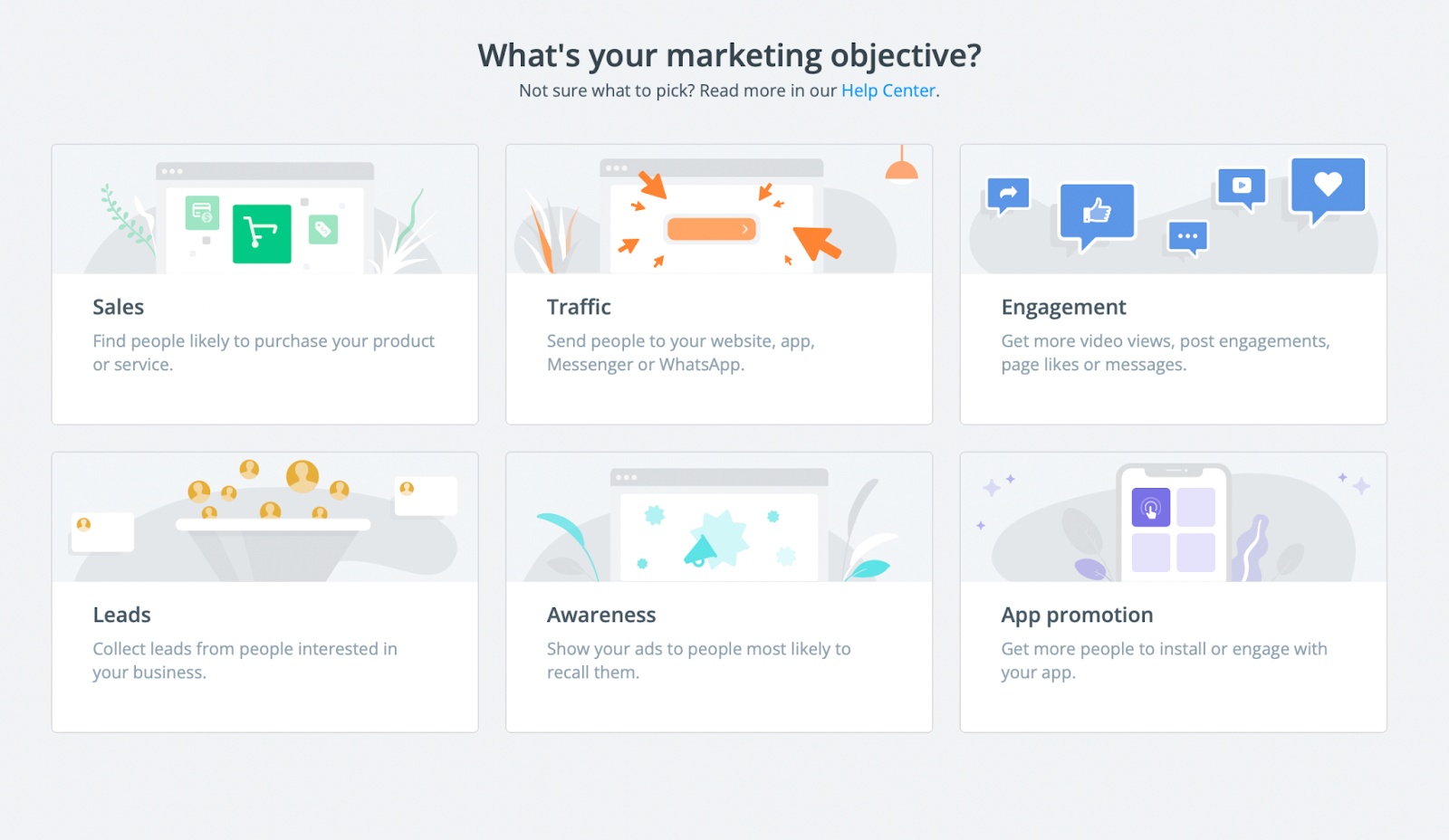 Pick the right objective for your campaign
Sales

Get people to take valuable actions on your website, app, or in Messenger, such as adding payment info or making a purchase. Use Facebook pixels to measure and optimize ads for conversions. This objective is suitable for generating conversions or link clicks/website traffic.

Traffic

Send more people to a destination on or off Facebook such as a website, Messenger, or WhatsApp conversation. If you are promoting sales through a web shop or if your purpose is to drive traffic to a website off Facebook, then the Traffic objective is the right option for you. Using this will increase the number of clicks on your links.

Engagement

Get more people to see and engage with your posts or Facebook page. Engagement can include comments, shares, likes, video views, and follows. Choosing Engagement ensures that your ads are targeting people who are more likely to engage with your content.

Leads

Collect lead information, such as names, emails, and addresses, from people interested in your business.

Awareness

Reach people more likely to pay attention to your ads and increase awareness for your brand.

App Promotion

Send people to the app store where they can download your app. App install ads promote your app to people who have not yet installed it.
After choosing your objective, give your campaign a title, add labels, and choose to set a budget at the campaign level.
Special ad categories
There are two types of special ad categories that might require additional verification or put limitations on the targeting of your ads.
First, there's the category for ads around social issues, elections, or politics. If you create such ads in specific countries, approval is needed from Facebook. You can find out how to get approval for your country in Facebook's Help Center.
Any advertisement created in this category will automatically be targeted to the country that you have received approval for. Any other targeting will get denied by Facebook.
Second, if you're creating promotions from inside the United States, or if you are targeting the United States and your content offers credit, employment, or housing, you must select the corresponding Special Ad category for your Campaigns. Indicating such a category is required by Facebook to prevent discrimination.
When you select one of the Special Ad categories, your audience selection will be limited for the ad sets you create under the campaign. The following limitations will become effective:
Age targeting is defaulted to 18-65+.
Gender selection is set to include all genders.
Including or excluding some detailed targeting options becomes unavailable, such as certain demographics, behaviors, or interests.
Location selection must include all areas within a 15-mile radius of any selected city, address or dropped pin. ZIP Code selection is unavailable.
Read more about special ad categories and limited audience selection in Facebook's Help Center.
---
Managing Campaigns
The table below the Statistics section in Advertise lists all of your campaigns.
Use the Actions option to the right of a campaign you are working with in order to:
Create Ad Set

Read more about creating and managing ad sets.

Play / Pause

Set the campaign live by selecting Play or stop it by selecting Pause.

Filter by this

Quickly jump into the ad sets in this campaign.

Open in Ads Manager

View the campaign natively on Facebook's Ad Manager.

Edit Campaign

Change the options that define the campaign parameters. This is where you can edit and add labels for the campaigns.

Delete

Remove the campaign and all assets under it.

Warning:
If you plan to keep an ad campaign active for the long term, you should recreate the ad campaign every two years minimum to avoid technical issues in our platform. We recommend recreating ad campaigns every year for a seamless experience.
---
Statistics
The Statistics section will give you an overview of the performance of your campaigns. You can apply various filters, search for labels, and change the date range in order to customize your view. For more information on insights and analytics within Advertise, check out our article on Key Performance Indicators in Advertise.

Tip:
For Facebook ad accounts, users can access and customize all currently available attribution window settings from Facebook in your campaign statistics. When in a campaign, select the attribution window drop-down menu underneath a statistic (e.g. Link Clicks or Post Engagement) to adjust the attribution window settings, such as clicks or views and time period. Visit Facebook's help center to learn more about attribution settings.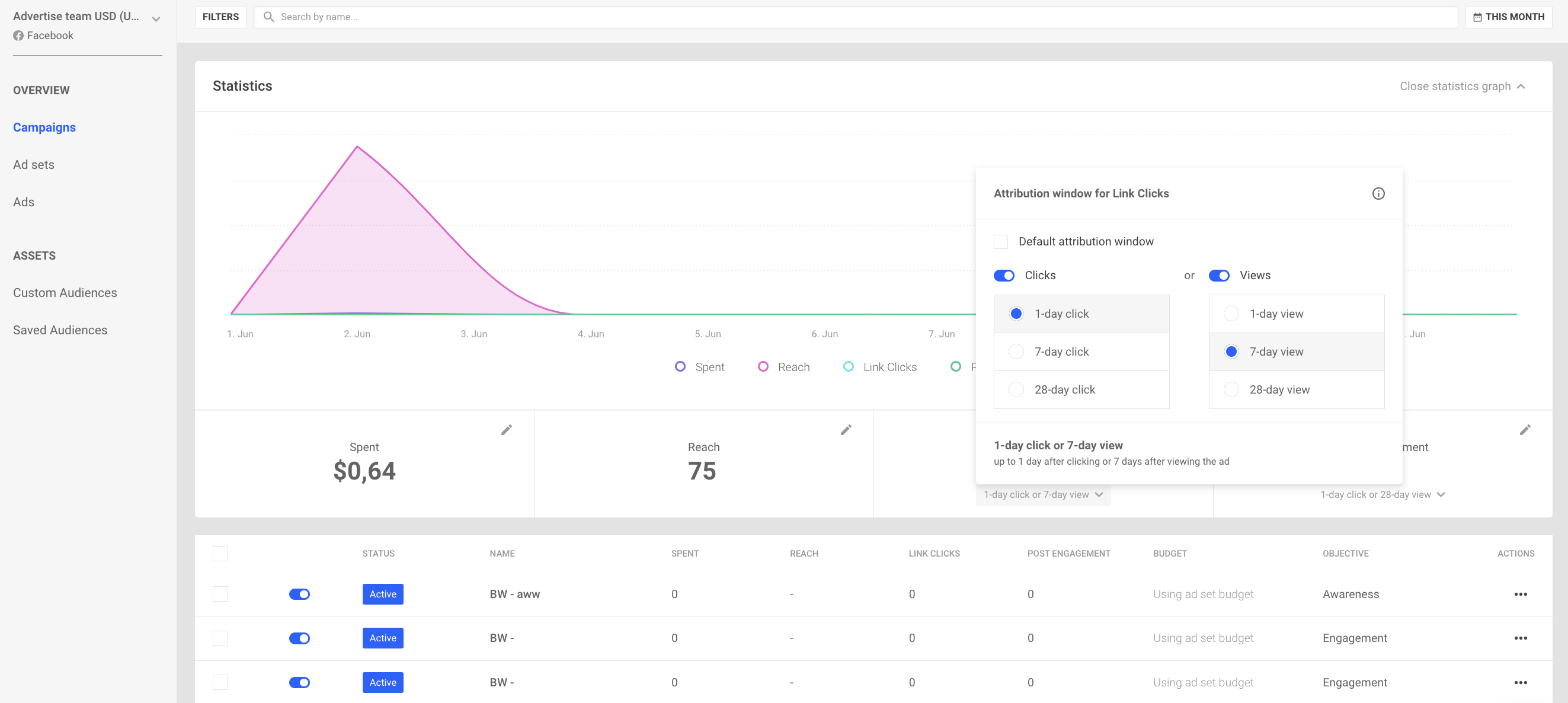 ---