Listen allows your brand to monitor online campaigns based on your search queries. You can track anything that matters most to you and your organization, such as a competitor, new product, hashtag, or common phrase.
With Listen, you can keep a pulse on millions of online sources from social media networks, blogs, review sites, news sites, and much more.
In this article:
---
How does Listen work?
In Listen, it all starts with a search. Enter your search query, such as a word, term, or phrase, to find matching "mentions." Mentions are public examples of your search query being used in posts, comments, articles, forum entries, and much more. Mentions are gathered from the sources listed below (visit our Sources for Listen Mentions article for full details on what data is available):
Twitter
Facebook
Instagram
Tumblr
Forums
YouTube
Reddit
News
Blogs
Reviews
QQ
Note:
It's possible to track several different sources, known as targeted data sources, for Facebook and Instagram, including owned Facebook pages and Instagram accounts, Instagram hashtags, and owned LinkedIn Company Pages. To comply with Facebook's policies, tracking targeted data sources requires additional authentication steps in Listen. Visit our Managing Targeted Data Sources article to learn more.
For each mention, you can view the text, applicable media, date/time, author information, and sentiment. In many cases, Listen will also detect the emotion, language, and location.
With all available mentions data, you can easily analyze your results. Your searches will display pre-designed, in-depth graphs to help you visualize key insights and metrics, such as mentions volume, sentiment, demographics, and word clouds. For a closer look at all graphs and data available, please visit our guide to viewing and analyzing searches.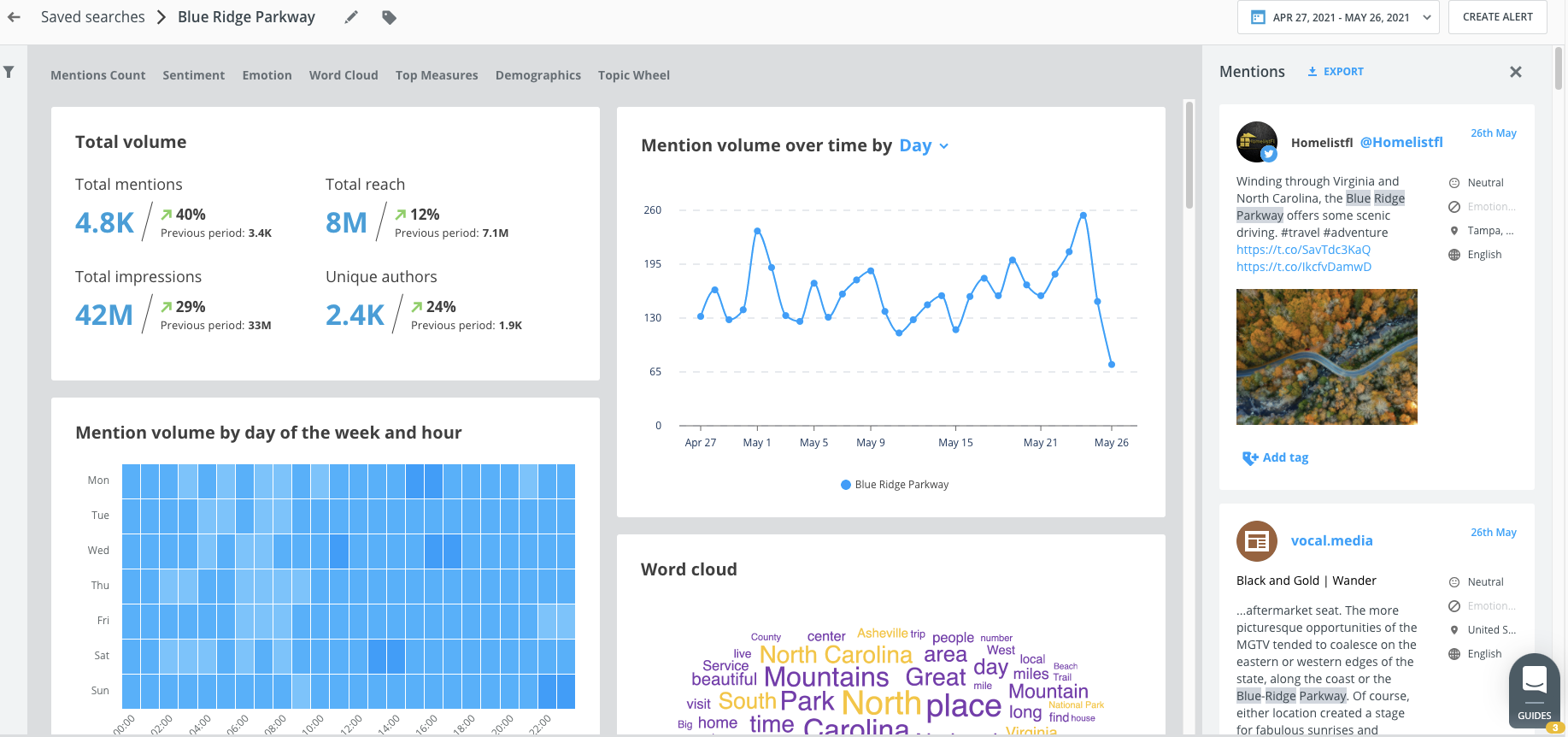 Next, you can view your data and mentions with a bit more context. Refine your results using search filters and mention tags. Filtering your searches allows you to temporarily apply specifications, such as mentions from a specific source, or those containing a specific keyword, sentiment, emotion, or demographic classification. By creating mention tags, you can categorize mentions and filter based on your own criteria (for example, to highlight important customers or mentions).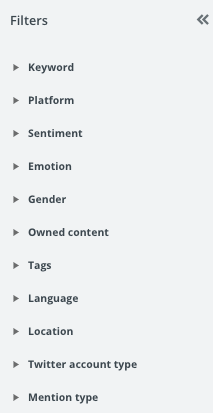 Lastly, take action on the latest updates and mentions in your search with email alerts. Using email alerts, you can find out as and when new mentions coming or receive a scheduled breakdown of your search's activity over custom timeframes.
To help you achieve the best results in Listen, remember the acronym "SARA":
Search the public web and collect all the posts, comments, and conversations relevant to you.
Analyze the data to discover something you didn't know or answer tough questions.
Refine your search with filters and tags to segment the data into areas that are relevant to your business.
Action your discovery through automated, real-time email alerts.
---
Quick search vs. saved search
When you create a new search in Listen, by default you will create a quick search. Think of a quick search as a preview – use it to test, adjust, and refine your query. Any user in your organization can create an unlimited number of quick searches without the risk of meeting a mentions or search cap. As a result, quick searches are useful for gaining quick insights on any given topic or brand.
When you create a quick search, you will see the last one month of mentions and data can be analyzed and filtered. However, some actions may be limited. It is not possible to revisit results, view all insights (as some metrics will not be available with quick searches), share with the team, and create alerts.
When you are happy with your quick search, you can choose to save it. When you save a quick search as a saved search, all users in your organization can access the search. You will be able to view all mentions and metrics from the last year, view all available insights, create alerts, share with the team, and more. The number of saved searches your organization can create is allotted based on your Social Media Management contract.
Note:
The option of saving searches in Listen is only available to users with a user role of Team Leader or Admin.
For a detailed explanation of the differences in each type of search, visit our article on Quick Search vs. Saved Search.
---
Creating and saving searches
To get started, visit the Quick Search tab in Listen. Begin by typing your query into the search bar. You can search for anything people might be talking about. For example, a brand, person, event, handle, topic, or hashtag.

If you are looking at too many mentions, receiving some unrelated mentions, or you would like to apply some demographic or location specifications, try applying some search operators to create an advanced query.
Next, save your search by clicking Save Search from the top right. All Social Media Management users can now access your Saved Search under the Saved Searches tab.
For a full overview of search options, visit our article on Creating and Saving Searches.
---
Viewing Listen insights and mentions
Viewing insights
When you are viewing a Listen search, several graphs and metrics will automatically populate in the middle of the page. Scroll through the graphs for an overview of the popularity, most used phrases, sentiment, demographics, and more. All graphs are interactive. Select portions of the graph to segment the mentions based on your chosen selection.
Find out more about the available insights data in Viewing and Analyzing Listen Searches.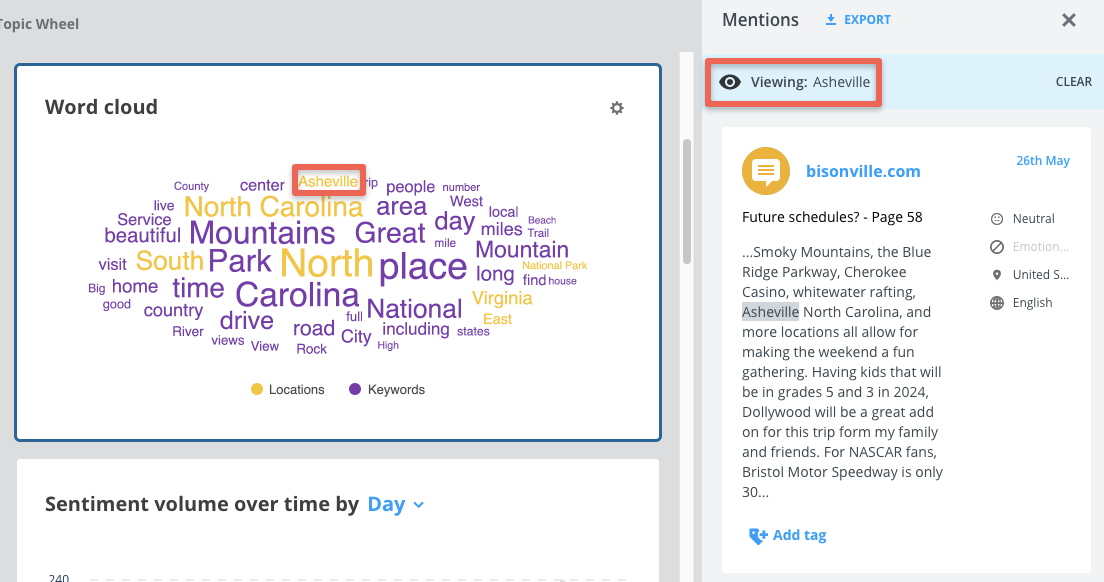 Viewing mentions
All mentions for your Listen search are visible on the right-hand side of the page. Scroll through the mentions to view the metadata (text, image, video, author, source) along with the sentiment, emotion, language, location, and any applicable mention tags.
Find out more about the data you will see for your mentions in Viewing Listen Mentions.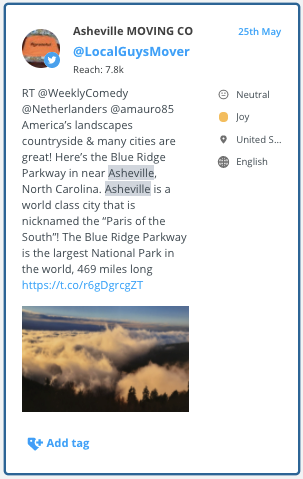 Tip:
Want to see a mention in more context? Click the timestamp on the top right to open a new tab and view the mention on the originating network/site.
---
Filtering insights and mentions
If you'd like to dig into specific areas of your insights or view only a particular group of mentions in your search, try applying filters. The following filters are available:
Keyword
Platform
Sentiment
Emotion
Gender
Author
Tags
Language
Location
Twitter account type (not available for quick searches)
Mention type (not available for quick searches)
To get started, create a new search, or open an existing search. From the top left, click the Filter icon. Select the applicable dropdown field to customize each filter.
For more information, visit our article on Filtering Searches in Listen.
---
Creating email alerts
Happy with your search? Stay up to date with any urgent updates by creating email alerts. To get started, visit or create a saved search and click Create Alert from the top right.

There are two types of alerts available:
Alerts about increases in mention volume

Find out when your mentions have increased in volume. You can specify the necessary increase percentage required to trigger an email alert.

Alerts about new mentions

Schedule an email to highlight new mentions which have been indexed. You can schedule your own time for emails to be delivered and you can choose from multiple email frequency options, such as every week, day, or hour.
You can add any number of recipients to an email alert, whether they are Social Media Management users in your organization or not. Find out more about creating, editing, pausing, and deleting email alerts in Creating and Managing Listen Email Alerts.
Note:
Creating email alerts is only available to users with a user role of Team Leader or Admin.
---
Eager to learn about Social Media Management's other tools? Continue your journey by visiting our other introductory articles.