Instagram stories are image or video posts that are displayed in a slideshow format, separate from your main content feed in Instagram. You can create Instagram stories within Publish, but since the current Instagram APIs do not yet support direct publishing of stories, we've developed a story publishing flow using our Hub mobile app. In this article, learn how to create an Instagram story in Social Media Management and then publish it using the Hub app.
In this article:
---
Why Can't Social Media Management Publish Stories Automatically?
Publishing Instagram stories is not supported by Instagram's API. This means that Social Media Management (along with all other third-party apps) are unable to publish stories to your Instagram channel on your behalf.
While Social Media Management is unable to complete the act of publishing stories on its own, you can still create stories, submit them for approval if needed, schedule them in advance, and then publish them via the Hub app.
---
What is the Hub App?
The Hub app is a multipurpose mobile app offered by Social Media Management. In addition to allowing you to publish your Instagram stories natively in Instagram, the app lets you view the scheduled and published content from your Publish calendar, interact with your team via notes, approve and reschedule your content on the go, and much more. Check out a full list of Hub's features in our Hub Mobile App article.
Where can I get the Hub app?
The Hub mobile app is available to download from the App Store and Google Play.
How does the Hub app work?
Once you are ready to publish a story that you created in Publish, or your scheduled story is ready to go live, we will send the content to your chosen publisher via a Hub app push notification on their phone. This push notification allows us to save your story content created in Publish directly to your phone and redirect you straight to the Instagram app to upload and customize your story. When you publish your story through the Hub app, you'll have the option to add native Instagram filters and stickers such as text, emoji, a URL, location, hashtags, etc.
---
How to Create and Publish Instagram Stories
For a visual walkthrough of the full story publishing flow from Social Media Management to the Hub app, check out our video in the Introducing Publish Academy course.
Creating a story in Publish
In Publish, click Create Post in the top left.

Choose Instagram for the network and select the channel you want to publish your story to. Click the Create Instagram Post button.

Switch to the Story tab at the top left of the Publish Editor.

Add your image or video assets in one of the following ways:

Drag and drop your video file to the file area.

Note:

Story videos have a maximum file size limit of 100MB. For full story file specifications, please refer to our Media Attachments Guide.

Click the file area to open your local file browser, and choose a file to upload.
Hover over the file area and click the Cloud link to open a file picker popup. You can access various cloud storages such as Google Drive and Dropbox.
Hover over the file area and click the Content Pool link to select files stored in the Content Pool.

Note:

When you publish your story through the Hub app, you will have the option to add native Instagram filters and stickers such as text, emoji, a URL, location, hashtag, etc.

Warning:

In the Publish Editor, you will see a space to enter an Optional Story URL, but this option has been deprecated by Instagram. Any link added here will not automatically copy over to the Hub app. In the final steps of publishing your story natively in the Instagram app, we recommend that you add any desired URL back to your story via a link sticker.

Under the Publisher panel, you will see the option to Select a user to receive a notification on their Falcon Hub App. Use the dropdown to select the publisher who should receive the notification (you can select yourself).

Note:

You must have downloaded the Hub app on your phone and logged into the app with your Social Media Management credentials in order to show up in the Publisher dropdown.

If you do not see the correct publisher, follow the FAQ steps below for instructions on how to create a new publisher.


Select any other desired Publish options for your story, such as adding labels, scheduling, or submitting for approval.
When you are ready, click Send to Hub App, Schedule to Hub App (if you scheduled your story), or Send for Approval (if you are submitting your story for approval).

Publishing a story with the Hub app
Note:
The intended Publisher will need to have access to both the Instagram app and the Instagram Channel your content will be posted on, and must have the Hub app installed on their phone.
At the post's scheduled time, the selected publisher will receive a push notification on their phone.

Upon tapping the notification, the Hub app will open, leading to a preview of the post. Scroll to the bottom of the preview and tap Publish.

The media file you uploaded in Publish for your story will be saved to your phone. You will see some instructional screens to swipe through. Make sure you are logged into the Instagram account you would like to publish to, and then tap I'm Ready to Publish on the final screen to be redirected to Instagram.

In the native Instagram story view, select the media from your phone. The media will appear as the most recent item(s) saved to your camera roll.
Apply any further image editing or features to your story, such as Instagram's filters or stickers, and then publish your story to Instagram.
After your story has been published, you can return to Social Media Management to verify that you have published your story via the Hub app.
Confirming a story was published
Due to Instagram's API limitations, it's not possible for Social Media Management to detect that your Instagram story is the same story which was created and scheduled via Social Media Management. Finalizing the process by merging your story allows us to link your new Instagram story with the notes, labels, author, and approver data from when the post was being created and scheduled in Publish. This will help you to more accurately report on the story's performance.
In Social Media Management, locate your story post in Publish under the Processing section. Open it and click Yes, It's Posted to confirm.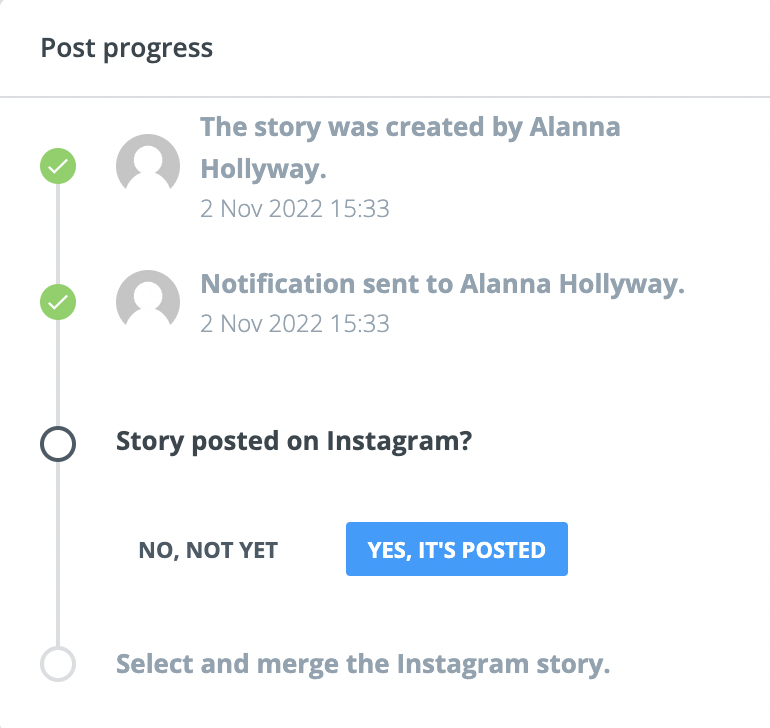 When presented with previews of your recent stories, select the correct story and click Merge & Finish at the bottom of the panel.
---
FAQs
Why doesn't my name (or another user's name) appear in the list of publishers for Hub?

Only Social Media Management users with a user role of Editor and above will appear as a publisher. Provided a user has the correct user role, there are three quick steps they will need to take in order to appear as a publisher:

Download the Hub App (available to download from the App Store and Google Play).
Log into the Hub App using their existing Social Media Management login credentials.
In the Hub app > Settings, enable in-app notifications.

If the user's name still does not appear after following the above steps, please consider contacting our Support team.

Why did I get the error, "We could not save the media to your phone at this time"?

Either your device may not have the necessary storage to hold the media files, or the media is in a format which is not supported by your device. If you have enough storage space and the media is in line with Instagram's media requirements, please contact Support for help troubleshooting the issue.

Can I use the Hub app to publish image and video posts?

It's not necessary to use the Hub app to publish image and video posts, though it is possible. When you are creating an image or video post in Publish, you will see an option to click Alternatively, you can use the Hub App under the Publisher panel in the Publish Editor.