Have a look at the latest product updates we released in October 2023.
---
Benchmark
Benchmark is out of beta and officially available 
Benchmark, which is integrated in our Social Media Management suite, has been in beta since January 2023, we are pleased to announce that we've now concluded the beta and officially launched it. Let us explain what this means for you.


If you are an existing legacy Benchmark client: Benchmark will continuously evolve to provide you with the similar capabilities as legacy Benchmark (previously called Unmetric) and we will keep your access to Benchmark if your current package is Pro and above, so you can benefit from new features immediately, while still keeping access to legacy Benchmark. Learn about the new, game-changing features we've added to Benchmark from here


If you are working with Social Media Management but do not know/have access to Benchmark: Benchmark is the newest addition to our platform, enabling you to perform competitor benchmarking and learn from competitors' social strategy. To stay ahead of competition and boost your social strategy, add Benchmark to your Brandwatch toolkit from here
---
Engage
Engage-Salesforce Service Cloud Integration is out of beta
Engage- Salesforce Service Cloud Integration has been an open beta since August, and now we've concluded the beta and officially launched the integration. It delivers a seamless case management workflow, from customizing your case and contact details to directly sending cases and contacts to Salesforce from within Engage. Connect your Salesforce to Brandwatch today to streamline your social customer care.
---
Advertise
Advantage+ catalog ads
You can now create Advantage+ catalog Facebook and Instagram ads in Advertise. This new ad format, previously known as Dynamic ads, is a powerful tool to advertise several products by creating one simple ad.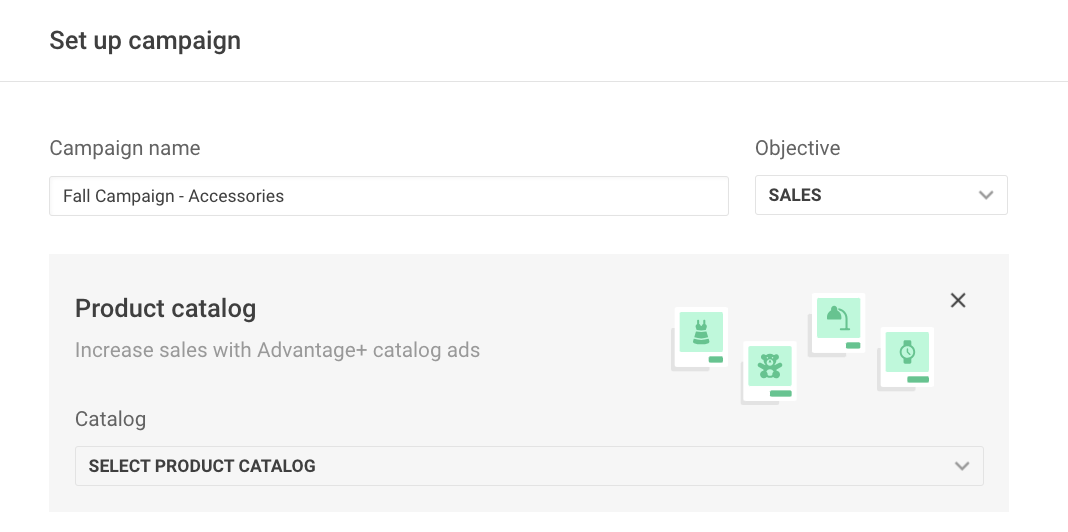 ---
Measure
New X metrics
As we transitioned from the old X API to the new version, we introduced new organic and paid content-level metrics in Measure. These new metrics enable you to delve deeper into your organic and paid aspects of X performance. Twitter API v2 introduces the following metrics, with the breakdown of organic and paid:
Saves => (bookmarks for TW)

Organic impressions

Paid impressions

Organic shares => (retweets for TW)

Paid shares => (retweets for TW)

Organic likes / Organic reactions

Paid likes / Paid reactions

Organic comments

Paid comments

Organic link clicks

Paid link clicks

Organic User profile clicks

Paid User profile clicks

Organic video views

Paid video views

Organic Video starts

Paid Video starts

Organic Video views (25%)

Organic Video views (50%)

Organic Video views (75%)

Organic Video views (100%)

Paid Video views (25%)

Paid Video views (50%)

Paid Video views (75%)

Paid Video views (100%)

Organic Engagements

Paid Engagements

Organic Engagement Rate

Paid Engagement Rate

Organic Interactions

Paid Interactions

Organic Interaction Rate

Paid Interaction Rate

Organic Link CTR

Paid Link CTR

100% Video completion rate

100% Organic video completion rate

100% Paid video completion rate
Updated Instagram Overview Template 
We updated the Instagram Overview template in Measure. It now includes new widgets that incorporate the new Instagram page metrics we recently added. For example, you can visualize the breakdown of engagements and reach by media type (Videos, Images, Reels) and lots more. 

The updated dashboard template enables you to unlock more in-depth insights about your Instagram performance. Learn more about the updated template here.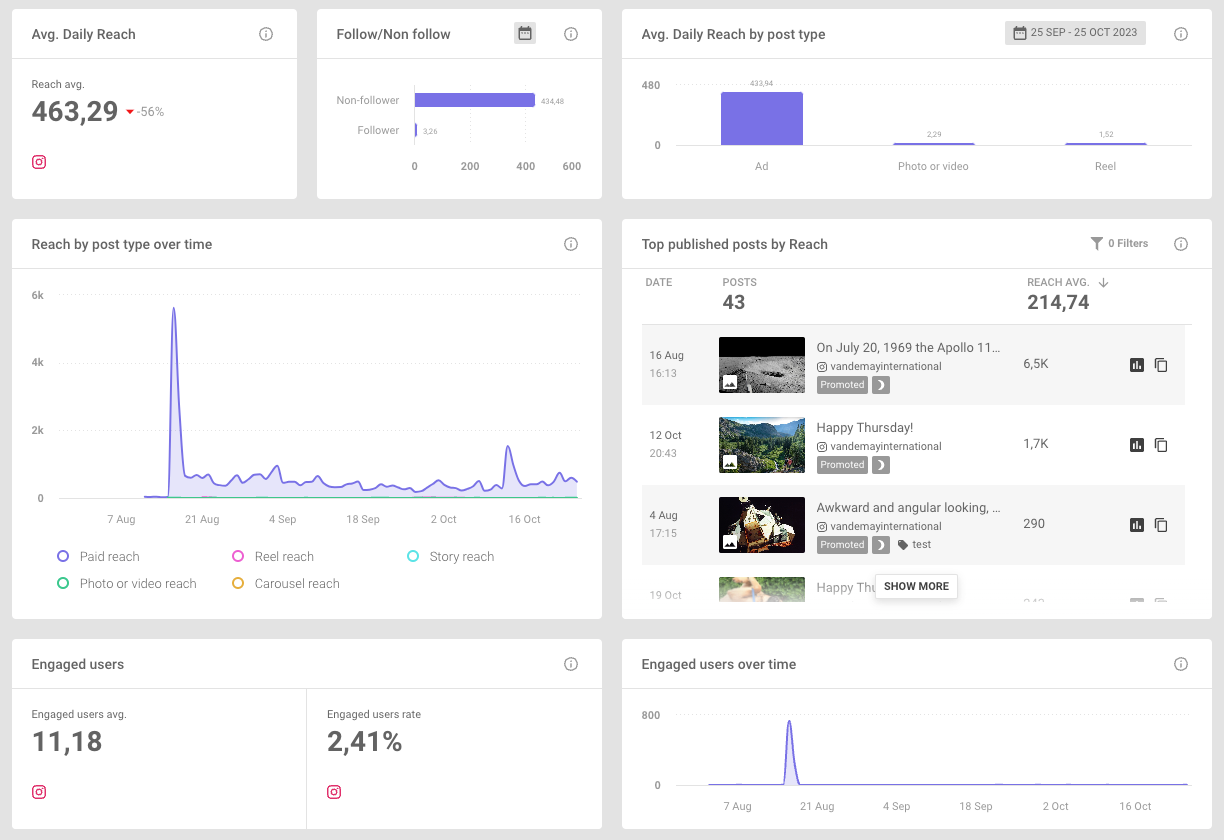 ---
Influence
Audience lookalikes in Discover reports
You will find a new tab in the Discover reports called 'Audience Lookalikes'. This tab lists influencers that are similar to the analyzed influencer in terms of their audience (followers) - and it's an useful way to find new influencers to collaborate with based on their following.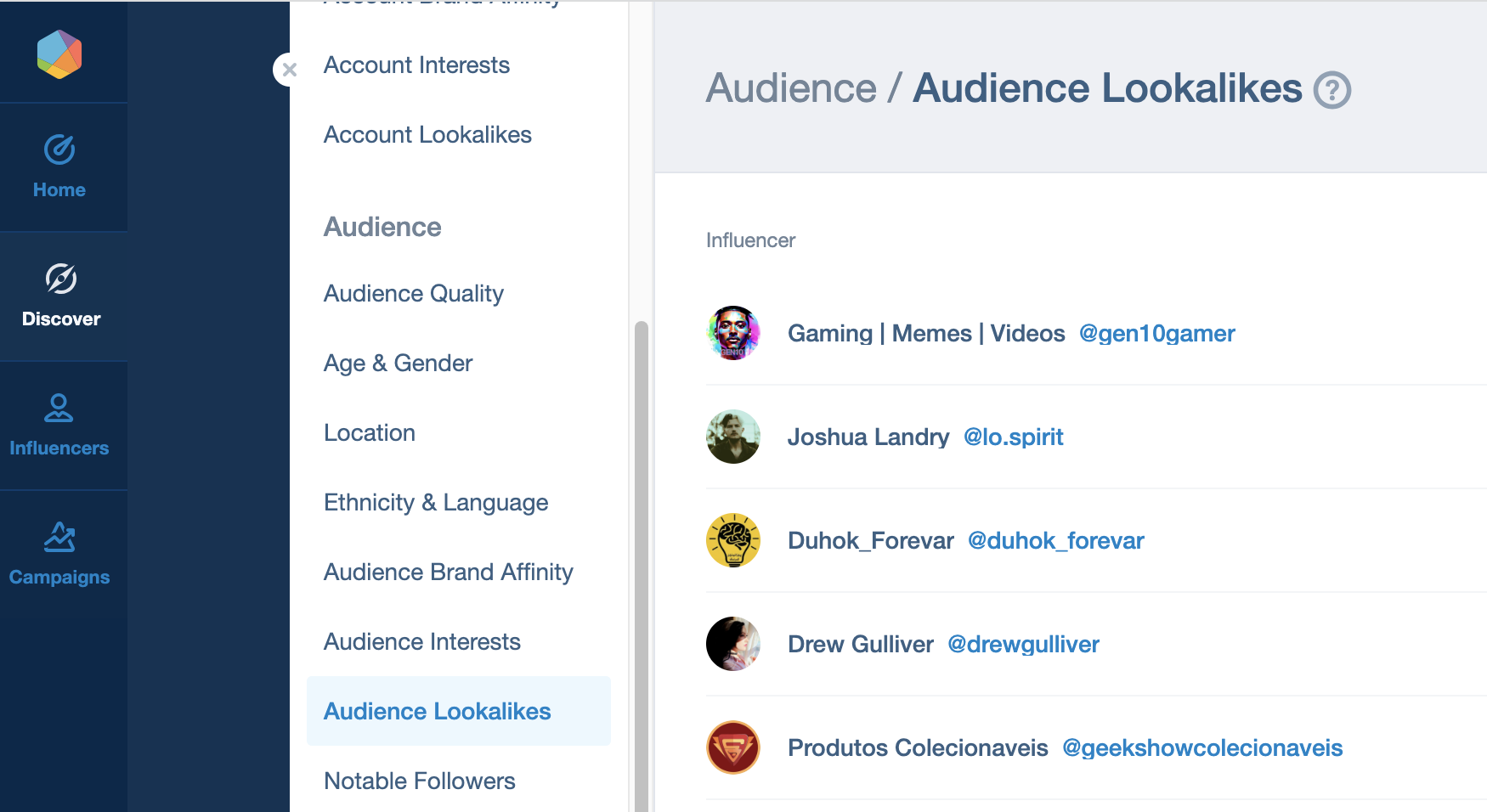 Understand whether influencers in Discover search results are already in the CRM
When searching for influencers in Discover, you will now be able to immediately see if some of them are already saved in your Influence CRM.