Social Media Management has partnered with Google to allow you to review your Google Reviews in Engage. Below, find out more about this new feature, what to expect, and how to connect your Google Business Profile.
In this article:
---
What Was introduced?
Based on our new partnership with Google, you can now connect your Google Business Profiles (formerly known as Google My Business) to Social Media Management, and Google Reviews will appear in your Engage Feeds.
There, you can address your Google Reviews by using Engage's messaging and collaboration capabilities.
---
Connecting Google Business Profiles to Social Media Management
From anywhere in Social Media Management, click on your profile icon on the bottom left.
Click Settings.
From the menu on the left, under Channel Settings, select Channels.
Click Add Channels from the top right.
Under Google Business Profile, click Connect.
When the Google popup appears, log in with your personal Google profile credentials. If already logged into Google, click Continue as…
From the menu on the left, New and disconnected channels, check the box beside any Google Business Profiles you would like to connect. You can identify each profile by its name and location, so you know which locations under a parent company you are adding as a Channel.
Click Connect Channels.
From your list of teams in Social Media Management, select any number of teams you would like to add your Channel(s) to.
Click Finish.
Note:
Any Social Media Management user with a user role of Admin or Team Leader can connect a new Google Business Profile to Social Media Management.
---
Google Reviews in Engage
In Engage, we have added Google as a network in the Feed filters, and we have added Google to the Reviews post type, which we already had for Facebook Reviews. Each profile location will show as a separate Channel, which allows you to create Feeds for reviews from one or more specific store locations.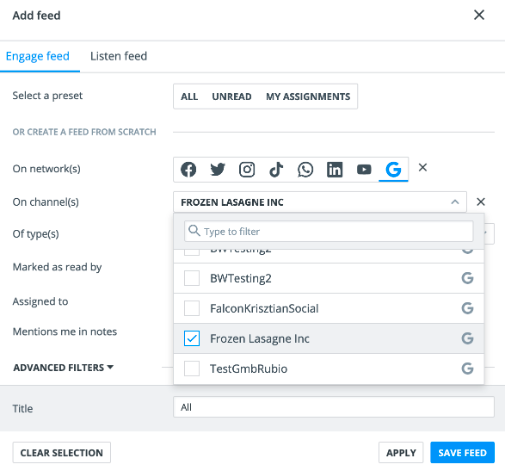 The reviews contain a star rating, and can optionally contain a review text (if it's present natively). Users can take the following actions for Google Reviews within Engage:
Reply (only one reply per review)
Edit your reply
Workflow actions: assign, label, mark as read, create notes, answer with an existing response template
Export review data in CSV format
View reviews in Engage Label Reports
Create assignment and labelling automation rules
---
Limitations
Like Facebook Reviews, all Google Reviews are excluded from Team Performance Reports.
Liking, hiding or deleting a review is currently not supported.
Google Reviews can have attached images. However, we can't show these images, and you'd need to check for images natively.
Audience profiles can't be obtained, and Social Media Management doesn't support Audience profiles for Google Reviews.