Tap into your TikTok conversations directly via Social Media Management. In Engage, you can easily view your own content and interact with comments and comment replies. Below, get started with setting up your new TikTok Engage feed and learn how to interact with your content.
In this article:
---
What TikTok content will I see in Engage?
From the moment you have successfully connected your TikTok channel to Social Media Management, you will be able to view the following content in Engage:
Your channel's videos, along with the audio, description, music used, and all hashtags.
Your video's comments.
Your video's comment replies (i.e. threaded comments).
Audience TikTok profiles for all received comments, including the commenter's TikTok handle, conversation history in Engage, and common topics, e.g. "Talking about."
Note:
Due to API limitations, TikTok direct messages (DMs) are currently not supported to either send or receive in Engage.
Note:
Engage will index comments from organic TikTok content as well as boosted organic content, also known as Spark Ads, on TikTok. Due to API limitations, Engage currently does not index comments from any other ad types or paid content created on TikTok.
Note:
Third-level replies (i.e. a reply to a reply) will be indexed and displayed in Social Media Management. However, due to API restrictions, such replies will be displayed in the list of replies to the first/initial comment (i.e. as a second-level reply).
While viewing your content and comments, you can reply and leave additional comments as noted below. However, please bear in mind that you will not be able to see the following information:
Content originating from any channel other than your own (e.g. @mentions of your channel).
Any authors @mentioned in comments.
Comment sentiment.
Note:
If you have enabled the option to restrict comments on your TikTok videos unless approved, either entirely or per given keywords, these comments cannot be found or released in any way across our platform. The only option for these comments is to approve them via TikTok's native, in-app privacy settings. Once approved, these comments will then be indexed and displayed in Engage.
In order to remain compliant with TikTok's Terms of Service, any users mentioned in a comment will appear as @UserName. In addition, sentiment will not automatically be applied to comments and it's also not possible to manually apply sentiment to any comments.
---
Creating a TikTok Engage feed
To get started viewing your TikTok content in Engage, you will need to create a new Engage feed. Please follow the steps below to create a new feed specifically for your TikTok content:
In Engage, click Add Feed in the top-right corner of your Feed overview (or, click Edit on an existing feed).
Beside On network(s), select the TikTok icon.
If applicable, use the other fields to specify channels, marked as read rules, or assigned users.
Click Save Feed.
---
Interacting with TikTok content
Videos
While viewing your TikTok content in Engage, you can click to watch your complete videos, along with any sound. Once the video is finished, you can choose to rewatch, view in full screen, scroll through related content, or view your profile natively on TikTok in a new tab.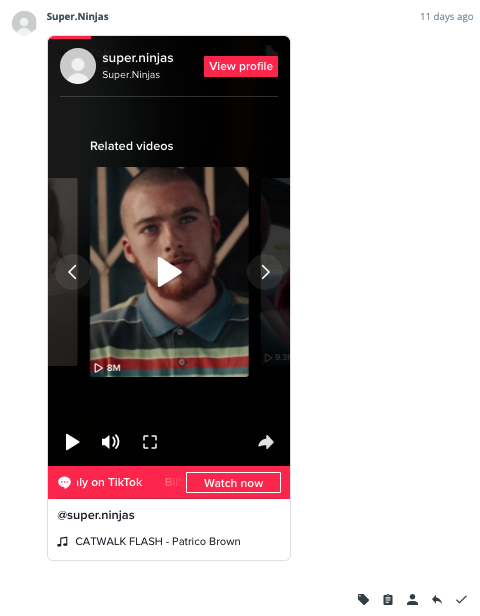 Comments
All comments on your content will appear in Engage. You can choose to click Reply on any comments and comment replies (i.e. threaded comments) via Engage. If you reply to a comment via Engage, your reply will appear as as it would natively on TikTok.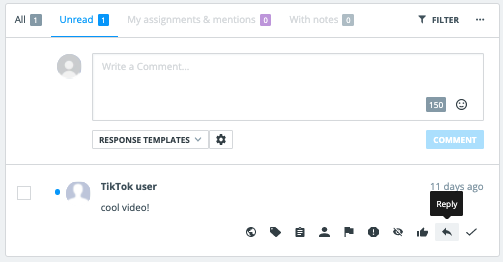 As well as replying to comments, you can also choose to add labels, assign, add notes, mark as read, and mark as spam/priority.
Automation
Automatic labeling and assignment rules can be created for TikTok content. Visit our article on Automation in Engage to learn how to set up your automations.
What actions are restricted?
While interacting with TikTok content in Engage, please bear in mind that it's not currently possible to:
Automate messages.
Delete your own posts.
Pin comments (this feature has been deprecated natively on TikTok).
View or add comment sentiment.
---