In Audience, you can choose to export any of your existing audiences or a custom filtered selection as a CSV file. During the process of exporting, you'll have the option to select the data which is included (for example, first name, last name, or email address).
Please bear in mind that, to remain compliant with LinkedIn's terms of service, LinkedIn customer data will not be included in Audience exports.
In this article:
---
Exporting an Existing Audience
In Audience, you can find your existing Engage and Listen audiences under the 'Audiences' tab from the top of the page. When you're viewing the list of audiences, you can hover over any audience and select Export to CSV.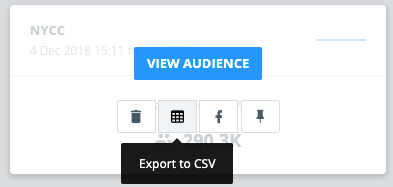 Alternatively, you can click View Audience to view the profiles in your Audience or add filters. At any time, you can click Export to CSV from the bottom left.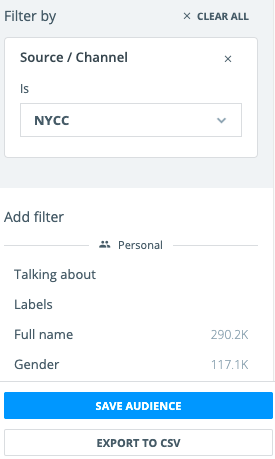 ---
Exporting a Custom Filtered Selection
You can visit your entire audience in Social Media Management by clicking the People tab in Audience. Next, you can choose to filter your audience using the Add Filter menu on the left-hand side of the page.
Once you've applied the necessary filters to your Audience, you can click Export to CSV from the bottom left.

---
Selecting Data for your Audience Export
Whether you're exporting an existing audience or a filtered selection of profiles, you will have the option to select the data you want to receive in your export.
Under Fields, you will see all available data options, such as full name, email, gender, country, followers, twitter handle, and more. Clicking on any field will move it to Selected Fields. Once you have made your selection, scroll to the bottom of the list and click Export.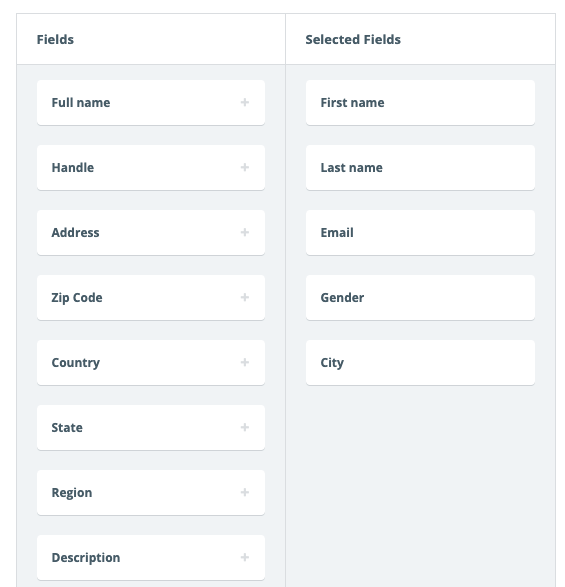 Within minutes, you will receive an email containing a download link to your export. Follow the link and click Download_1 to download the CSV file
.

Note:
You must be logged into Social Media Management to access your download from the link you will receive via email. If you are not already logged in, you will be prompted to log in using your Social Media Management credentials.
---