When you save a search in Listen, all Social Media Management users in your organization will be able to easily access, revisit, and filter through all available data in your search. However, please be aware of some potential limits on saving searches and, in rare cases, indexing mentions.
In this article:
---
Limits on Saving Searches
In Listen, any Social Media Management user with a user role of Team Leader or Admin can choose to save their data as a Saved Search.
However, the number of searches you can save is capped as per your organization's contract with Social Media Management. The cap is not a unique cap for each user, but rather for your entire organization. Each time a user creates a new Saved Search, it will contribute to your organization's cap.
You can view your cap by clicking Saved Searches at the top of the page. Hover over X left to view a breakdown of your allotment.

To create room for more Saved Searches, any Team Leader or Admin user can delete an existing Saved Search by clicking the context menu (three dots) followed by Delete.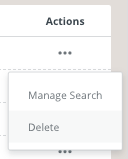 ---
Limits on Indexing Mentions
In Listen, your searches will typically index a maximum of 2,500 mentions per day.
Note:
This exact number may vary depending on your Social Media Management contract. To find out the specific maximum for your organization, please contact your Social Media Management Customer Success Manager.
In addition to this, if you save a search which returns an extremely high volume of mentions (for example, if you search using few terms, generic words, or popular events), a fixed sampling rate may be applied.
How does the sampling rate work?
When you save a new search, Listen will immediately review the number of matching mentions from each day over the last month. If, over the last month, your search returned more than 2,500 mentions for any five of those days, your search's mentions will be limited. We use the fifth highest daily number of mentions to calculate the sampling rate.
For example, if the fifth highest daily number of mentions was 5,000, this number will need to be reduced by 50% to meet the limit of 2,500. All daily mentions in your search will be reduced by 50%.
Similarly, if the fifth highest daily number of mentions was 10,000, this number will need to be reduced by 75% to meet the daily limit of 2,500. All daily mentions will be reduced by 75% as a result.
Note:
Quick Searches will not be sampled. Listen will only calculate and determine an applicable sample rate when your search is saved.
Will my insights data still be accurate?
Yes - All insights graphs, including the display of your mentions volume, will be extrapolated based on the sampled mentions to show accurate data. However, only the reduced number of daily mentions will be visible on the right-hand side under Mentions.
In addition, if sampling is required in a Listen search, your results will still display a representative spread of mentions across all sources. Each mention stands the same chance of being sampled as any other.
---