When you create or review an existing search in Listen, you will have the option to view and analyze the data relating to all mentions indexed in your search. To get a better understanding of patterns and trends, you can also choose to filter all available data to match your specifications.
To get started, create a new Quick Search or open any existing Saved Search. On the left-hand side of the page, click the Filter icon.

When the filter menu opens, you can choose from any of the filters below:
Keyword
Platform
Sentiment
Emotion
Gender
Author
Site*
Owned content*
Tags*
Language
Location
Twitter account type*
Mention type*
*Not available for Quick Searches. You will need to save the search first.
Tip:
When you're adding a keyword filter, consider including search operators such as OR, AND, or NOT. Adding operators allows you to filter by optional keywords, or exclude keywords altogether. E.g., Brandwatch OR Falcon
Once you have applied a filter by clicking the applicable checkbox, the graphs, the metrics, and the mentions will become limited to including only information matching your filter. For example, if you select the Sentiment: Positive filter, you will only be able to see the mentions with a positive sentiment. All graphs and metrics visible will also relate only to the same positive mentions.
With the Tags, Language, Owned content and Location filters, you can alternatively choose to exclude mentions from consideration using the include/exclude dropdown.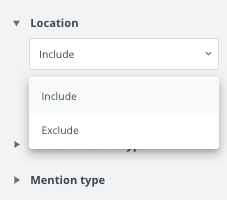 When filters have been applied to your search, the number of filters will be displayed on the filter icon as shown below.

To remove any filters, you can click the Filter icon. You can choose to deselect the checkbox beside any selected filters or click Clear All from the top of the list.

FAQs
Will my filters stick if I leave and revisit my search results?

Yes - Any filters you have applied to your searches will still be reflected when you revisit a search. The filters will only reflect those which you, personally, have applied to the search. If another user applies filters for example, this will not be reflected when you visit the search.

Can all Social Media Management users apply filters to searches?

Yes – While only Team Leaders and Admins can save new Listen searches, all users can view and filter searches.

If I export mentions while a filter is applied, will I receive the filtered selection of mentions?

When a filter has been applied, only the filtered mentions will be included in your export.

Do I need to save my search as a Saved Search first?

No – Both Quick Searches and Saved Searches can be filtered.