When you create a new Listen search, you can easily view and analyze data relating to all mentions indexed in your search, such as total mentions, word clouds, demographics, sentiment, and more. This serves as a helpful overview of your search and audience.
However, using the Mentions bar on the right, you can get a closer look at your mentions by viewing them individually along with analyzed classifications such as sentiment and emotion. You can also choose to access the mentions via their original source, add tags, export, and much more. In this article, find out what data is available for your mentions and how to access your mentions natively.
Note:
This article covers the information available for mentions in Saved Searches. If you are viewing a Quick Search, some mention data may be missing. Please either save the search or visit our guide to Quick Searches vs. Saved Searches for an overview of what data may be unavailable.
In this article:
---
What Data is Available for Listen Mentions?
Your Listen mentions are located on the far right-hand side of your Listen search under the Mentions panel. While viewing your mentions in Listen, you will be able to see the data below where applicable.
Website name
Website domain
Social media network
Author name and handle (Twitter, YouTube, Tumblr, and Reviews where available)
Author profile image (Twitter only)
Text preview
Media preview
Date of publication
Reach and Impressions (Twitter, Forums, Reviews, News, and Blogs only)
Retweets
Sentiment
Emotion (mentions in English only)
Location (not available for Instagram mentions)
Language
Existing tags
Note:
Reach may not be available for all forums, reviews, news articles, and blogs. In addition, location data will be visible only if publicly available.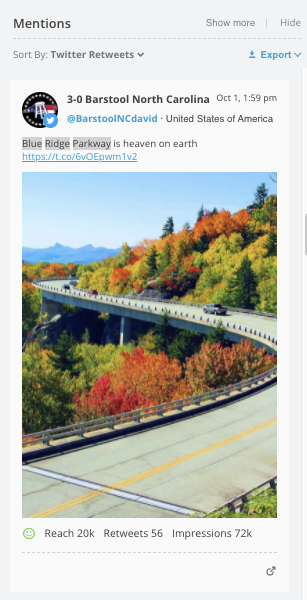 From the Mentions panel on the right, click to expand and view more information available for each mention.
For a more in-depth look at the data for your mentions, such as gender, Reddit score, Facebook comments and likes, exact location, and verification status, consider exporting your Listen mentions.
---
Viewing Listen Mentions Natively
When you're viewing your mentions in Listen, you can easily access the original publication (for example, the original post, blog, review, or news article) at any time by clicking on the date from the top right.
The link to the mention source will open in a new tab in your browser.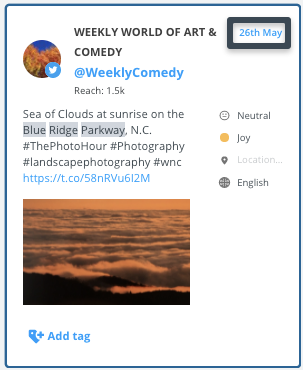 ---
Sorting Listen Mentions
At the top of the list of mentions, click Sort By to sort your mentions by reach, newest first, oldest first, a random order, Twitter Retweets, or Twitter impressions.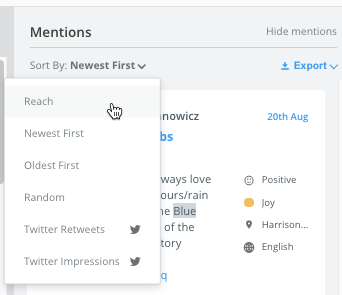 ---
Filtering Listen Mentions
Save time scrolling through all mentions in your search by filtering your Listen search. When you filter a Listen search, all visible data including the graphs, metrics, and mentions will become limited as per your filter selection. For more information on the available filters, please visit our guide here.
At any time, you can also change the timeframe by clicking the calendar icon at the top right.