Ads insights are your go-to overview to track how well your advertising efforts are performing so you can make better-informed decisions on how to allocate your budget.
---
Filters
Use the unique filters per campaigns, ad sets, and ads in order to customize your performance overview. You may also use the search bar and the date range to further drill down into your insights.
For campaigns, you can filter by Status, Objective, or Performance.
For ad sets, you can filter by Budget Type, Billing Event, Optimization Goal, Status, Objective, or Performance.
For Ads, you can filter by Budget Type, Status, Objective, Post Type, or Performance.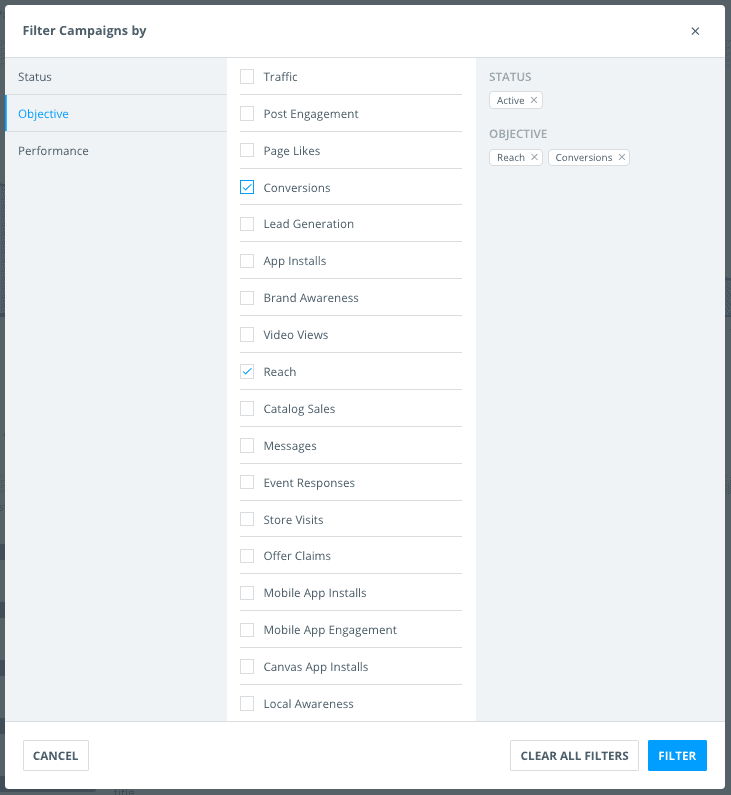 ---
Statistics
Once you set your filters and the desired date range, you can further customize the performance graph and table by selecting those KPI's that are most relevant for your campaigns, ad sets, and ads. In most cases, you want to track the total spent on your campaigns and ad sets. It's always important to check if you are spending as expected or if you should make changes to your budget. Check out our articles on Facebook Key Performance Indicators and LinkedIn Key Performance Indicators for more information.

Apart from the total spend, you could also look at:
Conversions
If you are running a campaign with the objective of driving traffic out of Facebook, we recommend paying close attention to the number of website clicks and the number of conversions. These are the best indicators for finding out how well your campaign is performing. Keep in mind that you need to have conversion pixels installed on your website to be able to track conversions. Learn more about Facebook pixels.
Exposure
If your goal is to reach as many people as possible, it is important to look at the number of Impressions in your campaigns. Are you reaching as many people as expected? Or maybe even too many? To make sure that you are not overexposing your audience to your content, it is important to look at the frequency, which displays the average number of impressions per user. If this number is too high, you may need to consider widening your audience.
Fans
When running page like ads, the most important metric is naturally page likes. Are you actually recruiting the fans you want or should you change your page like ad? Other than the number of page likes, it's important to look at the cost per page like and its development over time. If you suddenly start paying more per fan, then you should consider changing your ad set or focus your budget on a different objective.
---