The Measure module is where you can track the performance of all your social media efforts. Save time by collecting data from multiple networks in one place, presented with attractive visualizations. Let's explore all that Measure offers.
In this article:
---
What Are Dashboards?
A Dashboard is an empty canvas that can be filled with so-called Widgets. Each Widget is a customizable container for the metrics of your choice. For example, you could create a 'Total Reach' Widget that shows data on the reach of your content for two of your channels. Another Widget might cover interactions such as Comments, Likes, and Shares. Together, these Widgets form a Dashboard. This gives you the flexibility to select, combine, and organize the metrics that fit your specific needs.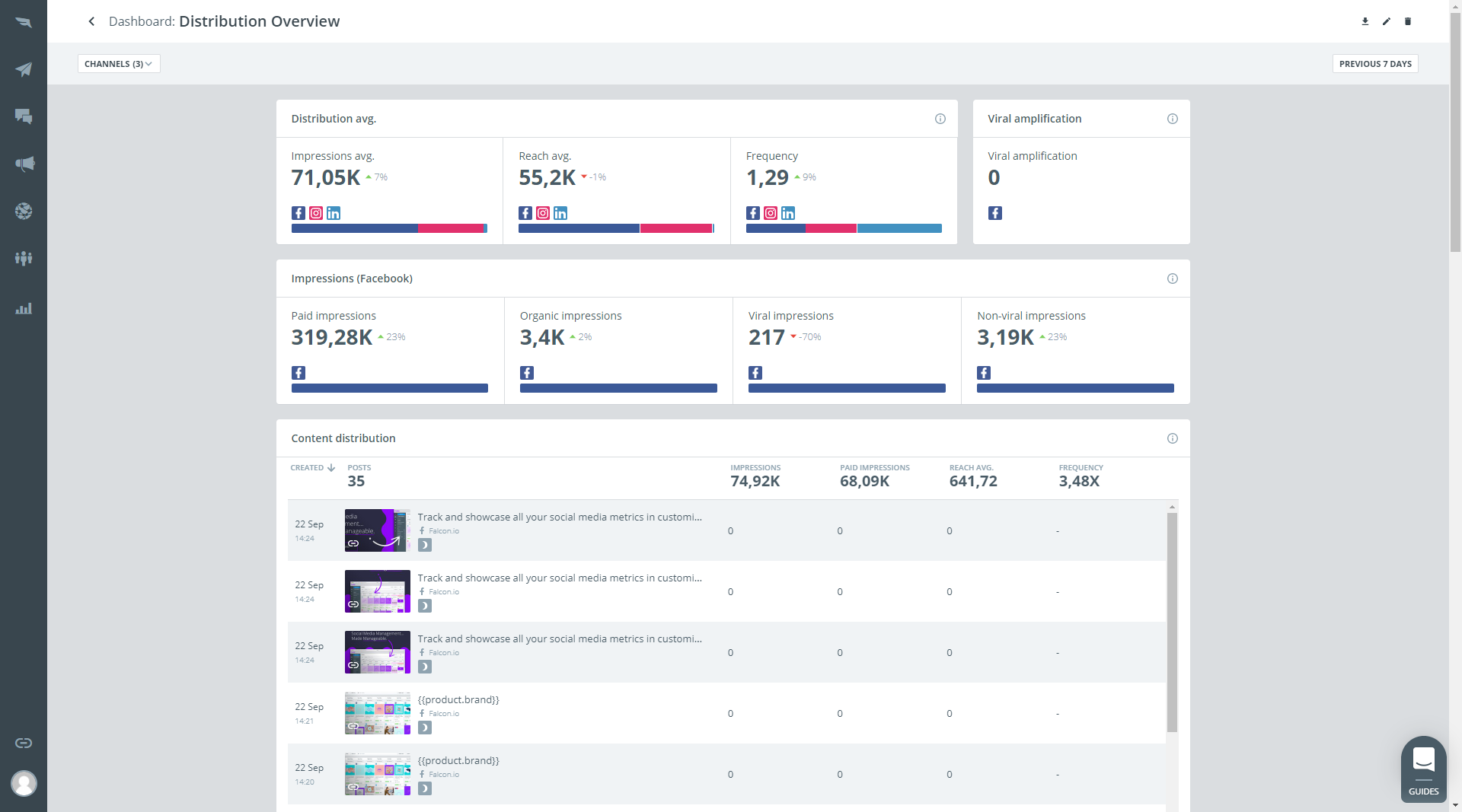 All Dashboards will remain available over time. You can use them on a recurring basis by changing the date range that the data should cover.
---
Measure Overview section
When you open Measure, you arrive in the Dashboards Overview section. From here, you can view, filter, and access the Dashboards you have created in the past.
The Reports Overview section can be found in the top left 'Reports' tab. This overview is similar to the Dashboards one, except for a few additional options for filtering and exporting.
---
Dashboards
Creating Dashboards
To build a Dashboard, simply click the 'Create Dashboard' button in the top right of the Dashboards Overview section. From there, you can either go for one of our handy presets, or you can create an empty Dashboard that you can fill with the Widgets of your own choice. Our in-depth guides on creating Dashboards and editing Dashboards will help you out with the specific step-by-step instructions.
When adding or editing Widgets in your Dashboards, Social Media Management has a great number of available metrics. Not only can you choose freely from among them, you can also decide exactly how you want to display them by choosing totals, averages, time series, or breakdowns, for example, and by dragging the Widget to your preferred size and position.
Exporting Dashboards
Each Dashboard can be exported as either a CSV or as a PDF file. A CSV export will give you the raw data behind your Dashboard, which you can use for further data analysis in software such as Excel. With a PDF export, you get your Dashboard presented as a PDF with the visuals preserved and ready for presentation.