The Engage module lets you interact with your customers from one central inbox. It is flexible enough to support any workflow you and your team choose, making moderation and teamwork a smooth experience. Let's take a look at the features you can expect.
In this article:
---
Feed Overview
The first thing you see in the Engage module is the Feed overview. This is the central hub that will show you all of the content that is waiting for moderation.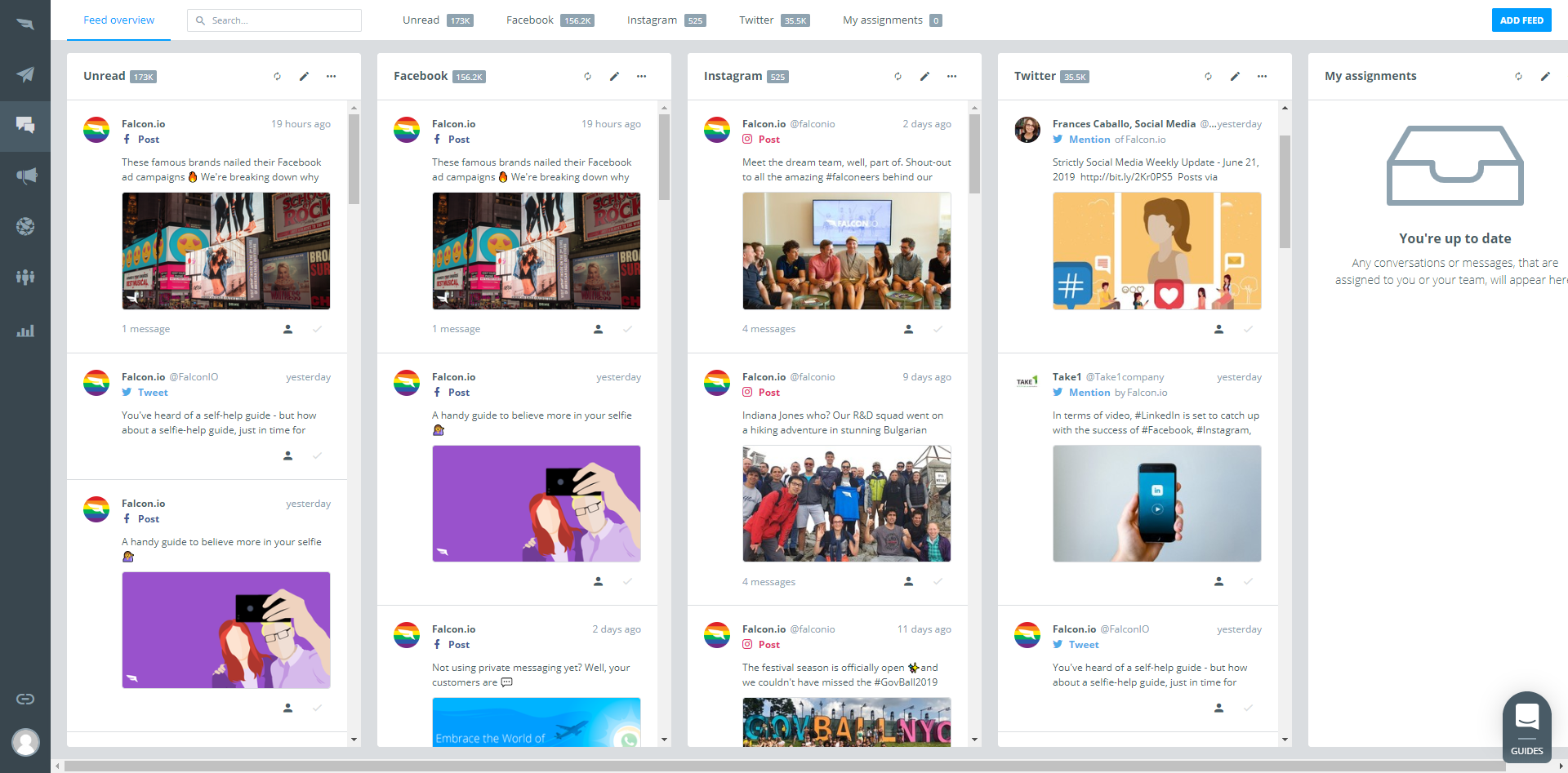 Your incoming messages can be organized in Feeds, which are columns of content items that are shown according to the filters you set. For example, you can create a Feed with all Facebook Direct Messages, and another one that shows all mentions of your Twitter channel.
Feeds can be dragged and dropped to re-order them. At the top of each Feed, the content can be sorted by newest or oldest, and the Feed can be refreshed, edited, or deleted.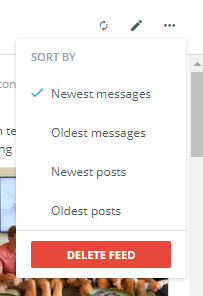 At the very top of the module you can search through all Engage content and click on the Feed names for quick access to the Detail View.

Content in your Feeds appears under the main objects to which they belong. That means that you will see your own Facebook posts with an indicator that there are a number of new replies to it. Clicking the item will open a Detail View where you can find the individual replies that need moderation. This ensures that you are always aware of the context of your conversations.
---
Feed Creation
Creating new Feeds and editing existing Feeds can be done with a variety of filtering options.
The basics include the network, type of post, channel, and the "Marked as Read" or "Assigned To" status. These last two options are for indicating that a message has been handled and for assigning a message to one of your colleagues, respectively.
More advanced filters include labels and keywords, as well as Spam and Sentiment detection.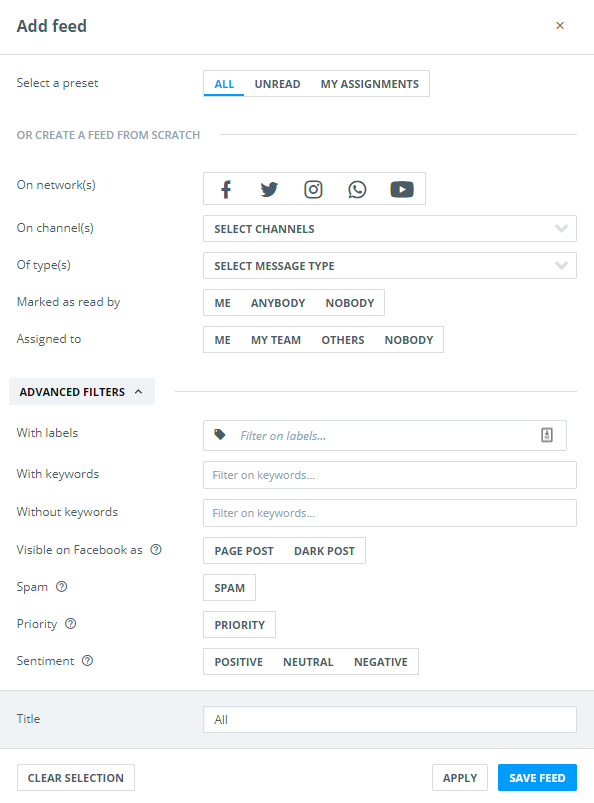 Tip:
We've created a 'Best Practice' guide for setting up your feeds. It helps to ensure that you never miss a message, and it maximizes collaboration in and across your Teams. You can find it here.
Tip:
Feeds are unique to your user. You can decide to create your own Feeds that are specifically suited to your own Engage use case.
---
Detail View
As mentioned earlier, clicking on any piece of content in your Feed will open up a Detail View. This is where you can take content handling actions at an individual message level.
The left side of the section has your Feed overview with items that need your attention. The center shows your selected item with all individual interactions that belong to it. This is where most of your monitoring activities will take place. On the right, you can find the Audience profile of the customer whose content you are addressing. This contains information about the person's social media profile that you can take into consideration when dealing with their message.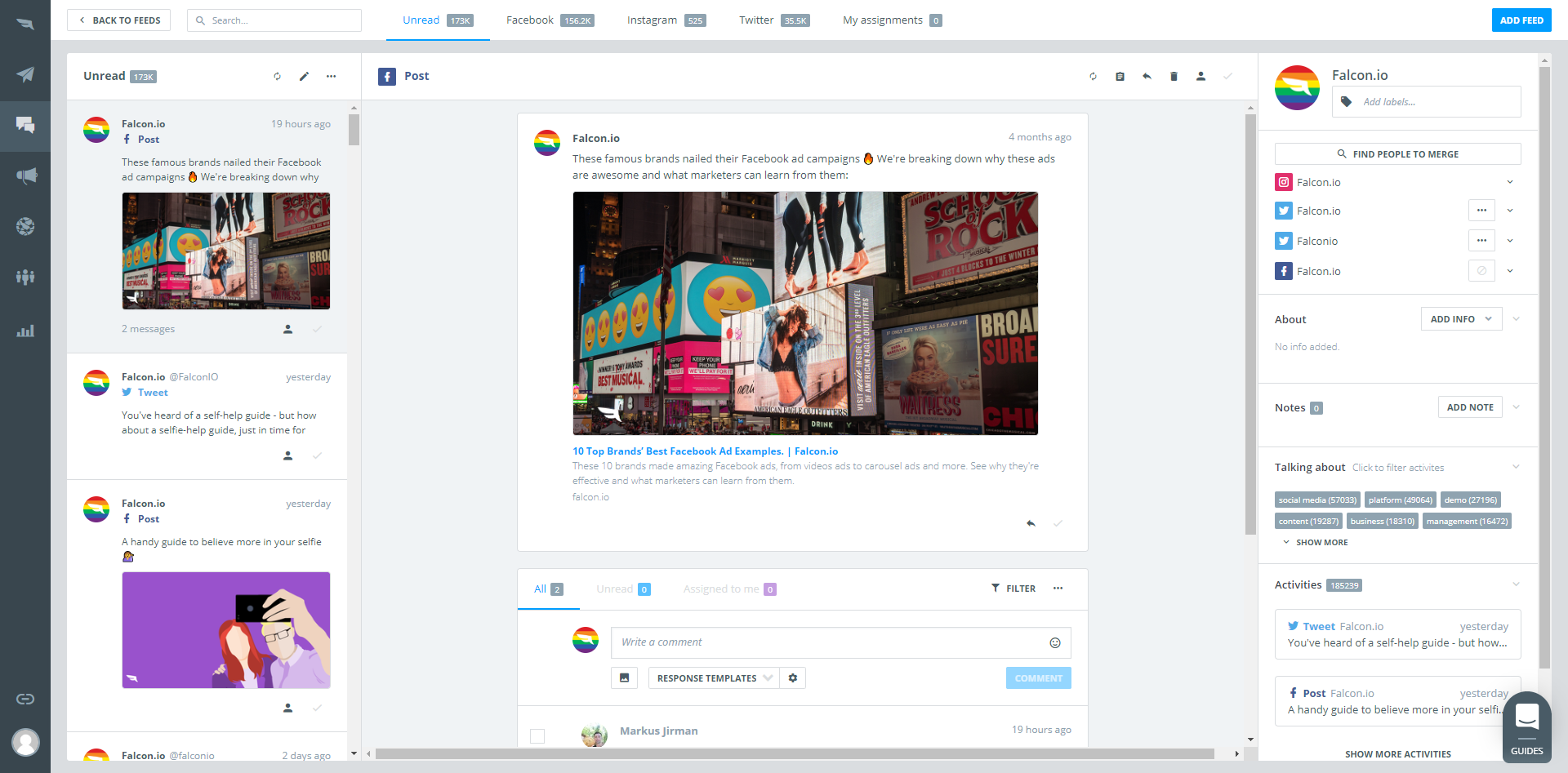 There are multiple ways to interact with a message. You can send a reply, assign it to another user, mark it as read, like it, or delete it. Other options include adding labels, changing Sentiment, and marking it as Spam. These, and more options, appear under the message on the right side when hovering your mouse over it.
Bulk Actions allow you to apply one action, such as marking a message as spam, for multiple pieces of content at once.
Message templates let you send scripted replies in situations where the same response is appropriate for different inquiries.
Finally, there are filtering options available for quickly making a selection of comments based on your chosen filters. There are also tabs above each comment section. These allow you to choose between viewing all comments, unread comments, or comments that are assigned to you.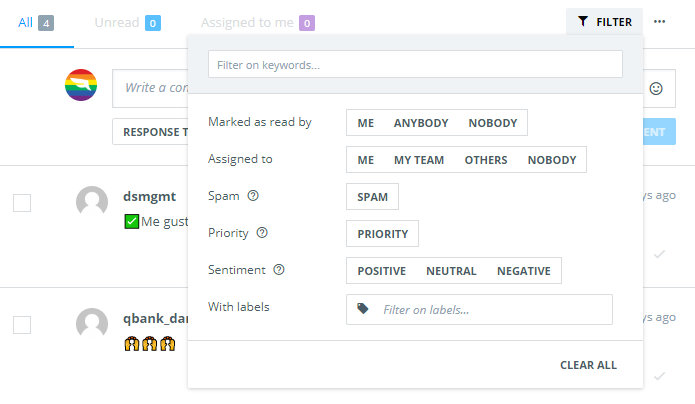 Tip:
Afraid of accidentally responding to the same message as your colleague? No need to worry. Social Media Management automatically makes sure that your colleagues cannot reply to a message you are already typing a response to.
Note:
There's a different layout for Direct Messages compared to comment sections. The available handling actions may differ per type of message and per network.
---
Engage Mobile App
The Engage mobile app brings message handling to your pocket. You can reply to comments in the train, at the bus stop, or while skydiving (last one not recommended though).
---
Eager to learn more about our modules? Continue your journey of discovery by visiting our other module introduction articles here.