Measure will always help you analyze your content's performance in depth, and Advertise can take you layers deep in tracking your ads and campaigns. But sometimes, you might only need some quick insights about your posts. After you publish a post, you can get an easy snapshot of how your is performing.
Note:
Currently, Publish post insights are only available for Facebook posts.
In Publish, scroll down to Content in the left-hand sidebar, and select Published.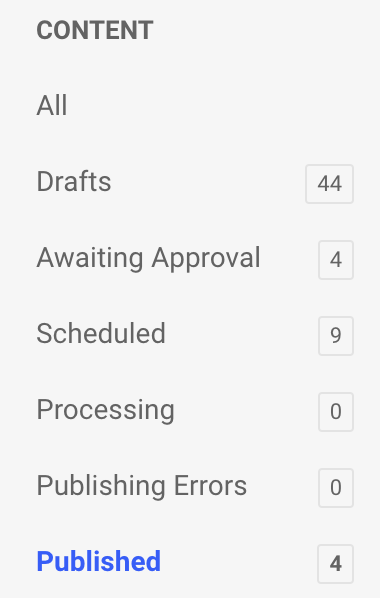 The Published category will house all of your published posts to date.
Facebook post insights
Click on any published Facebook post to open it in a detailed view. From there, you can see quick statistics on the reach of your promoted post, broken down by Organic Reach, Viral Reach, or Paid Reach (for promoted Facebook posts).