Measure will always help you analyze your content's performance in depth, and Advertise can take you layers deep in tracking your ads and campaigns. But sometimes, you might need only need some quick insights for your posts. By checking your post insights in Publish, you can get an easy snapshot of how your promoted posts are performing.
In Publish, scroll down to Content in the left-hand sidebar, and select Published.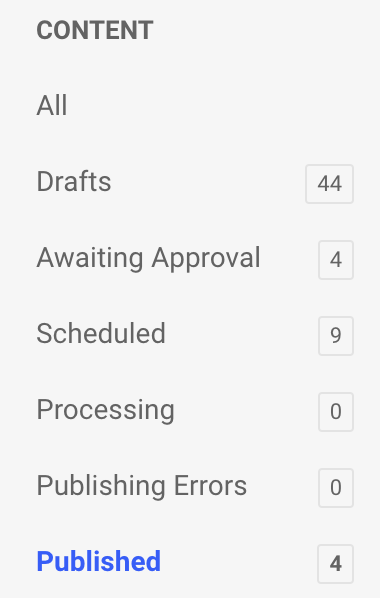 The Published category will house all of your published posts to date. You can filter by network to view your published LinkedIn or Facebook posts only, or filter by Promotion to see only your promoted posts.
Note:
At this time, dark shares and their promotions (also called Direct Sponsored Content) are not supported in Social Media Management.
Click on any published post to open it in a detailed view. From there, you can see quick statistics on the reach of your promoted post, broken down by type of reach: organic, viral, or paid.