Text posts consist of only text, without any media files or link preview cards attached. In a landscape dominated by visual storytelling, it can be refreshing to share the occasional plain text update.
This article will help you get started in creating a basic text post in Publish and cover the available customization options for your post.
Tip:
Visit our Supported Post Types article to get more information on all of the post types you can create in Publish.
In this article:
---
Creating a text post
All networks support a text component as part of your posts. However, Instagram and TikTok require you to add at least one media file in addition to your copy. All other networks support plain text posts without any media attachments. Here's how you can add and customize your post copy for any type of post:
In the Publish module, click Create Post in the top left.
Choose the network and channel(s) you'd like to publish your post to, then click the Create Post button on the right side of the screen.

Note:

Currently, it is only possible to create a post on one network at a time. However, for all networks except X (Twitter), you can select multiple channels on the network to publish your post to.

Within the Publish editor, type or copy your text into the text box in the top left. Some networks have limitations to the amount of characters you can use, shown in the bottom right of the text box.

Tip:

Copying content over from a document or text editor? Be sure to paste your text using Cmd/Ctrl + Shift + V. This keyboard shortcut will ensure that your content is pasted without any hidden formatting that could cause issues with your post layout.

Consider any further customizations to your copy, such as emoji, mentions, branded content, or tagging a location.
Once you're happy with your post, click the Publish, Schedule, or Send for Approval button.
---
Customization options for text posts
Note:
For now, it is not possible to itaclize, bold, or otherwise format your text, either in Publish or on the native networks.
In-text links
There is a difference between links in your post copy and an actual link post. The latter consists of your post copy in addition to a link preview card with more information about the link.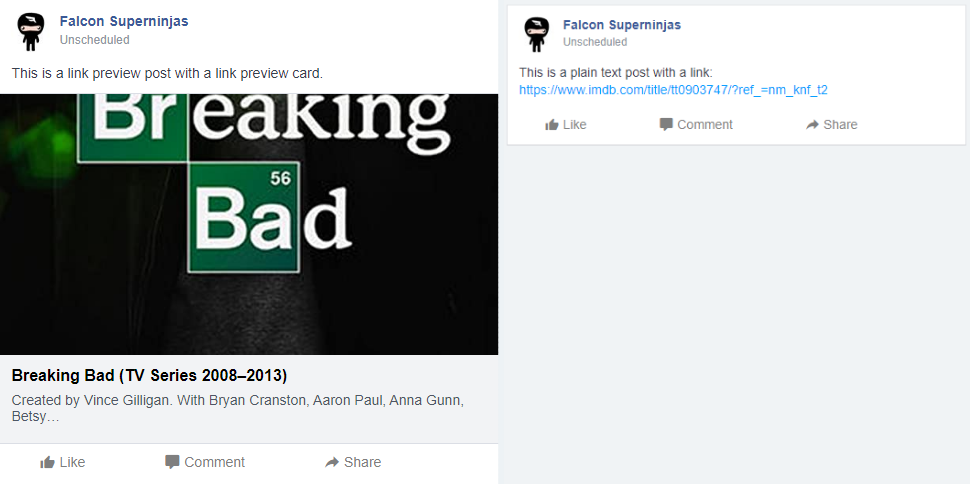 Adding a clickable link to your post copy without generating a link preview can be done in the following way:
Add your copy, including the link, to the text box in the Publish editor.
If no other attachments have been added yet, Social Media Management might automatically create a link preview card.
Click Remove Link below the post text box to remove the link preview card while keeping the link in your post text.


Note:

Twitter automatically creates a link preview card for your post if no other media was attached. Due to API limitations, Social Media Management can't show the link card in the preview of the post.
Consider using our built-in URL shortener to condense the link in your post. You can also apply a link tracking template via the Advanced options in the URL shortener, if you have set up a campaign tracking template for your channel's posts..
Mentions
Pages and profiles can be mentioned in your copy. Per network, there are slight differences to the API support for this feature. For all types of mentioning, you can simply type the @ symbol followed by the name of the page or profile you'd like to mention. A drop-down menu will appear from which you can choose the correct page or profile.
For Facebook and LinkedIn posts, you can mention pages but not user profiles. Twitter supports mentions of all profiles, while Instagram does not currently support mentions through their APIs.
Hashtags
Hashtags can be added to your copy by adding the # symbol in front of a word. For Facebook and Twitter posts, Social Media Management's post previews will show them as blue clickable hashtags in your post text.
Note:
Instagram and LinkedIn hashtags will not appear as blue clickable hashtags in the post preview, but will convert to hashtags once your post gets published.
Emoji
The bottom right of the text box contains an emoji menu. You can use emojis in all posts for all supported networks.