With Influence, you can manage all of your influencer marketing in one place. In this article, get started with Influence and learn how to create your Influence account and become familiar with the key features.
In this article:
---
Creating Your Account
After you are added to Influence, you will receive an email with a link to create your account and login. After you click the link, you'll be brought to a page to enter your name and password. Click Create Account to proceed.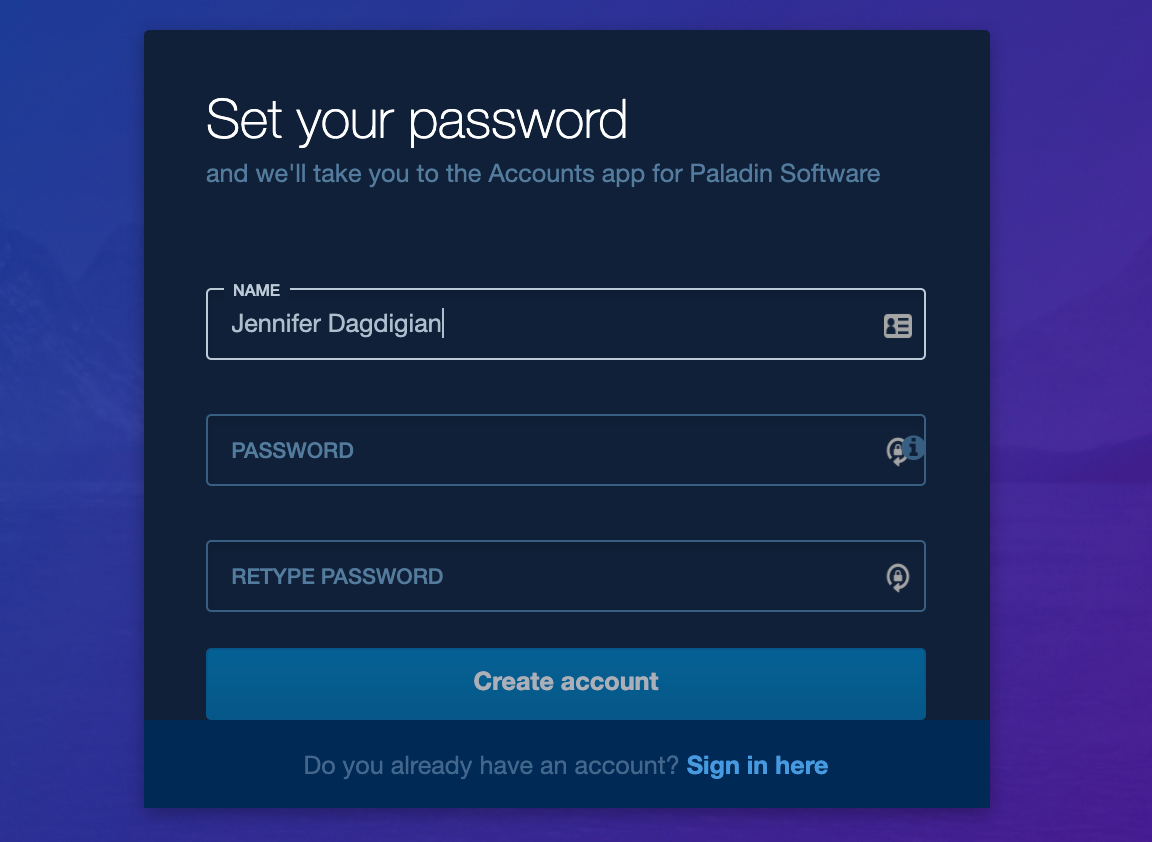 Next, enter your mobile phone number and click Send verification code to receive an authentication code via SMS.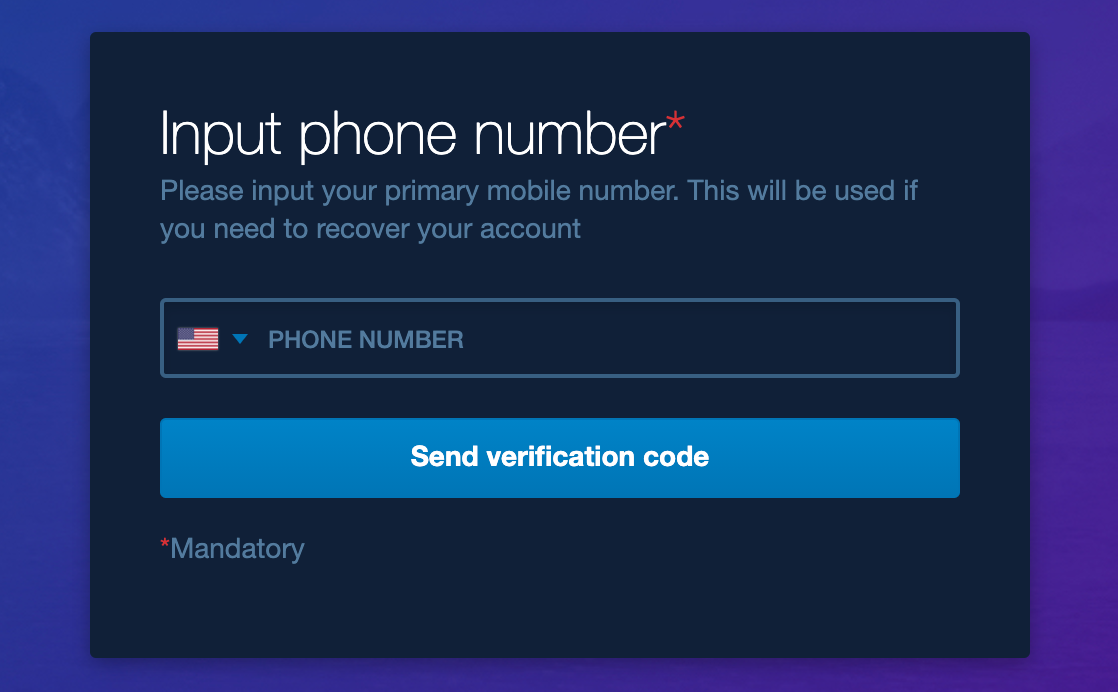 If you do not receive a code, click Try sending it again here. If you still do not receive a code after five minutes, select Confirm that the phone number is correct to double-check your phone number.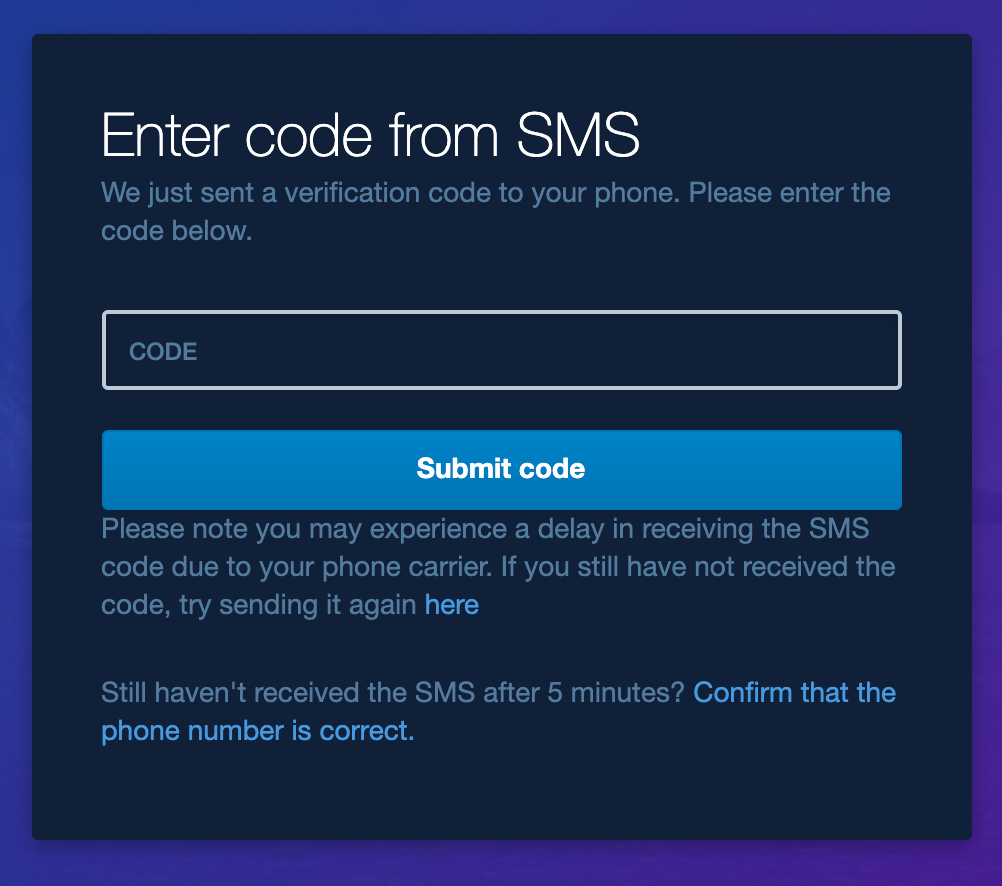 After you enter the verification code, you'll be asked to set up your 2-factor authentication. Select how you would like to receive your 2-factor authentication code: either via Authenticator app or text message.
Note:
We strongly suggest selecting the Authenticator app option, as SMS codes are not supported by some countries.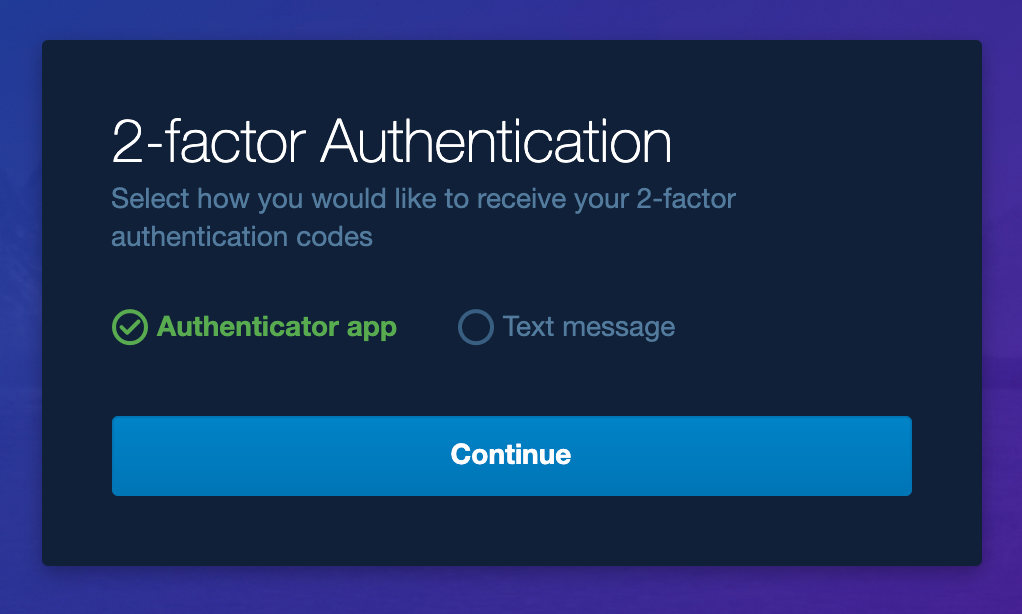 If you select to authenticate using an Authenticator app, you will be shown a QR code to scan with your app. Please download and use either the Google Authenticator app or Authy app to scan the QR code.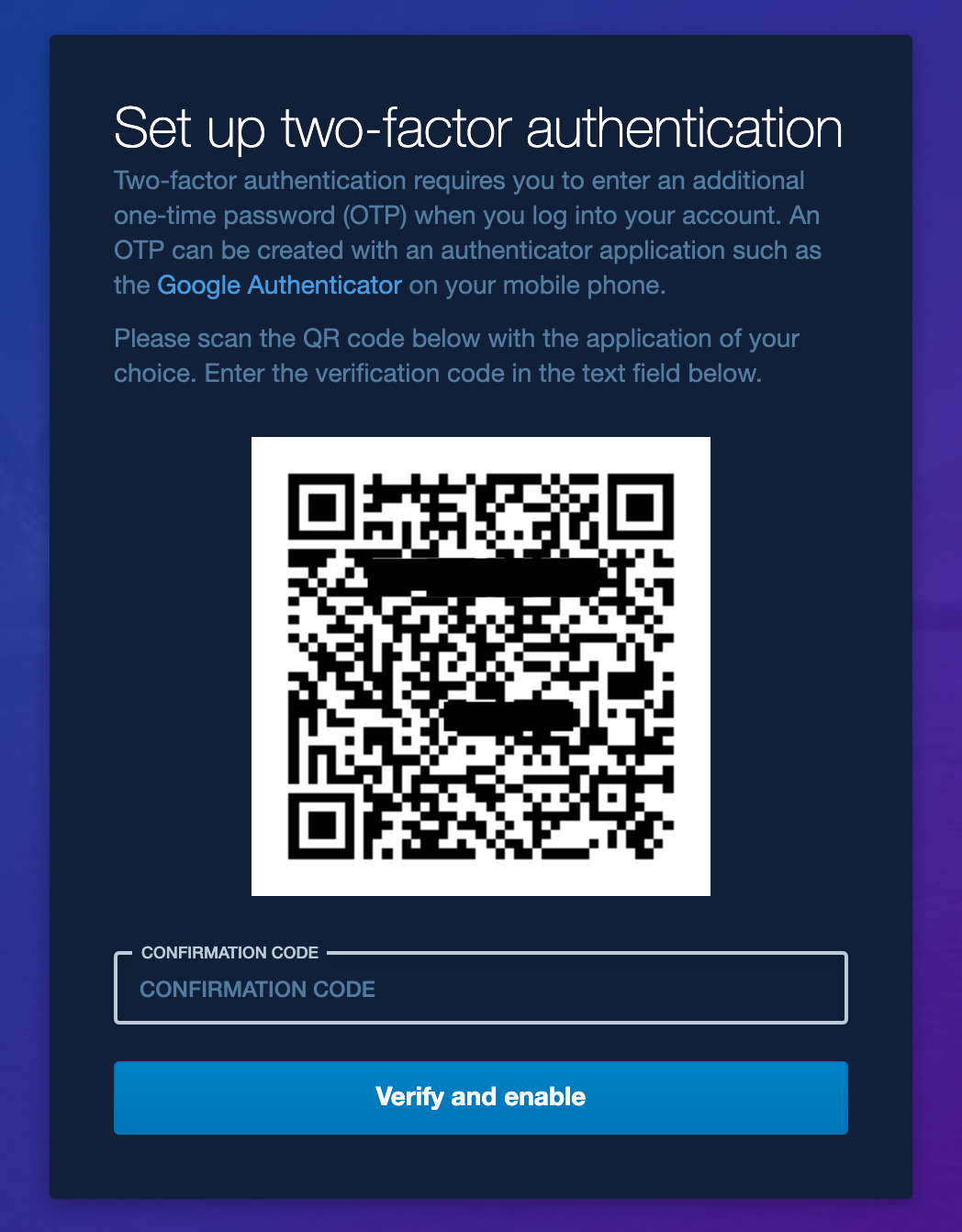 Once you scan the QR code, you will receive a code in the app. Enter the code into the Confirmation Code box on the authentication screen and click Verify and enable. Once complete, your 2-factor authentication will be set up.
If you select to authenticate via text message instead, you will receive a code via SMS to enter into the authentication screen.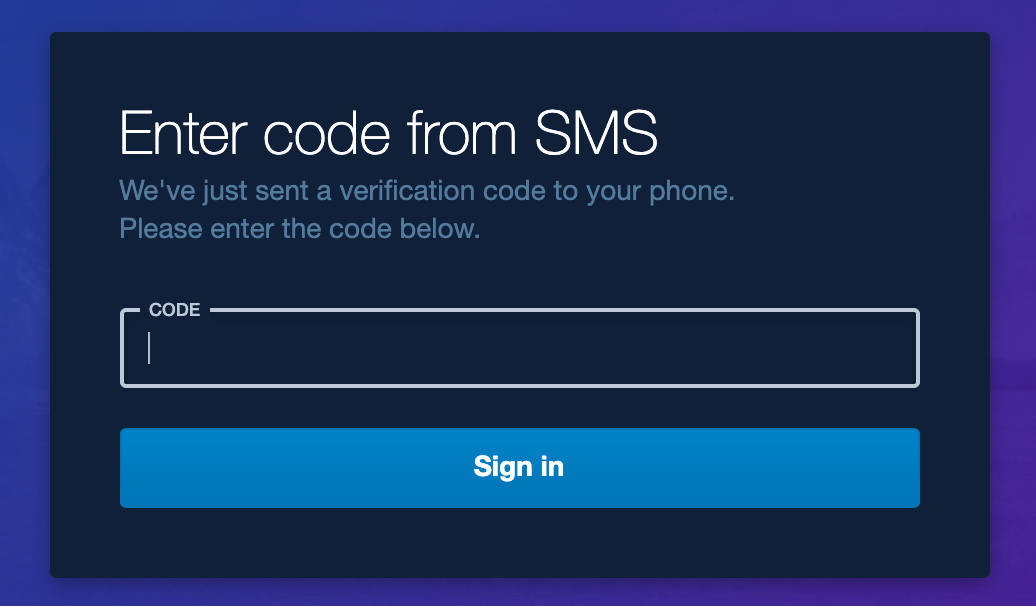 After your 2-factor authentication setup has been completed, you will be logged into Influence directly.
---
Tools in Influence
Each tool in Influence facilitates a key function of your influencer marketing, from influencer research to customer relationship management (CRM) functions to campaign management. Here is a quick overview of each available tool and its features.
Note:
Your access to each tool in Influence will depend on your user permissions and which tools you were granted access to when your account was set up.
Discover
The Discover tool gives you the power to search for influencers that are good candidates for your company using our database of millions of creators on YouTube, Instagram, and TikTok.
To access Discover, click on Discover in the left-hand navigation sidebar in Influence.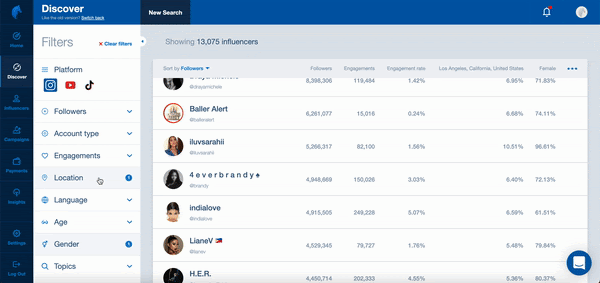 Using Discover is as simple as selecting search filters in the left-hand Filters menu, and then clicking Search. Start by clicking on the social media network you would like to find influencers for — either Instagram, YouTube, or TikTok — and start narrowing down your search by applying filters. Each filter offers a tooltip describing it in detail. Please note that depending on the social media platform you selected, the available filters may differ.
After you click Search and get your results, you can sort for influencers based on different metrics, such as followers, engagement, etc. Click on the column header to sort influencers by a particular metric. You can even customize the columns next to influencer results, based on the filters you selected. Click on the ellipsis icon on the top-right corner of your search results and adjust accordingly. For in-depth information on searching in Discover and the filter and sorting options available, visit our dedicated article on Searching for Influencers.
If you would like to save your search, click on the ellipsis icon next to Filters in the top-left corner of the Discover, name your search, and click Save filters. In this menu, you'll find your saved searches if you would like to apply the same filters to a search in future.
You can dig deeper into an influencer's analytics by clicking on the Analyze button next to the right of an influencer in your search results. Performing this action will cost you one of your allotted Report tokens for the month, but it will provide you a report for the influencer with all of Discover's available analytics on them.
Tip:
You can keep track of your monthly token usage in the upper-right corner of the Discover tool.

Discover offers a Reports tab, which you can navigate to see all of your generated reports and also create new reports for specific influencers. You can view any existing report by clicking on the View button to the right of a report.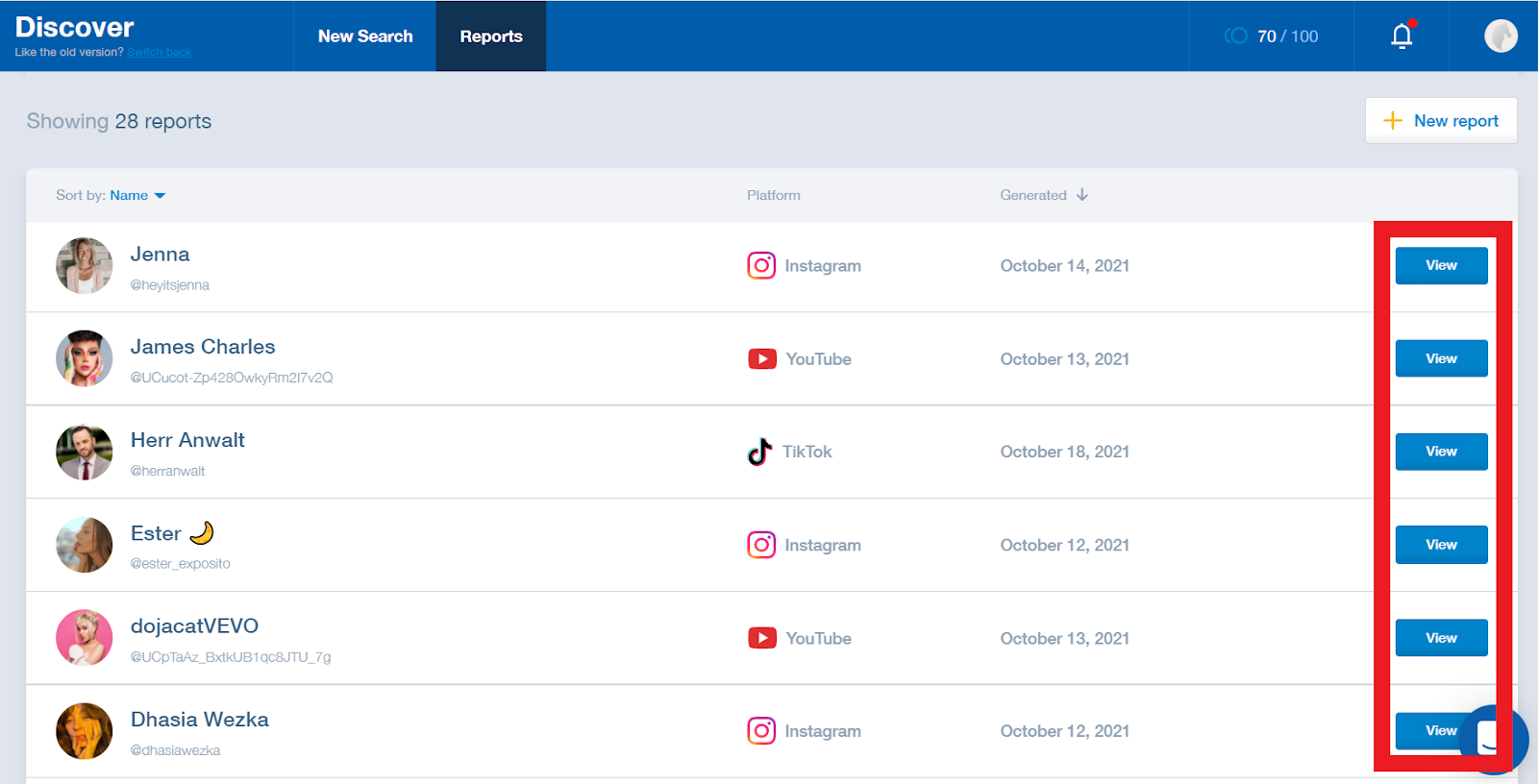 Note:
Influencer reports that are older than 30 days will also have the option to be updated. To update a report, you will see a refresh option next to the View button. Updating a report will cost a token, but your influencer report will be updated with fresh data.
Click the + New Report button in the upper-right corner of the Reports tab to generate a new report. Select the social media platform and enter the influencer's handle or account URL. When you click Generate Report, a token will be used to create the report.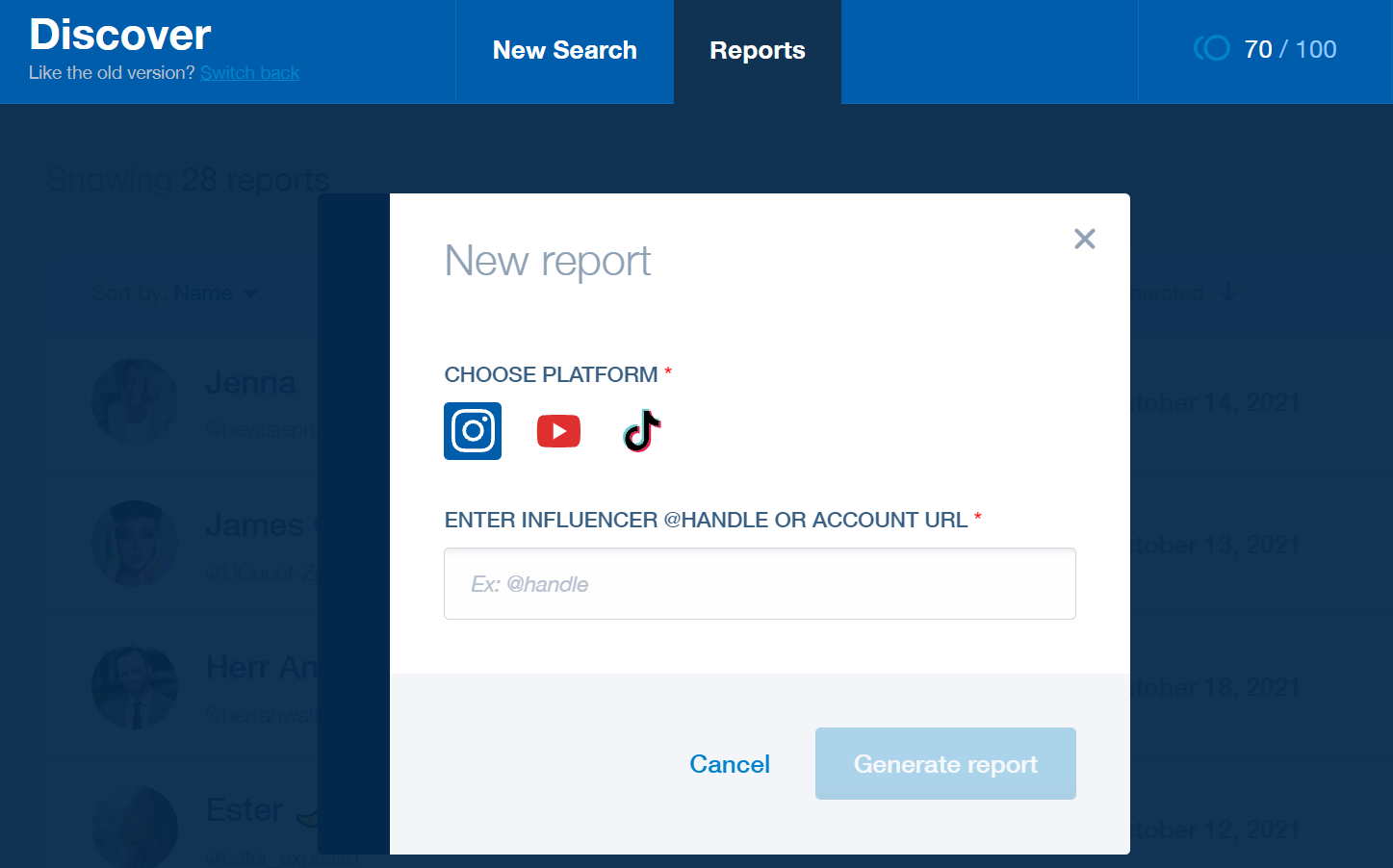 Influencer reports are split into three main categories: Account, Audience, and Posts. Each section of analytics includes subcategories such as Account Analytics, Audience Age & Gender, Audience Location, or Follower Quality, and much more. Use Discover reports to help you gain key insights about the health of an influencer's social account(s), what type of audience they have, and what type of content they create to determine if an influencer will be a good fit before you invite them to work with you.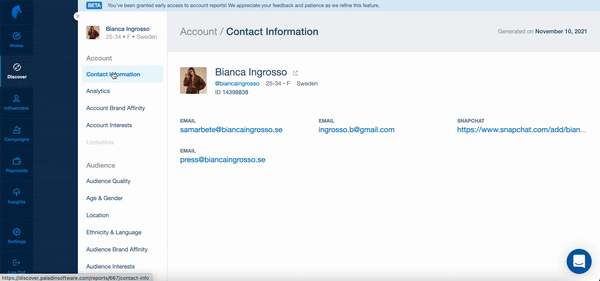 For in-depth information about Discover reports and the available metrics, visit our dedicated article on Generating Influencer Reports.
Influencers
The Influencers tool acts as a customer relationship management (CRM) platform, allowing you to manage a roster of your influencers and invite influencers to work with your organization using an automated onboarding and application process. The automated onboarding flow enables your talent managers to send an influencer a customized application to apply to work with your organization, send and accept contracts, manage the application states of the influencer, and set them up with their own dashboard view of Influence to invite them to specific campaigns with your organization.
To access the Influencers tool, click on Influencers in the left-hand navigation sidebar in Influence.
Onboarding influencers
Influencers can be added to your influencer roster in two ways: by applying via your custom online application link or by being added manually by one of your admins. If influencers apply through your online application link, they can connect their own social accounts and will have the option to connect YouTube, Instagram, Facebook, Twitter, Twitch, and TikTok accounts. This is helpful so that influencers can authorize their social accounts with you to grant you access to their accounts' data.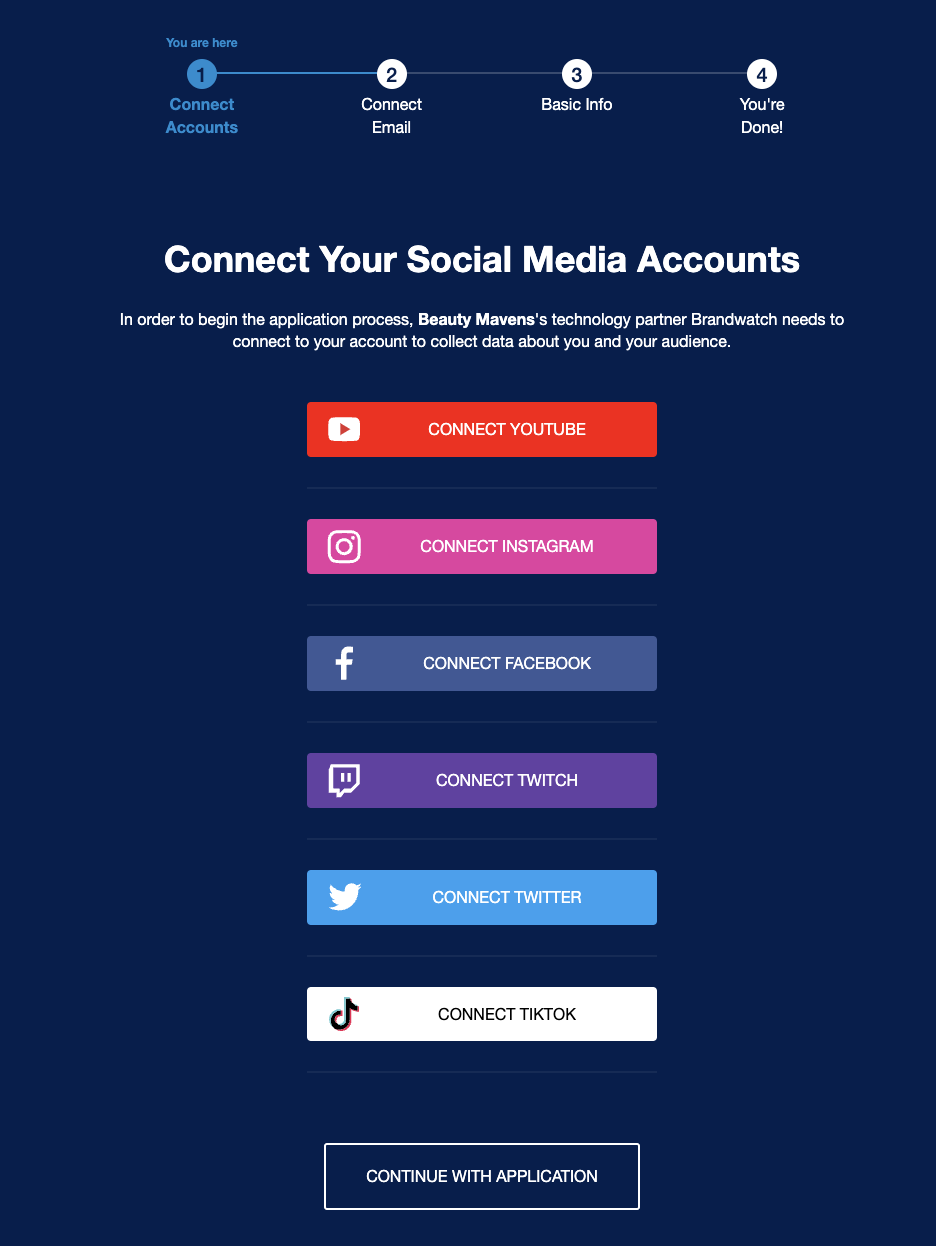 In the application flow, they can also provide you information about themselves, such as their name, birthday, phone number, etc. The fields will vary based on which information your company has selected to collect in your application.
When the influencer has submitted their application, they will populate in your Influence Onboarding tab. On the onboarding page, you can review all of your received influencer applications including the information and social accounts they provided.
When you accept an influencer's application, you will have the option to send them a contract to confirm their work agreement with you. Influencers will receive an email with a link to sign the contract and finish the onboarding process.
You can also deny influencer applications or apply a variety of other application states to manage your applications effectively.
Once influencers have completed the onboarding process in Influence, Influence will send them an email link to set up their own influencer dashboard view. The influencer dashboard enables influencers to collaborate with your team efficiently in Influence, such as submitting their campaign content to you for review and much more. In their dashboard view, influencers can also manage their connected social accounts, see their campaign tasks, see their earnings, view guides and documents you have uploaded for them, and more.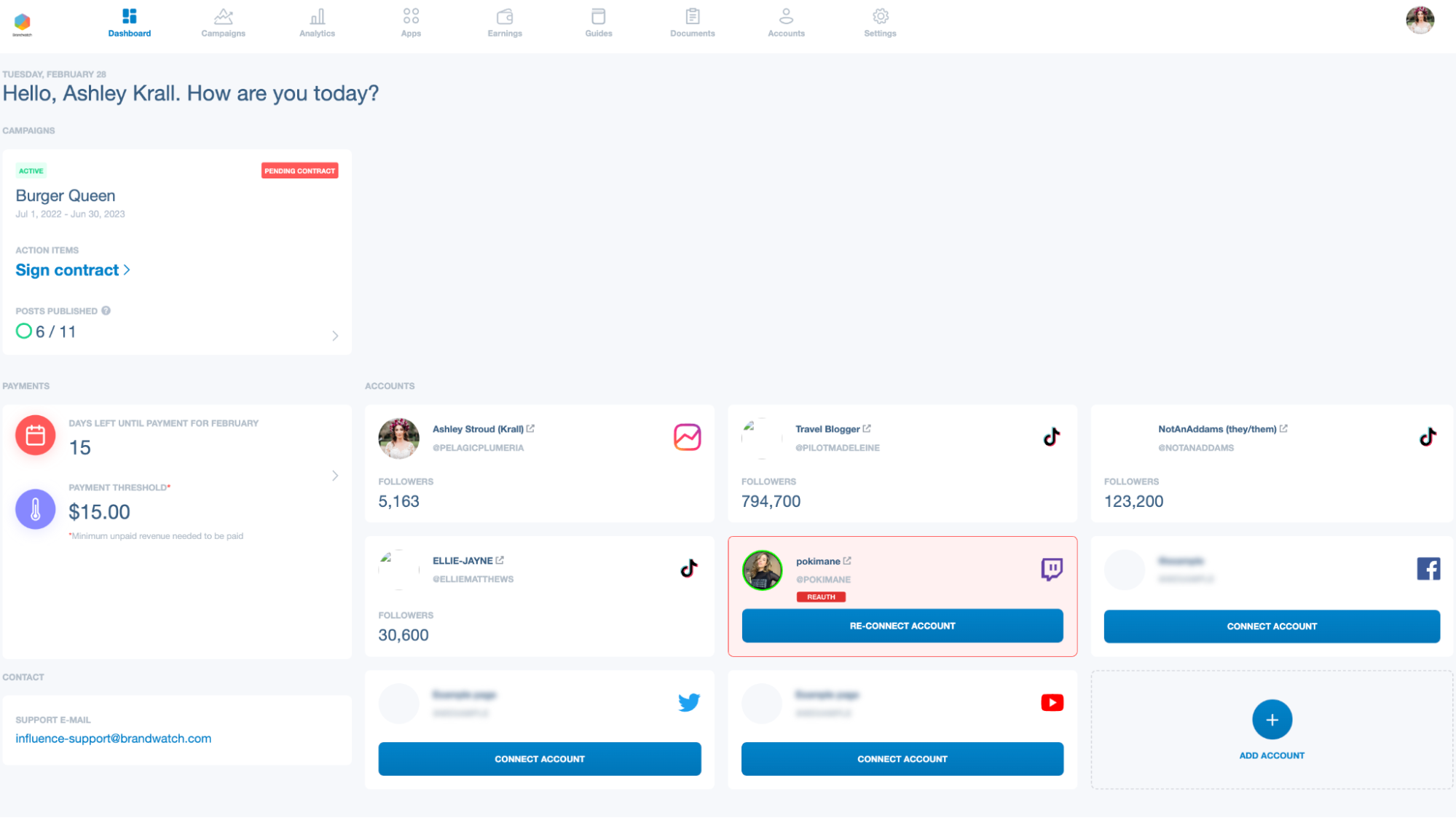 Managing your influencer roster
Any influencers who have completed your application and onboarding flow or were manually added by an admin will show up in your Influencers tool. Team members with access to your Influencers tool will have the ability to view and manage influencers at any time, such as filtering your influencers, editing their profiles, viewing their account analytics, or exporting your influencer data for stakeholders.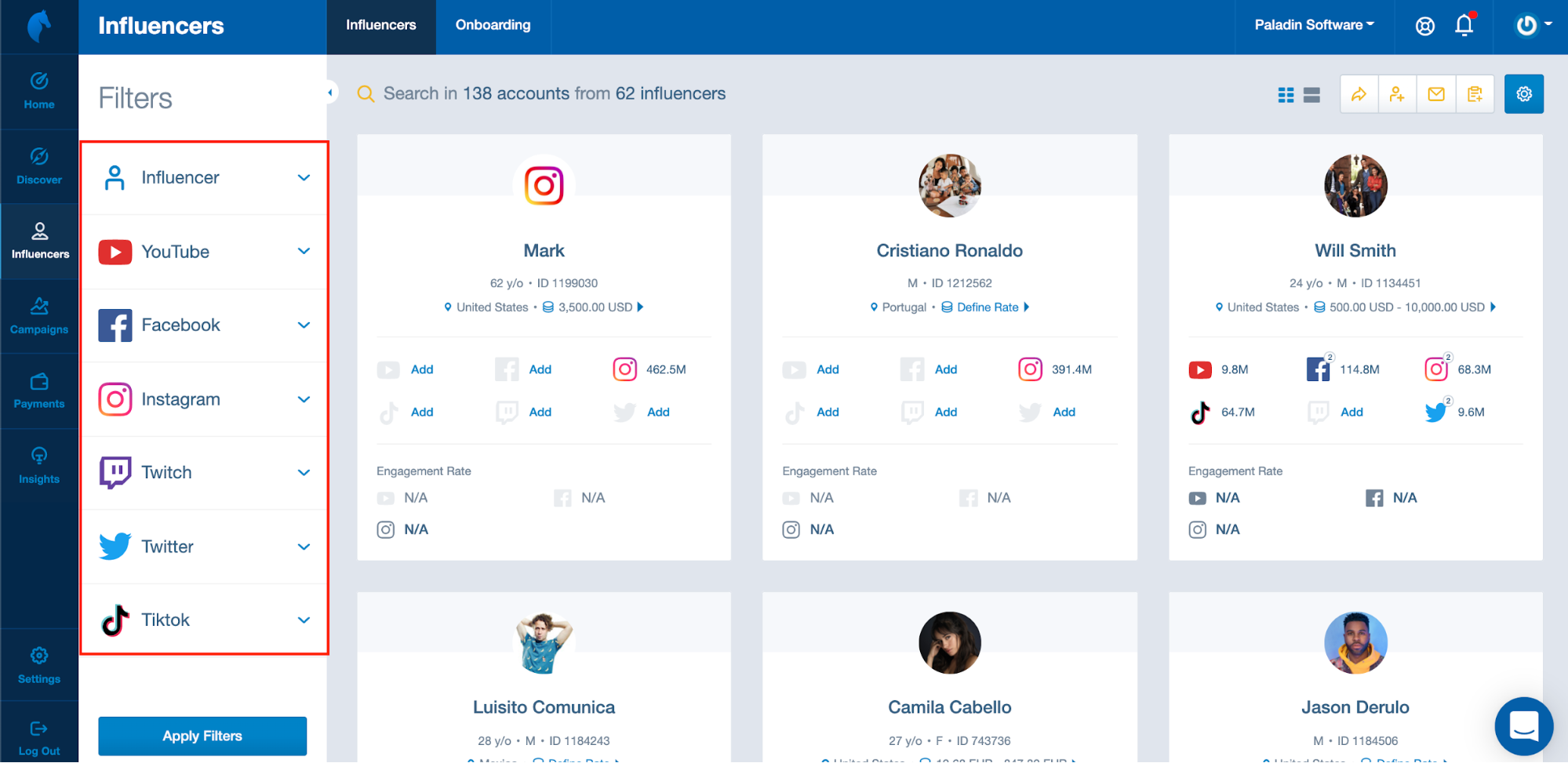 Visit our article on Managing Influencers for detailed tips on how you can manage your influencers.
Campaigns
The Campaigns tool lets you put your influencers into action. Plan and create campaigns, invite onboarded influencers to them, receive campaign content from influencers to review, track your campaign performance and analytics, and more.
To use the Campaigns tool, click on Campaigns in the left-hand navigation sidebar in Influence.
By default, you will see a list of all of the existing campaigns your organization has created. Click on the Create new campaign button in the top-right corner of Campaigns to start a campaign.

The following window will ask you to provide some details for the campaign, such as name, brand, and date range. There is also a section to add campaign keywords which the tool will use to automatically find and track posts related to your campaign. If you choose to keep the Proposal and onboarding process toggle turned on, it will allow you to send influencers a campaign proposal and contract and track their state throughout the process.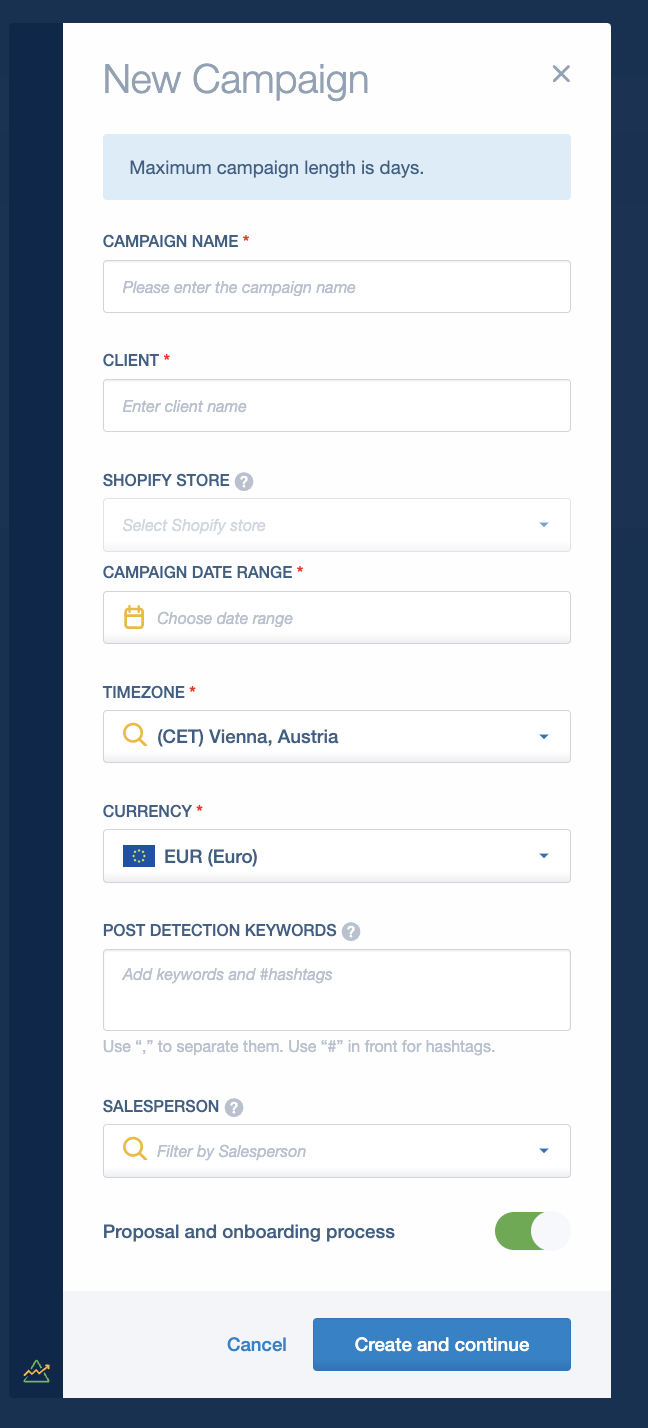 When you click Create and continue, the software will take you to the Influencers tool so you can select influencers from your roster to add to the campaign. Click on the + button on an influencer to add them to the campaign, or select influencers in bulk. When you are ready, click Done.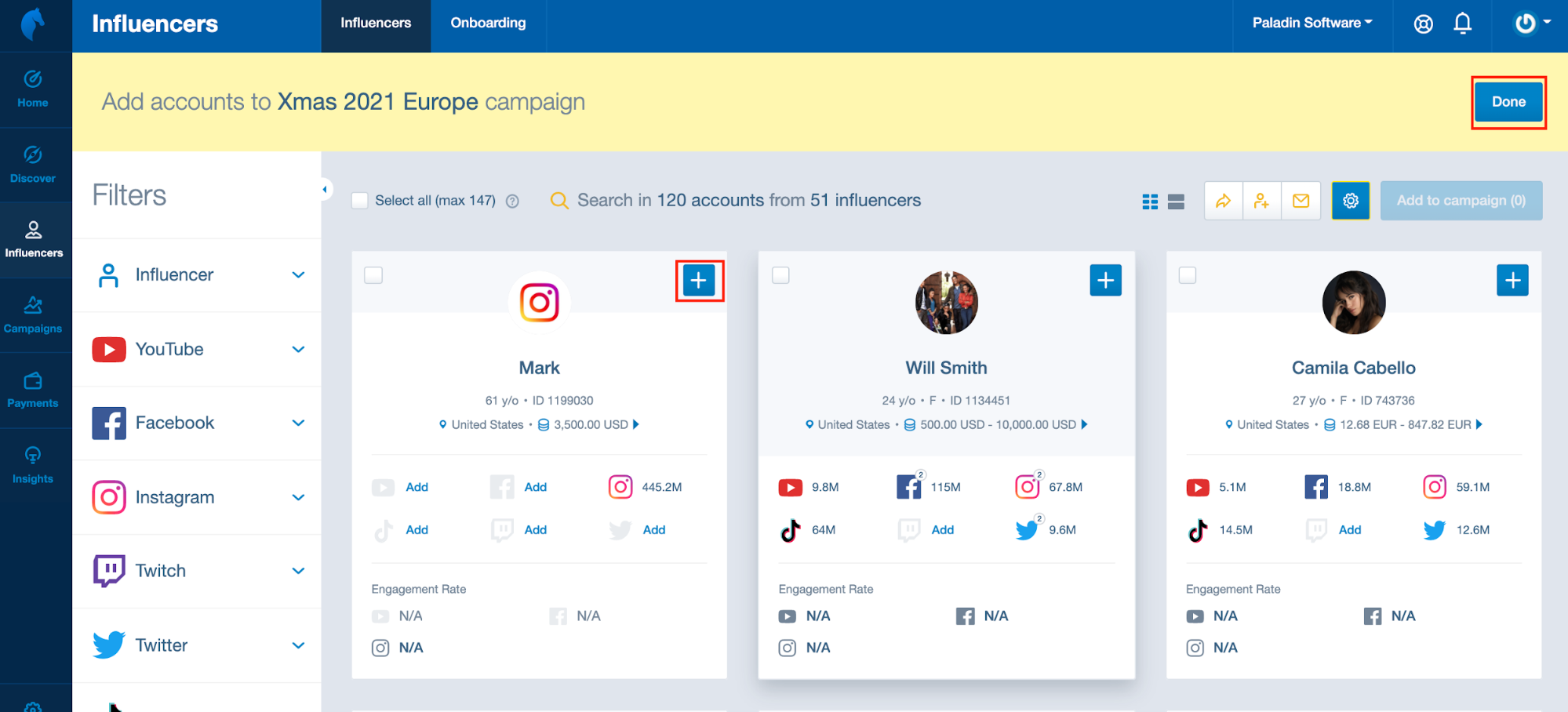 Note:
If you are selecting influencers in bulk, click Add to campaign in the top-right corner of this window and it will display a confirmation message that multiple influencers have been added to the campaign. To complete the process, click Done.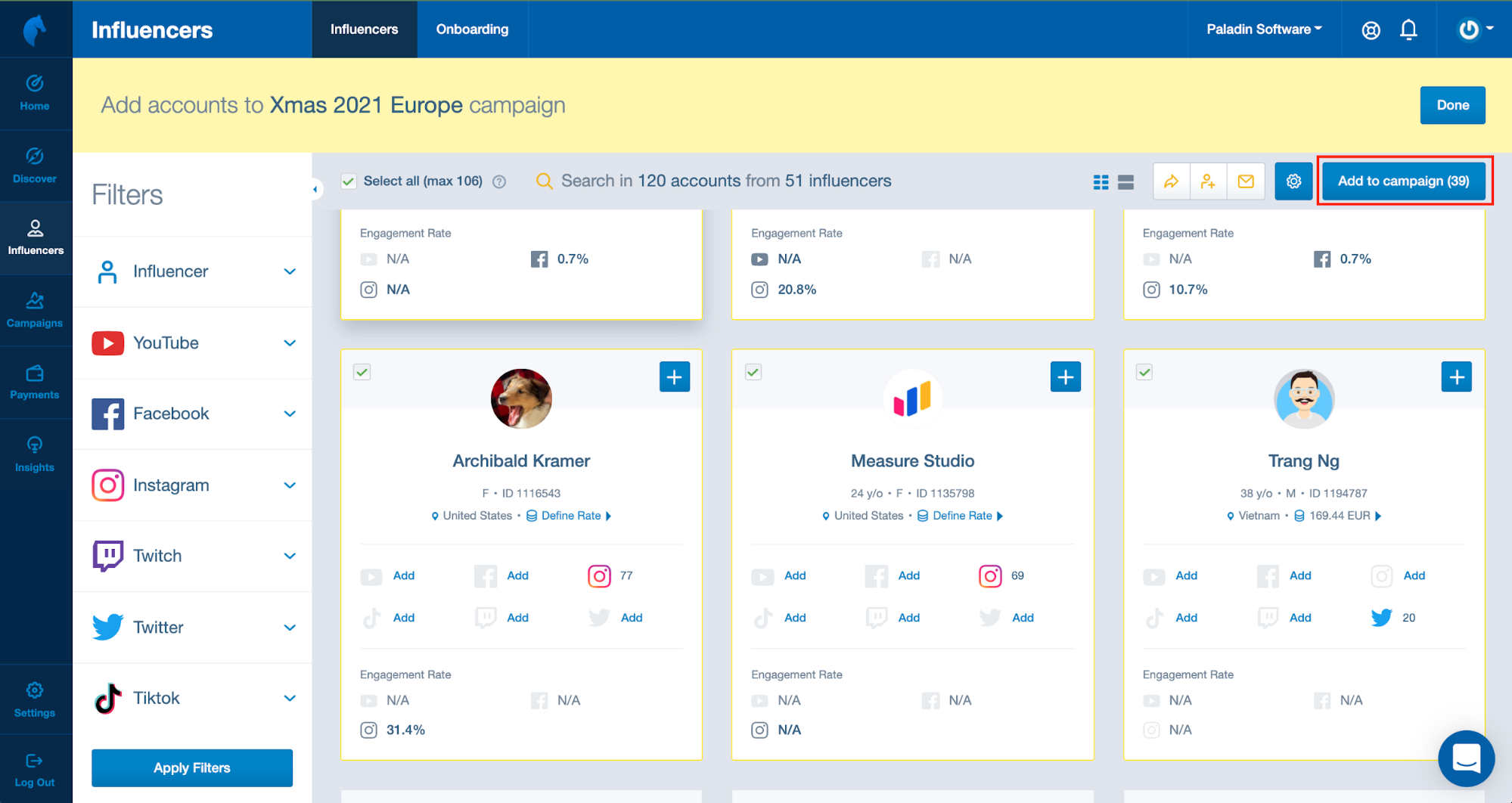 The system will automatically take you to your new campaign. If you are using the campaign proposal onboarding feature, the top of the campaign will show a tracker indicating which state(s) your influencers are in for your campaign.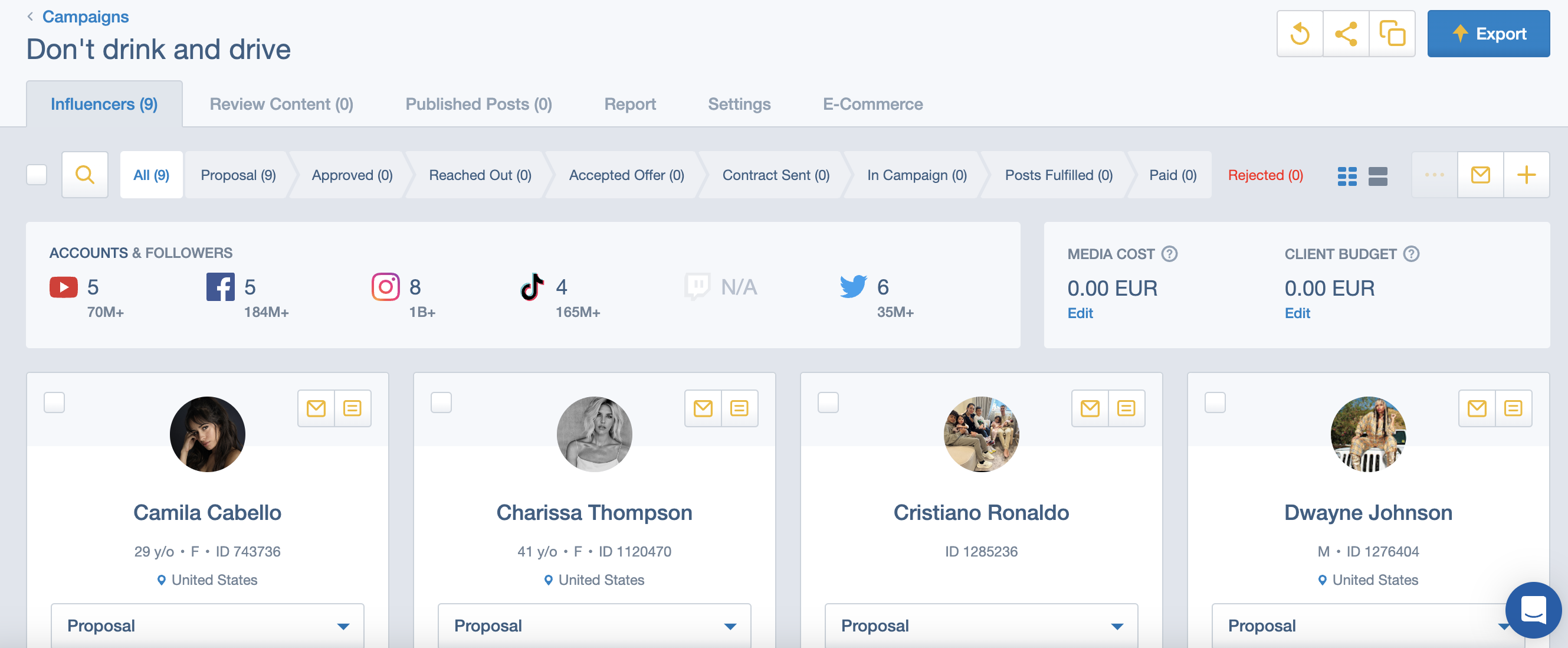 For more information on onboarding influencers to campaigns, see our article on Campaign Creation, Proposal, and Review.
Managing campaigns
If you click into a campaign you have created, you'll have six different tabs to toggle between:
Influencers: Shows a list of all the influencers that are included in the campaign, as well as gives you the option to add more or remove some existing ones. You can also see how the influencers are progressing to fulfill the posts requirements for the campaign, or track where they're at in the onboarding process.
Review Content: You can ask influencers to submit campaign posts for approval before they're published, and those submitted posts are reviewed in this section. Influencers can submit campaign content to you via their influencer dashboard.
Published Posts: Here you'll see all the posts currently being tracked based on the keywords you selected when you set up the campaign. You can filter by platform, influencer, date posted, as well as sort by publishing date, views, or engagements. If you want to see more data on a specific post, click on it and a window with statistics will pop up. You also have the option to filter to see all the posts made by the influencers within the selected date range, including the ones that are currently not being tracked. This is helpful in case the influencers forgot to use the campaign keywords in the post metadata. If you see a post that should be included in the campaign but isn't, click on the blue + sign in the top-right corner of a post:
Report: In this section you will see the performance of your campaign. You can see daily or cumulative campaign statistics in addition to what type of audience has been viewing the influencers' posts. It also shows you how close you are to fulfilling any set campaign goals in terms of posts, impressions, and views. You also have the option to share or export a campaign report for your stakeholders.
Settings: You can edit the information and settings you initially added for the campaign, such as editing the keywords and hashtags you would like to use to track your campaign posts. You can also set total campaign goals to reach, such as a certain number of views or engagements, and what types of posts the influencers need to publish in order to fulfill the requirements set by you or the brand.
E-commerce: If you connect a Shopify account to Influence, you will be able to track your shop sales in this section.
Settings
The overall Settings section in Influence lets you customize Influence to your organization's liking. Features such as team management, creating groups and talent managers, customizing your communications, and integrating with Shopify and Bitly allow you to collaborate effectively with your team, manage and increase your relationships with your influencers, and get the most out of your experience with Influence. For a full guide on all of the available options, visit our Settings in Influence article.