Note:
This feature is currently in an open beta and opt-out only. Visit the section below for instructions on how to opt-out of AI features.
In this article:
---
About Iris content insights (powered by OpenAI GPT)
Iris is Brandwatch's AI. It uses cutting-edge proprietary and integrated AI models to help you work faster and smarter. Iris content insights leverage OpenAI GPT (Generative Pre-trained Transformer) technology to provide a summary of post content in Benchmark.
Generative Pre-trained Transformer technology is an advanced language model developed by OpenAI. It utilizes deep learning techniques and a vast amount of training data to understand content and generate insights. Visit Open AI's website to learn more about OpenAI and ChatGPT.
Iris content insights in Benchmark boost your team's productivity by automatically generating a summary of your or your competitors' content from a select time period. You and your staff can learn the key takeaways of post content from a specified date range in seconds rather than spending the time to analyze it manually. ChatGPT technology also becomes familiar with your content over time, assessing the tone and style of posts and identifying industry-specific terminology to return helpful summaries of your and your competitors' content.
---
Using content insights
You can access Iris content insights in Benchmark by clicking on the Get AI Content Insights button in the top-right corner of your Brand Insights dashboard.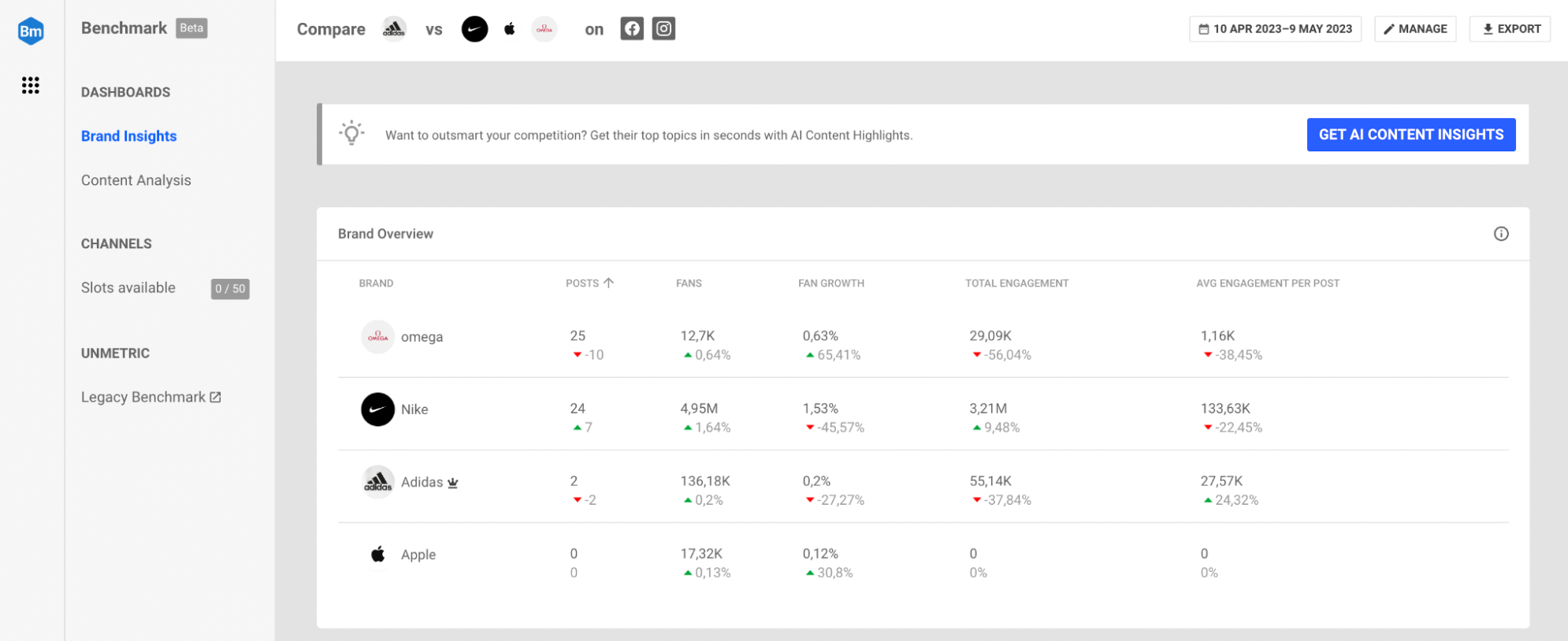 Note:
Iris usually takes 20-40 seconds to generate and return your content summary, but may take up to a minute and a half depending on the content. Iris will return a content insight summary based on the brands and time period you have selected for your Brand Insights dashboard. Be sure to update your dashboard to include your desired brands and date range before using the content summary.
After you click Get AI Content Insights, Iris will automatically generate a content summary for your dashboard: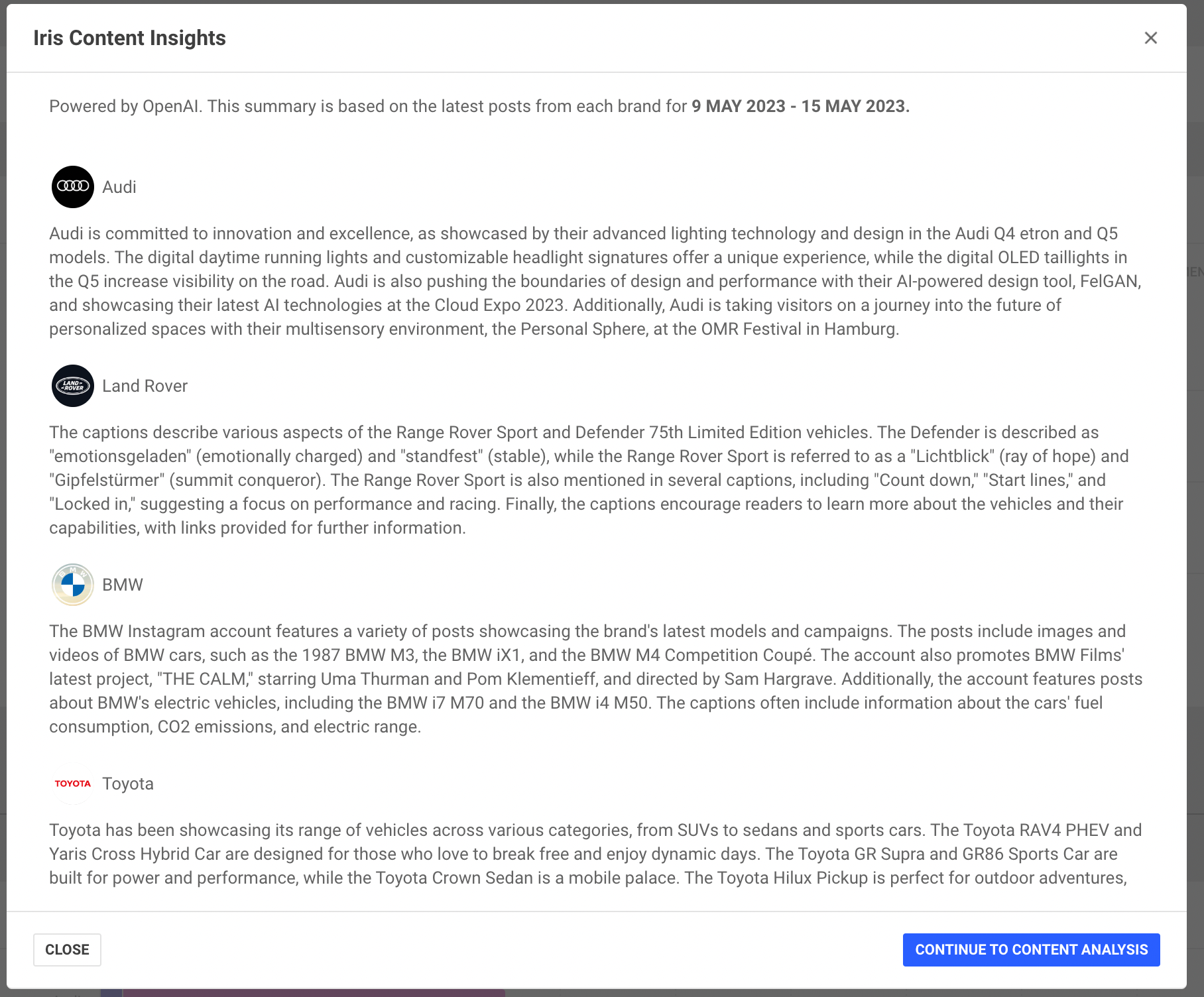 Note:
If Iris is unable to detect posts for a brand within the selected time period, it will display an error message at the top of the window.

Once your content summary is generated, you can click the Continue to content analysis button in the lower-left corner of the summary window to analyze the content in detail in Benchmark's Content Analysis dashboard.
---
Opting out of AI features
In the left-hand navigation sidebar of Social Media Management, click on Manage Settings (gear icon), then click Organization admin.
Under OpenAI features, switch the Enabled toggle on the right side of the screen to Disabled.


Note:

This setting will disable all AI features in Social Media Management. You can return to this menu to re-enable your AI features at any time. If you have access to both Social Media Management and Consumer Research and would like to opt out of Consumer Research's Iris Conversation Insights, you will need to opt out separately via your Consumer Research settings.
---
FAQ
Which current Brandwatch features use GPT technology?
Iris Conversation Insights, Iris Writing Assistant, and Iris Content Insights make direct use of OpenAI's large language model (LLM) ChatGPT, specifically GPT 3.5 Turbo.
AI-search and AI-topics in Consumer Research are both powered by AI trained using GPT-2. GPT-2 is an older large language model (LLM) by OpenAI.
How does data sharing with OpenAI vary by Brandwatch's AI features?
Iris Conversation Insights, Iris Writing Assistant, and Iris Content Insights each send data directly to OpenAI. This will not include any user data, only data within the tools themselves. So in the case of Iris Writing Assistant, this could be any text you draft. We always require that OpenAI does not use this data for training purposes.
Regarding Iris Conversation Insights, Consumer Research shares snippets of text from a sample of mentions with OpenAI. This sample is currently generated randomly. Image data found in sample mentions is currently not shared. Additionally, we do not send any query data (e.g. the keywords). There are no immediate plans to share anything other than mention content with OpenAI.
Regarding sensitive information found in the mentions themselves:
We ask clients to be aware that all data found within the mentions panel of Consumer Research could be shared with OpenAI (if you use an OpenAI feature). This includes uploaded data sets.
If those mentions contain PII as defined by the client, these could also be shared to OpenAI to derive summaries.
However, OpenAI will not use it for their own purposes and will only store it for 30 days for support/security purposes.
AI-search and AI-topics were developed in-house and are not direct integrations with OpenAI. We do not send any data outside of Brandwatch with these features.They use an earlier version of GPT (GPT-2), not ChatGPT.
Will these features work for different languages?
AI summary features (e.g. Iris Content Insights and Iris Conversation Insights) will summarize the content in any language, while the summary output for now will only be in English.
Iris Writing Assistant works in the languages that the user uses while writing. It supports all languages that ChatGPT supports.