---
Discover FAQs
What languages are supported in the language filter on Discover?
We support 165 languages within Discover's Language filter:
English
Spanish
Portuguese
French
Arabic
Russian
Italian
German
Persian
Indonesian
Turkish
Japanese
Polish
Thai
Chinese
Hindi
Malay
Korean
Ukrainian
Dutch
Arabic (Egyptian)
Nepali
Azerbaijani
Panjabi
Gujarati
Swedish
Kazakh
Hebrew
Romanian
Kurdish (Central)
Czech
Vietnamese
Urdu
Marathi
Kirghiz
Hungarian
Greek
Malayalam
Catalan
Bengali
Finnish
Norwegian
Danish
Bulgarian
Serbian
Swahili
Croatian
Albanian
Tagalog
Slovak
Serbo-Croatian
Tamil
Slovenian
Pushto
Macedonian
Central Khmer
Armenian
Kannada
Uzbek
Galician
Chechen
Azerbaijani (South)
Afrikaans
Cebuano
Lithuanian
Sinhala
Estonian
Panjabi (Western)
Tatar
Bosnian
Latvian
Georgian
Tajik
Assamese
Lao
Amharic
Telugu
Icelandic
Burmese
Mongolian
Sakha
Mazanderani
Kurdish
Sindhi
Frisian (Western)
Gaelic (Scots)
Belarusian
Somali
Waray
Oriya
Interlingue
Albanian (Tosk)
Mari (Eastern)
Bashkir
Interlingua
Turkmen
Low German
Javanese
Lojban
Divehi
Uighur
Guarani
Tibetan
Neapolitan
Ido
Iloko
Sundanese
Irish
Malagasy
Bihari
Lezghian
Minangkabau
Haitian
Cornish
Maithili
Newari
Asturian
Yue Chinese
Chuvash
Yiddish
Piedmontese
Sanskrit
Sorbian (Upper)
Bavarian
Scots
Mingrelian
Pampanga
Xhosa
Bishnupriya Manipuri
Karachay-Balker
Luri (Northern)
Mari (Western)
Zulu
Emiliano-Romagnolo
Chavacano
Kinyarwanda
Lombard
Manx
Wu Chinese
Limburgish
Erzya
Konkani (Goan)
Ossetian
Sicilian
Raeto-Romance
Buriat (Russia)
Komi
Bicolano (Central)
Veps
Avaric
Sardinian
Dimli
Kalmyk
Mirandese
Tuvinian
Rusyn
Nahuatl Languages
Dotyali
Venetian
Yoruba
Sorbian (Lower)
West Flemish
Pfaelzisch
Frisian (Northern)
Corsican
How do you get influencers' contact details in Discover?
If influencers include their contact details, for example in their Instagram bio, this data will be available in Discover.
What is a good average for engagements?
A good average depends on the platform, industry, and size of the influencer, i.e. micro, macro, mega, etc. Here are some typical averages per platform for micro-influencers:
Instagram : 3.86%
YouTube: 1.63%
TikTok: 17.96%
Here are typical averages per platform for mega-influencers:
Instagram : 1.21%
YouTube: 0.37%
TikTok: 4.96%
Why do the audience demographics add up to more than 100% in the Discover results?
The reason why the audience countries add up to more than 100% for some Instagram and YouTube accounts is that these filters are applying to multiple audiences:
Followers and Likers for Instagram
Followers and Commenters for YouTube
By default, the Any audience type is selected. If you instead select one of the audience types under the Audience Type filter, for example Likers or Followers, you'll see the audience demographics no longer add up to more than 100% for the accounts. Please see the following example: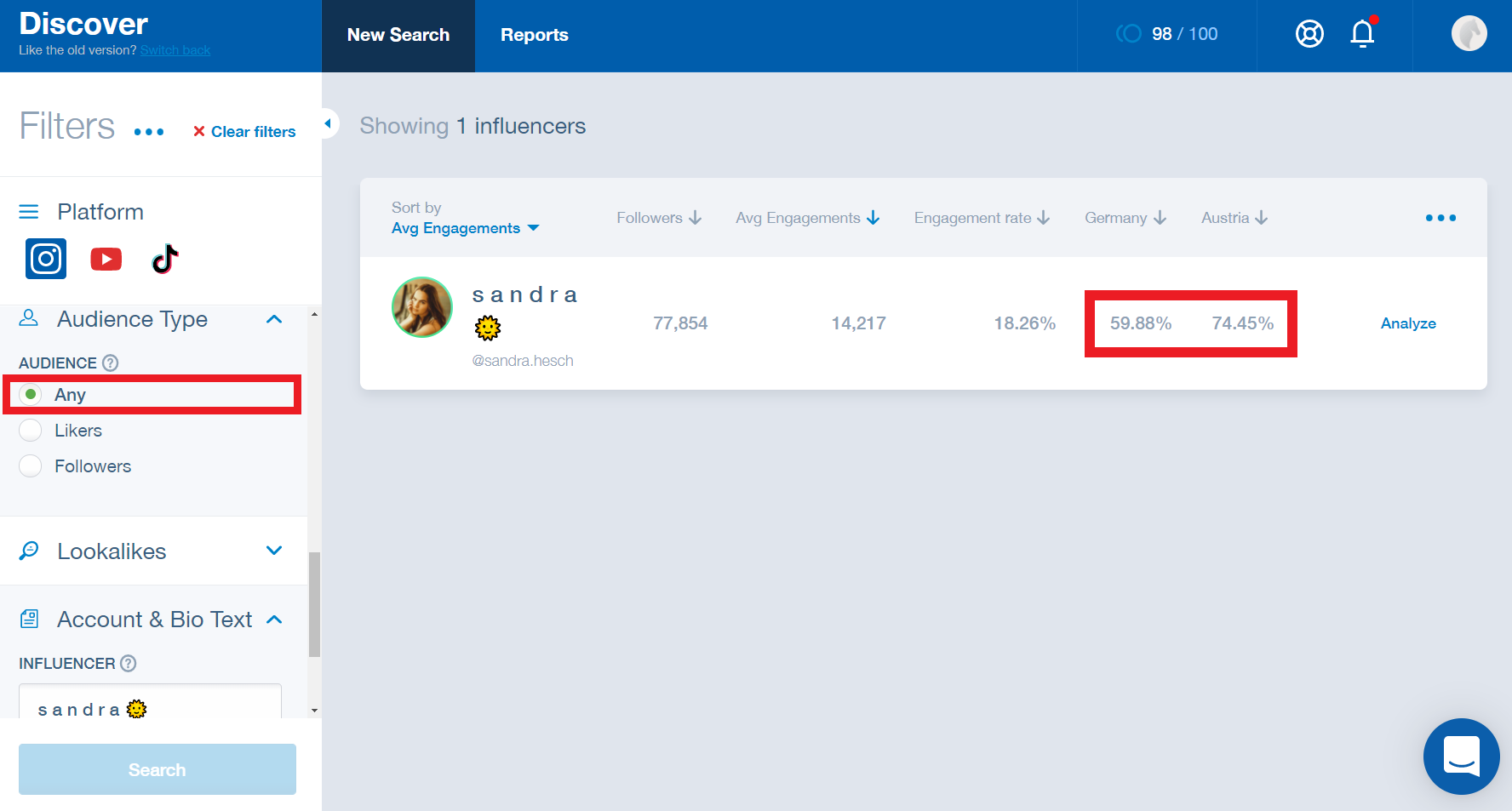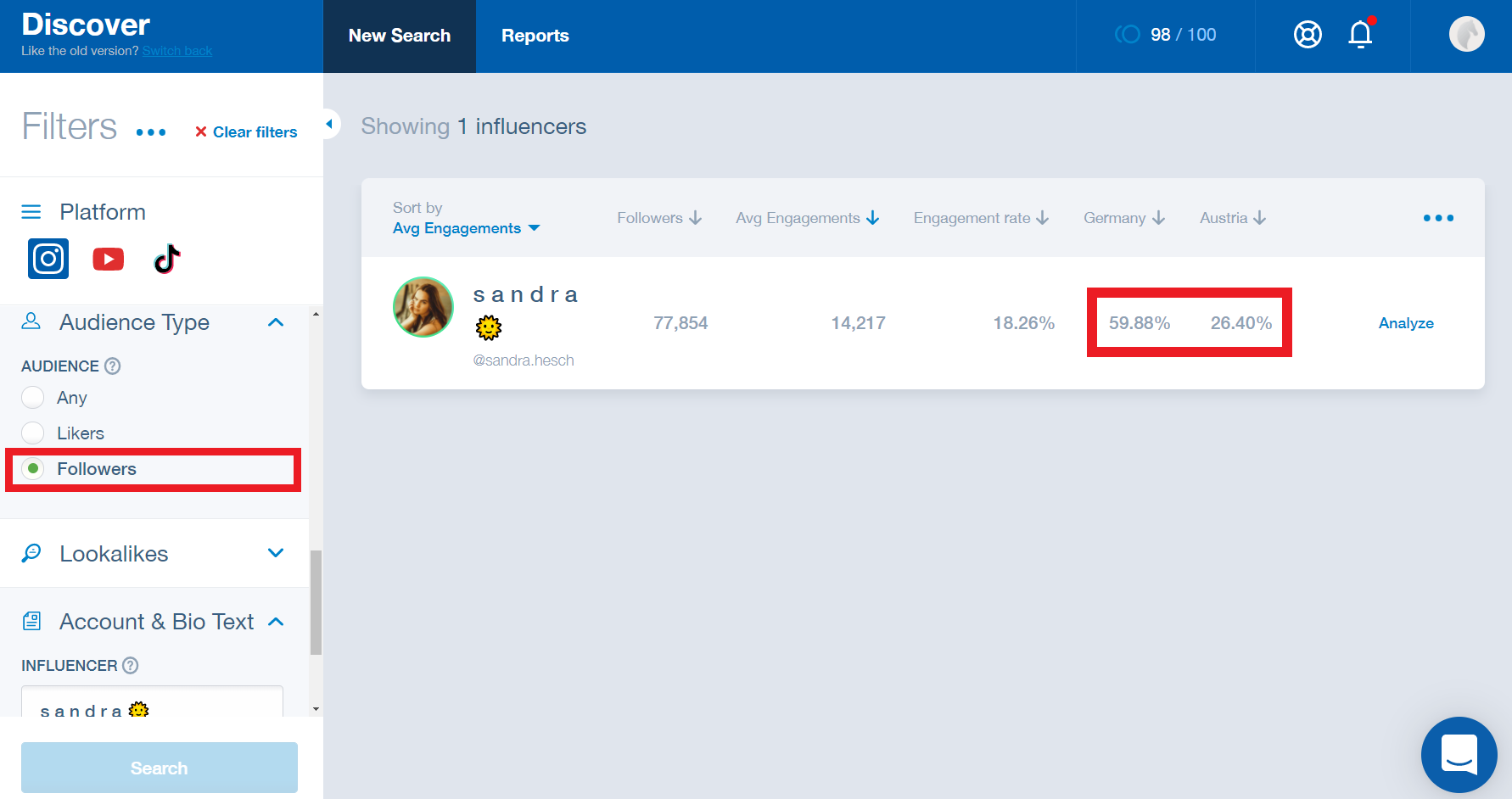 ---
Influencers FAQs
In what languages is the Influencer dashboard available?
English
Spanish
French
German
Portuguese
Vietnamese
Turkish
Korean
Thai
Polish
Japanese
Czech
Russian
What do I do if influencer dashboard data is not updating?
There are a few reasons why data on the Influencer dashboard may not update.
The influencer may need to reauthorize their account. Maybe they've updated their password, or for some other reason the connection was broken. You can have the influencer authorize the account on their end from the Account tab of the Influencer dashboard. There will be a connection button next to the social account that needs to be reauthorized.
You can also send the influencer an authorization link from the Edit User module on the Grow or Influencer pages.
However, if you notice that data not updating is happening for many of your influencers, you should check the status of the CMS on the YouTube CMS Manager page under Settings. Only admins with explicit permission to access this page can see it.

Also, ensure that the admin who is reauthorizing the CMS(s) has full permissions to them. To reauthorize a CMS, click the gear icon next to the appropriate CMS and select Reauthorize.
---
Settings FAQs
How do I reset my 2-factor authentication?
You can reset your 2-factor authentication if your authentication codes are no longer working or if you have a new phone and need to reset your account.
To reset, first sign into the system with your password as normal. You will then be taken to the normal Authentication Code page, where you can select the Trouble logging in? option.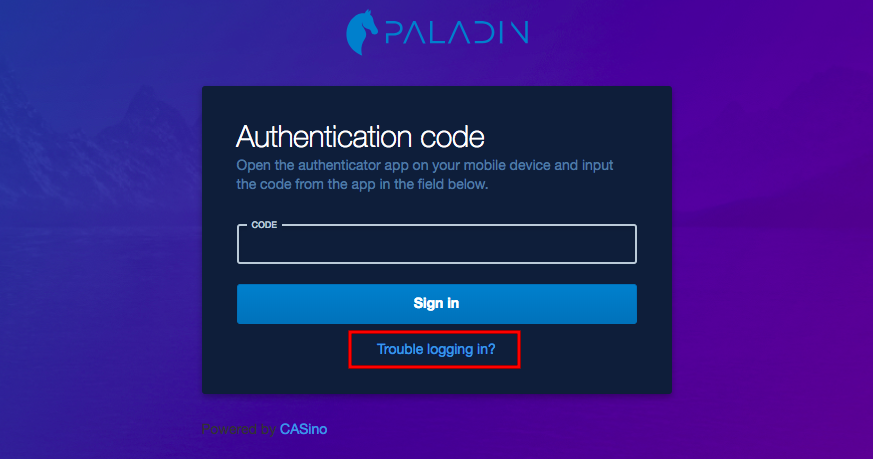 After you select this option, the system will send you a text message with a new code to reset your account. Enter this code in the field provided and the system will allow you to set up for 2-factor authentication once again (either by SMS code or a QR code to scan).
If you're already logged into your Influence account and wish to change your 2-factor authentication, navigate to Settings > My Account > 2-Factor Authentication and reset it from there.