The Settings tool enables you to make important organizational adjustments and customizations to your Influence account. In this article, you'll find an overview of what you can do in each section of Settings.
---
My Account Settings
The My Account section features four tabs:
Editing your profile
Use the Profile tab to edit your Full Name or Phone Number associated with your Influence account.
Note:
Note: In this tab, there is an Email box displaying the email address used for your Influence account. To change the email address associated with your account, contact our support team.
Viewing your login history
The Login History tab will display the history of locations and devices you have used to log into your Influence account.
Resetting 2-factor authentication
The 2-Factor Authentication tab will display whether or not 2-factor authentication is active for your account. Click the Reset 2-factor authentication button to reset your authentication.

Changing your password
Use the Password tab to update your account password. You must input your current account password in order to change your password.
Note:
Before updating your password, make sure to set your current mobile phone number under the Profile tab. A verification code will be sent via SMS to your phone number to confirm the password change.
---
Team Settings
Note:
You must have the Manage team settings permission in order to access this section in Settings.
Under the Teams section, you can add users and manage each user's permissions in detail. For more information, see our dedicated article on Adding Users and Managing Permissions.
---
Company Settings
Note:
You must have the Manage company settings permission in order to access this section in Settings.
Viewing your company setup checklist
The Setup Checklist section offers a recommended setup checklist to prepare your company to use Influence. You can choose to check either the Completed or Ignore checkbox next to each item in the checklist for your own reference.
Managing your subscription and billing
If you are an administrator for your Influence organization, you can manage your Influence subscription and billing from this section.
Uploading your company logo
The Logo tab allows you to upload a logo for your company that will appear in your company's online application and on any campaigns or reports that you create or share. Click the Upload new logo link to upload your logo.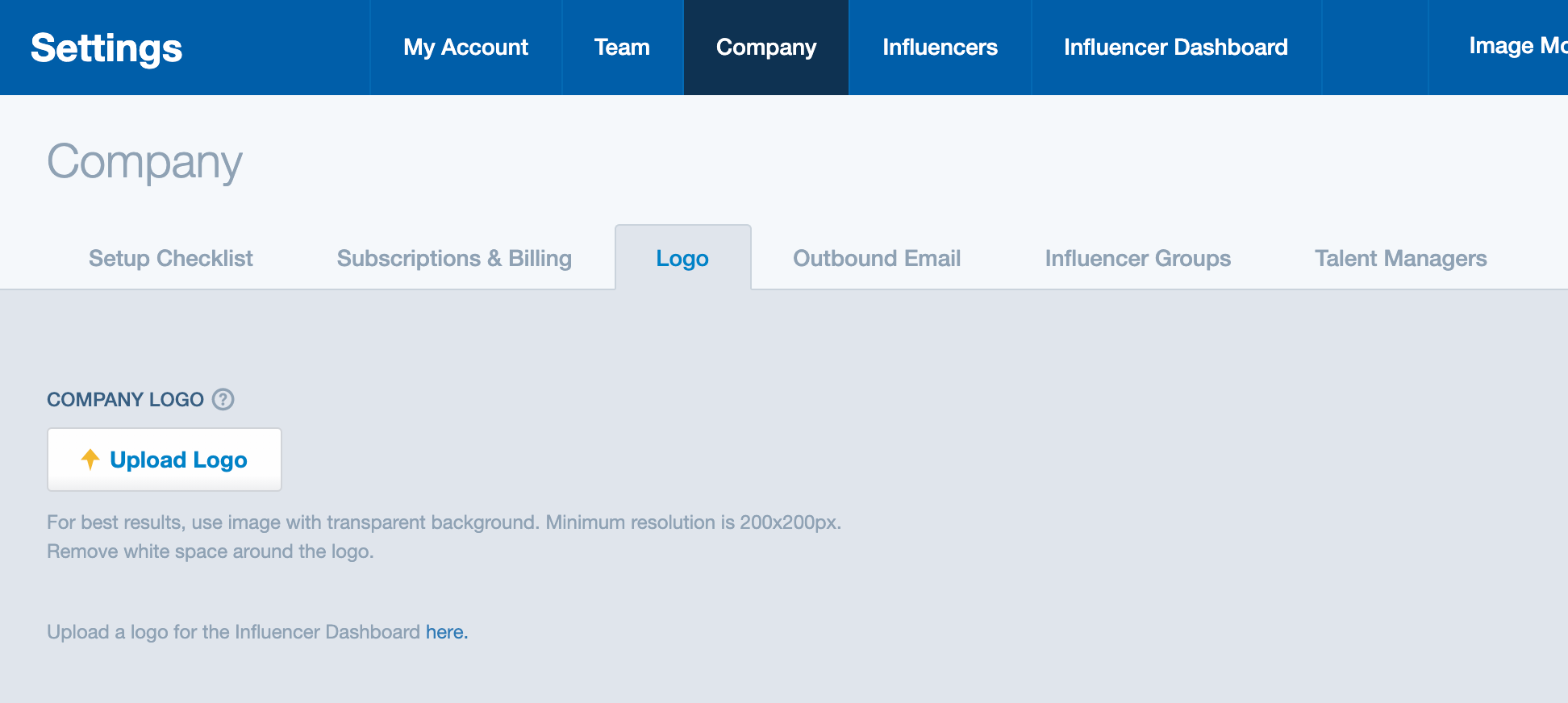 Tip:
For best results, upload an image with a transparent background. The minimum resolution is 200 x 200 px.
Adding your company outbound email
This section allows you to add and verify a support email that you want to use as the sender email address for all of your outbound communications to your influencers.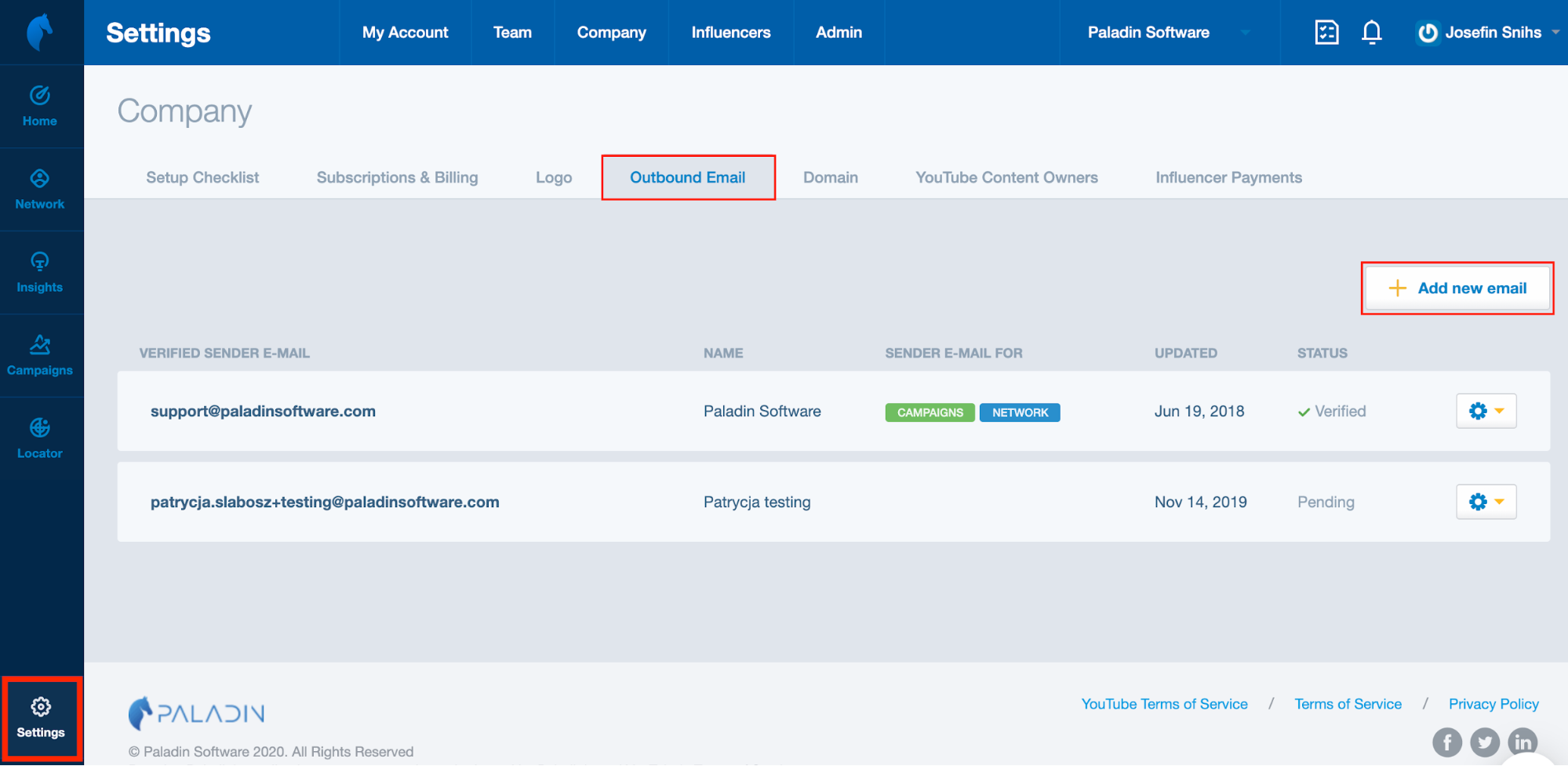 Click the Add new email button and input the email address that you'd like to use and give it a display name. The display name will show in the influencer's inbox list when they receive an email from you.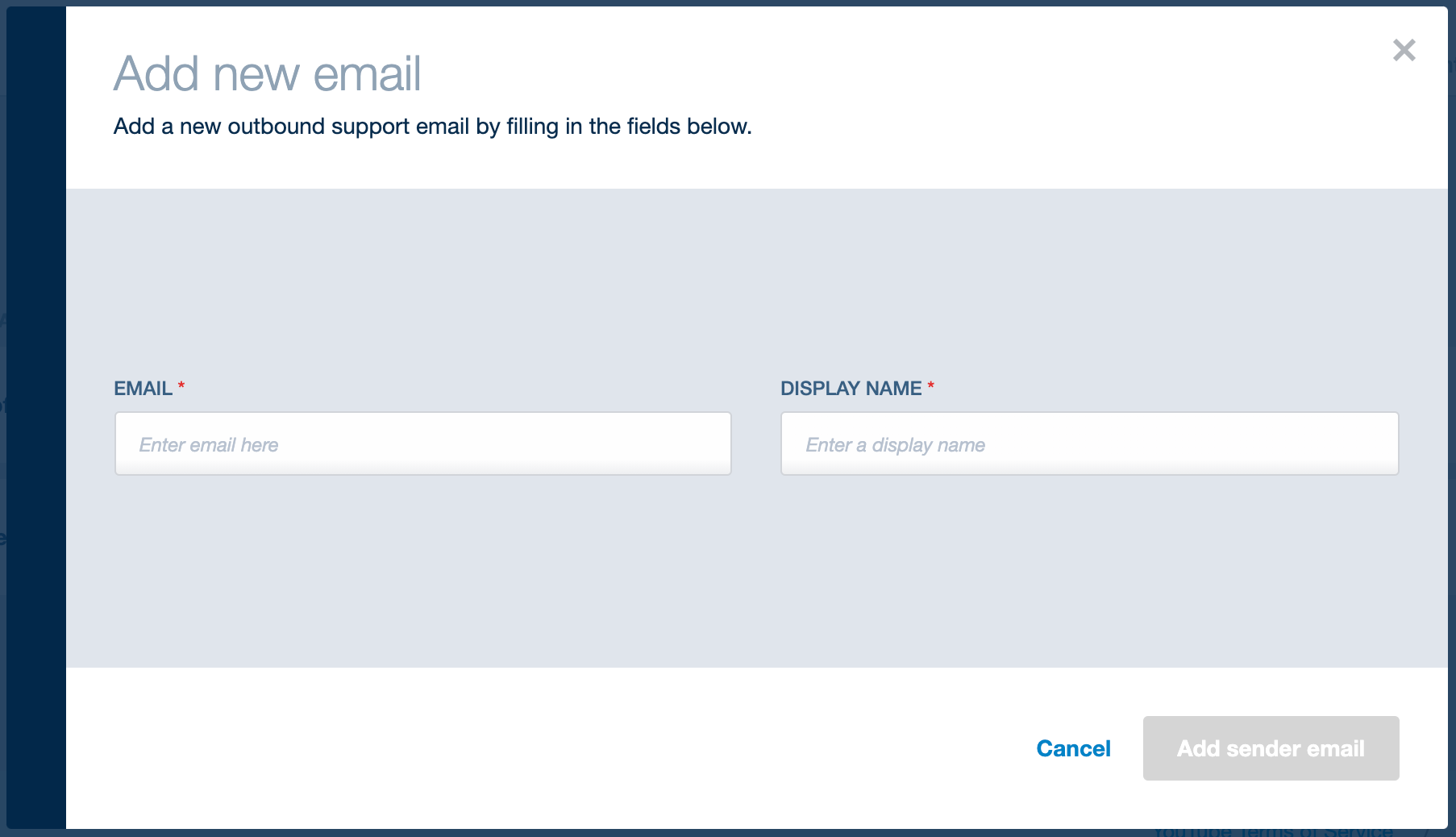 Once you've added the email, it will have a status of Pending. You will receive an email from Amazon Web Services in the email address's inbox to confirm that you'd like to connect it to Brandwatch Influence. Click the link in the email within 24 hours of receiving it to confirm your email address. If your link expires, you can resend the verification email using the gear icon in the Outbound email section.
Once your email is confirmed, you will see its status change from Pending to Verified. Make sure the email is set as the default sender email for influencers and/or campaigns. You can add different support emails for influencers and campaigns if you'd like to.
Setting influencer groups and talent managers
These sections allow you to add and set up new influencer groups and talent managers to your account to categorize and manage your influencers. See our dedicated article on Creating Influencer Groups and Talent Managers for full information.
Connecting YouTube content owners
This section allows you to connect a YouTube content owner for your account.
You'll need to authorize your admin account into the system to ensure your account has the proper permissions needed to connect the content owner. We recommend authorizing an admin account that has full access to your content owners.
To do this, click the + Authorize Admin Account button.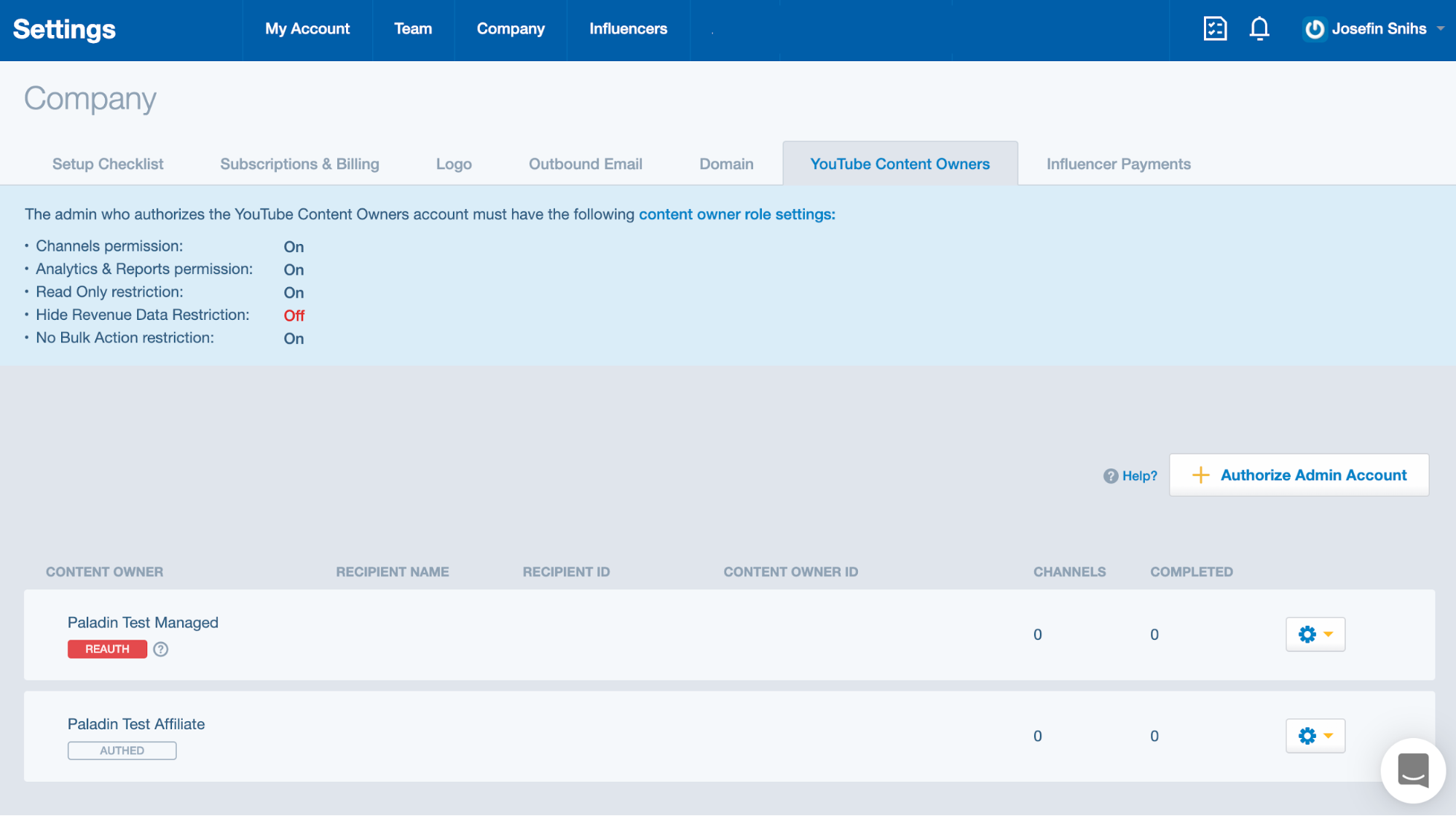 The following popup will bring up all of the Google accounts you have access to. Select your Google account that has access to your content owner and click Allow on the Google access page.
When you have authorized your admin account, a pop-up window will appear that lists all YouTube content owners that the authorized admin account has access to. Select which content owners to connect, check the Terms of Services checkbox at the bottom of the window, and then click Save.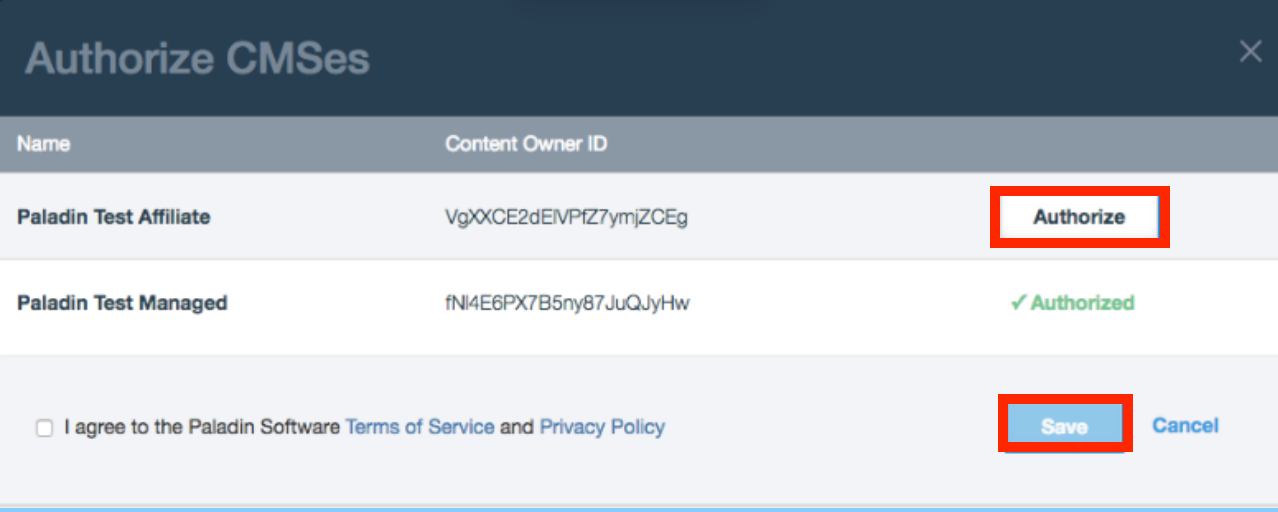 If needed, you can import channels from the content owner into your Influence dashboard if they are not already there. Click on the gear icon next to the content owner and select Import Channels.
Account missing details
You will see a red notice bar at the top of the YouTube content owners sections if any content owners do not have a completed profile in Influence. Select Click here in the notice to be redirected to the Account Missing Details page.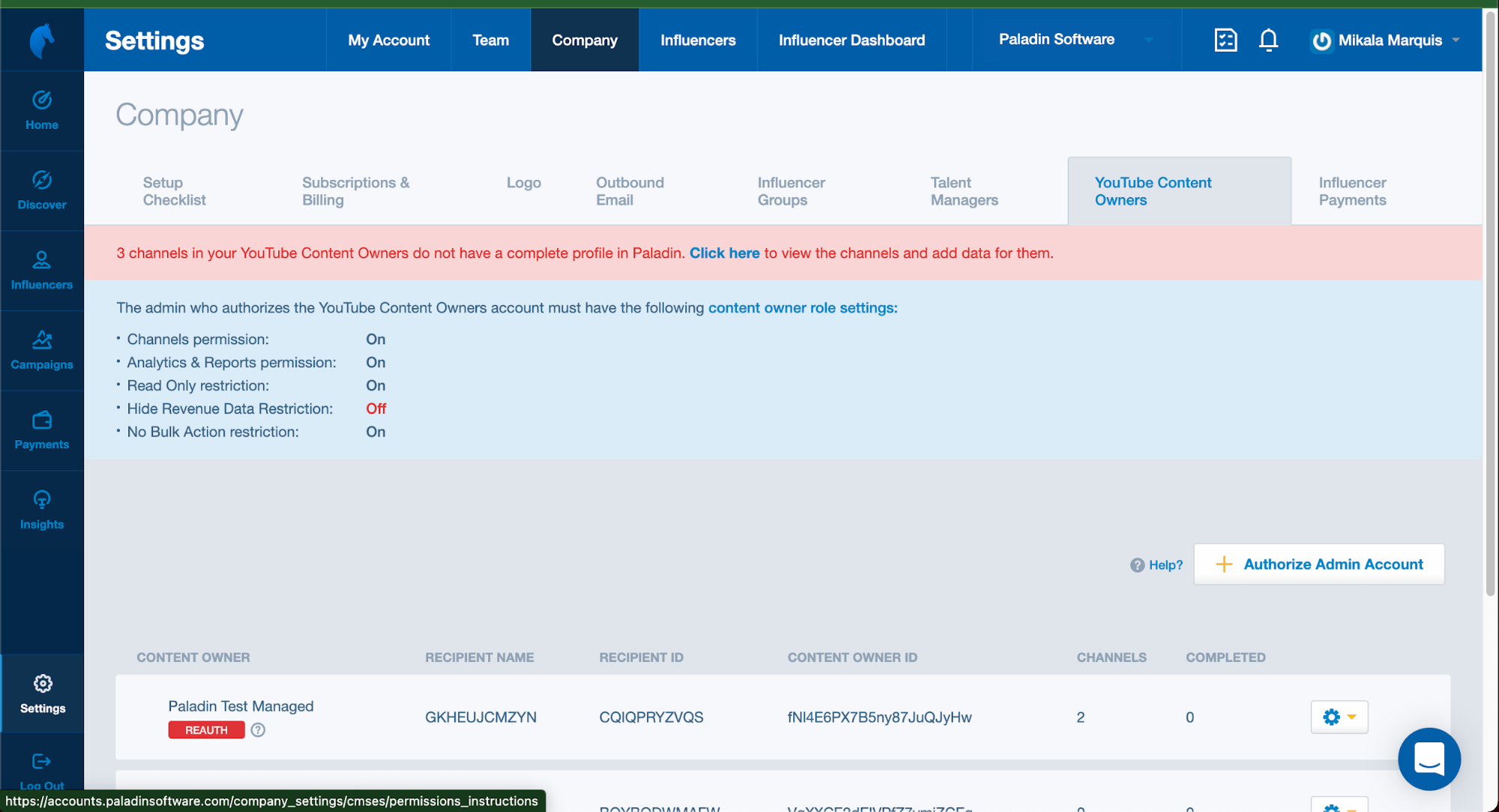 The Accounts Missing Details page shows influencers who are linked to your CMS but the channel is not in your influencers roster. If using the onboarding feature, the channel can either be missing from the dashboard completely, or its application state can have a state other than Completed. You can see the cause of the issue in the Application State column. We recommend making sure that all channels within your YouTube CMS are also partnered with you in Influence so that you can properly pay them and manage them.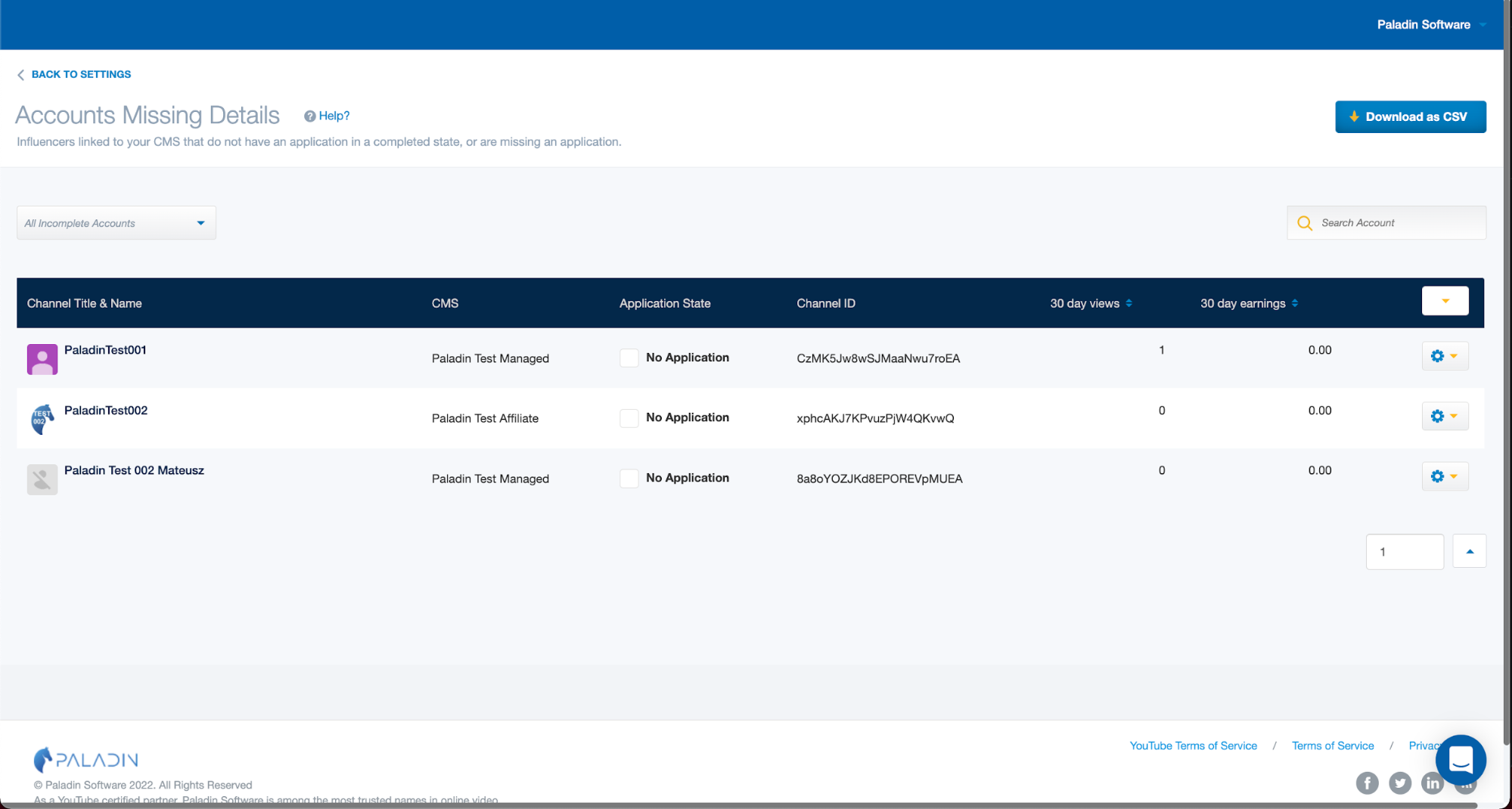 Click the gear icon to the right of a content owner to edit or add their application.

Configuring influencer payments
This section allows you to set the default payment cycle and thresholds for your influencers. You can set a different payment threshold for each different payment method that you use. Please note, thresholds must be in US dollars (USD).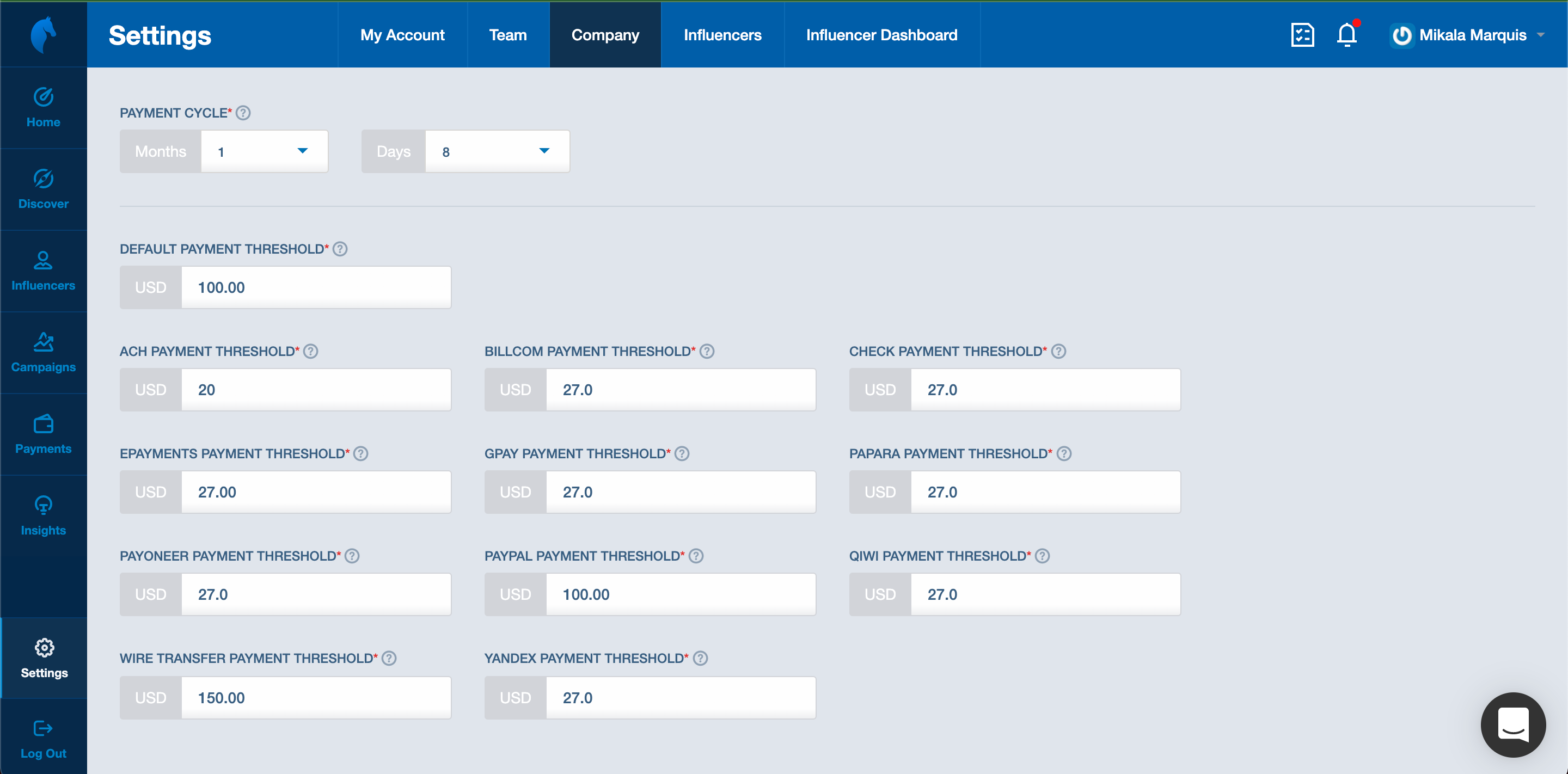 Our system supports a variety of payment method options for influencer payments. The different payment methods available are:
Tipalti*
Payment Rails*
PayPal
Wire Transfer
ACH
Checks
Bill.com
Gpay
Papara
Payoneer
ePayments
*Requires set up from the payment service and the Brandwatch Influence team.
If you're interested in using any of the above methods for your influencer payments, please contact our Support team.
---
Influencer Settings
The Influencers section contains three tabs:
Configuring Influencer Data
The Influencer Data tab allows you to select the currencies you would like to use in Influence, set a default currency, set a default country, specify whether you want to require payment details from your influencers, and create custom fields for your influencer application.
Selecting currencies
Select your desired currencies under the Currencies dropdown, then click Save.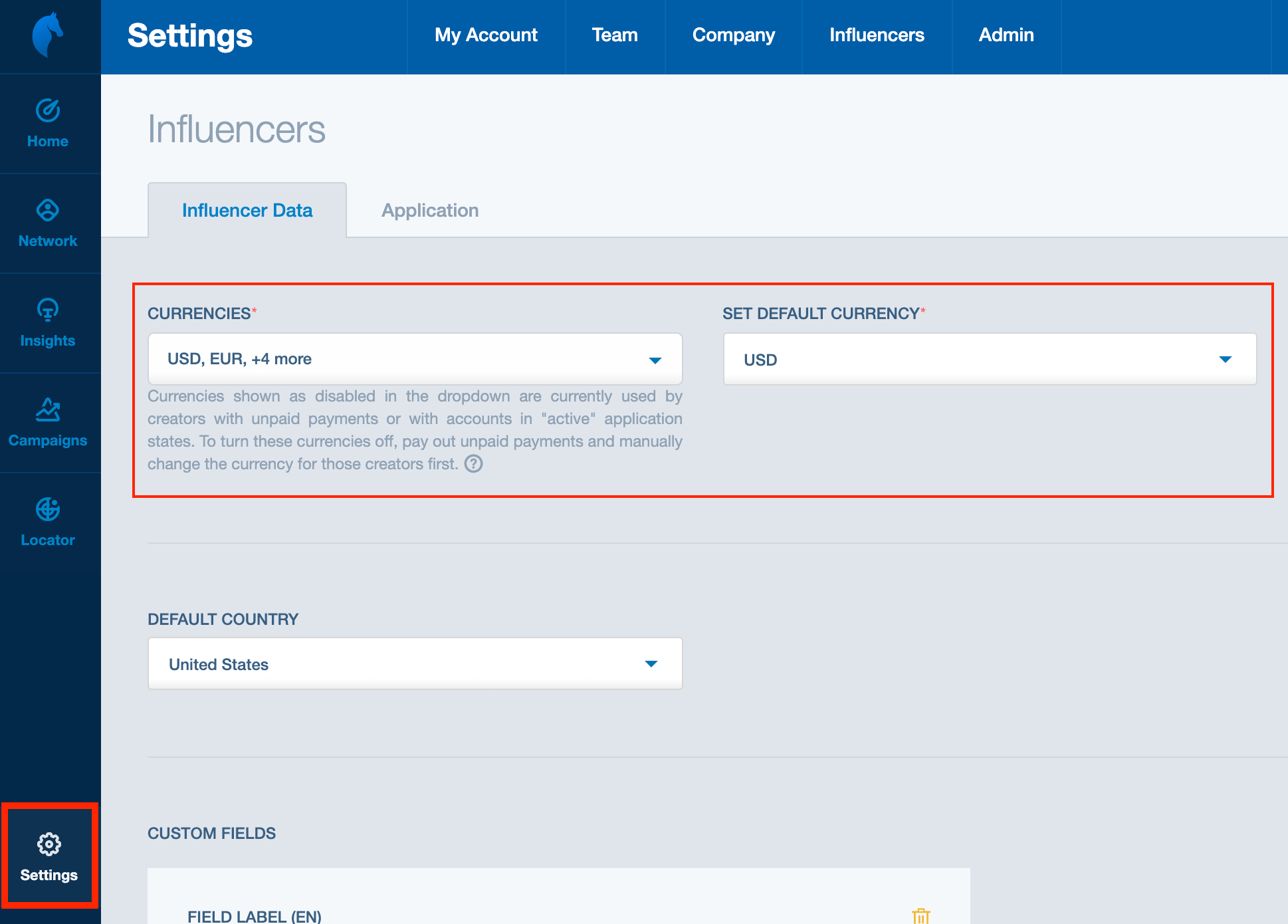 When influencers enter their payment details for you, they will be able to select their preferred currency from the options you make available. If your company has access to the Campaigns tool, the currencies you select will also be available there and used for their campaign post rates. As you complete your payments each month, you will be able to enter the latest conversion rate for each currency you have available. You will see payments in both USD and the currency selected for each individual influencer.
Note:
If you're trying to disable a currency that you currently have enabled, but you're unable to unselect it in the Currencies dropdown in Settings, it means that at least one influencer in your company uses this currency and has an unpaid balance that you will need to pay before you can disable the currency.
Creating custom application fields
Select Add new custom field at the bottom of the Influencer Data tab to create a new custom field for your influencer application.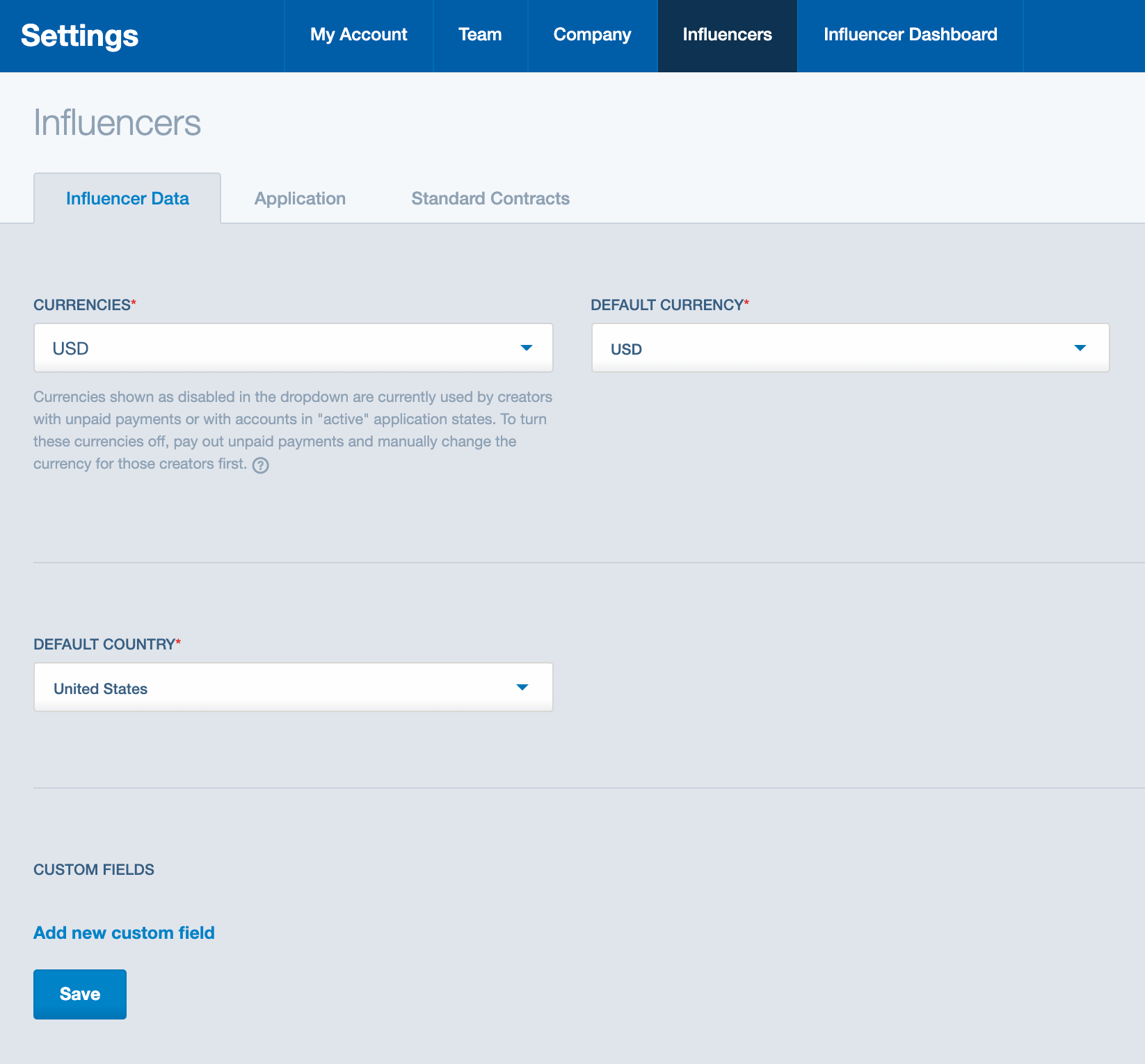 Fill in the field label, display position, and requirement options. You can display these fields in your application or make them only visible on the admin side. Once you've added the desired fields, click Save at the bottom of the tab to add the new field(s) to your application.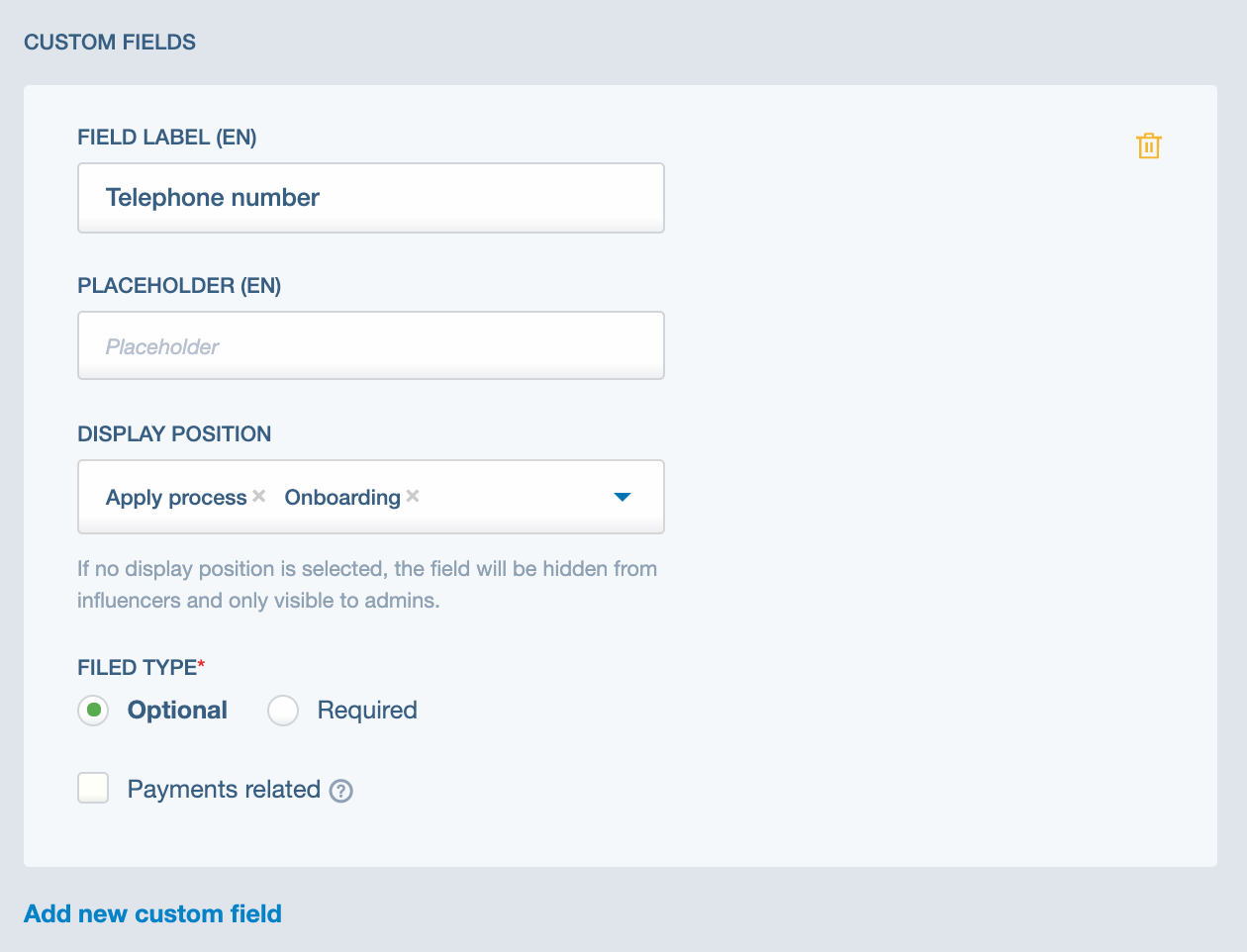 Customizing your influencer application
The Application tab allows you to enable or disable certain options or fields from appearing on your influencer application.
Reject Ineligible YPP applications: Check to automatically reject any YouTube channels that don't meet YouTube's Partner Program requirements. These channels will not be able to submit an application to your network.
Require YouTube: Check to require influencers to connect at least one YouTube account when applying.
Telephone: Hide, Show as Optional, or Show as Required
Gender: Hide, Show as Optional, or Show as Required
Skype: Hide or Show as Optional
Mailing Address: Hide, Show as Optional, or Show as Required
Last Name: Show as Optional or Show as Required
Country: Show as Optional or Show as Required
Managing your contract templates
The Standard Contracts tab allows you to manage your contract templates you have uploaded into Influence, upload new contracts, and view any contracts with influencers that may be expiring. Each existing contract in the system will show the contract name, language, duration, terms, upload date, number of signatures, and the status of the contract.
Uploading a new contract template
To upload a new contract template, click the Upload a Contract button in the top-right corner of the screen.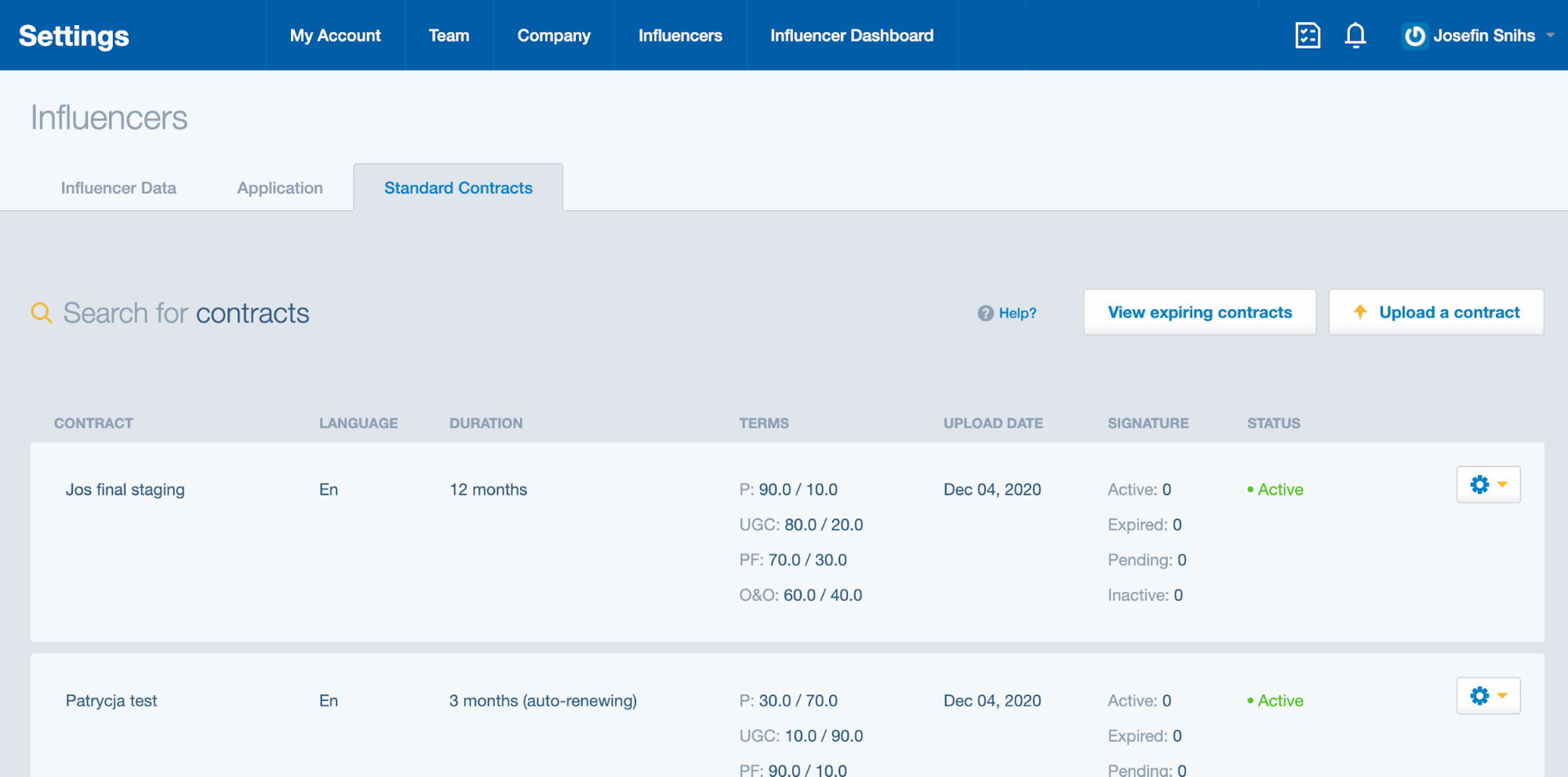 In the following screen, select and upload your contract from your computer. Please note that the file you upload must be a PDF. You can also upload different language versions of your contract.
In the fields on the screen, name your contract, select if it's auto-renewing or not, and enter the required notice for termination. Lastly, enter the influencer revenue shares associated with this contract, if applicable. These revenue shares will become active for the influencers once they've signed the contract.
After you've entered all of your contract settings, click Upload at the bottom of the screen.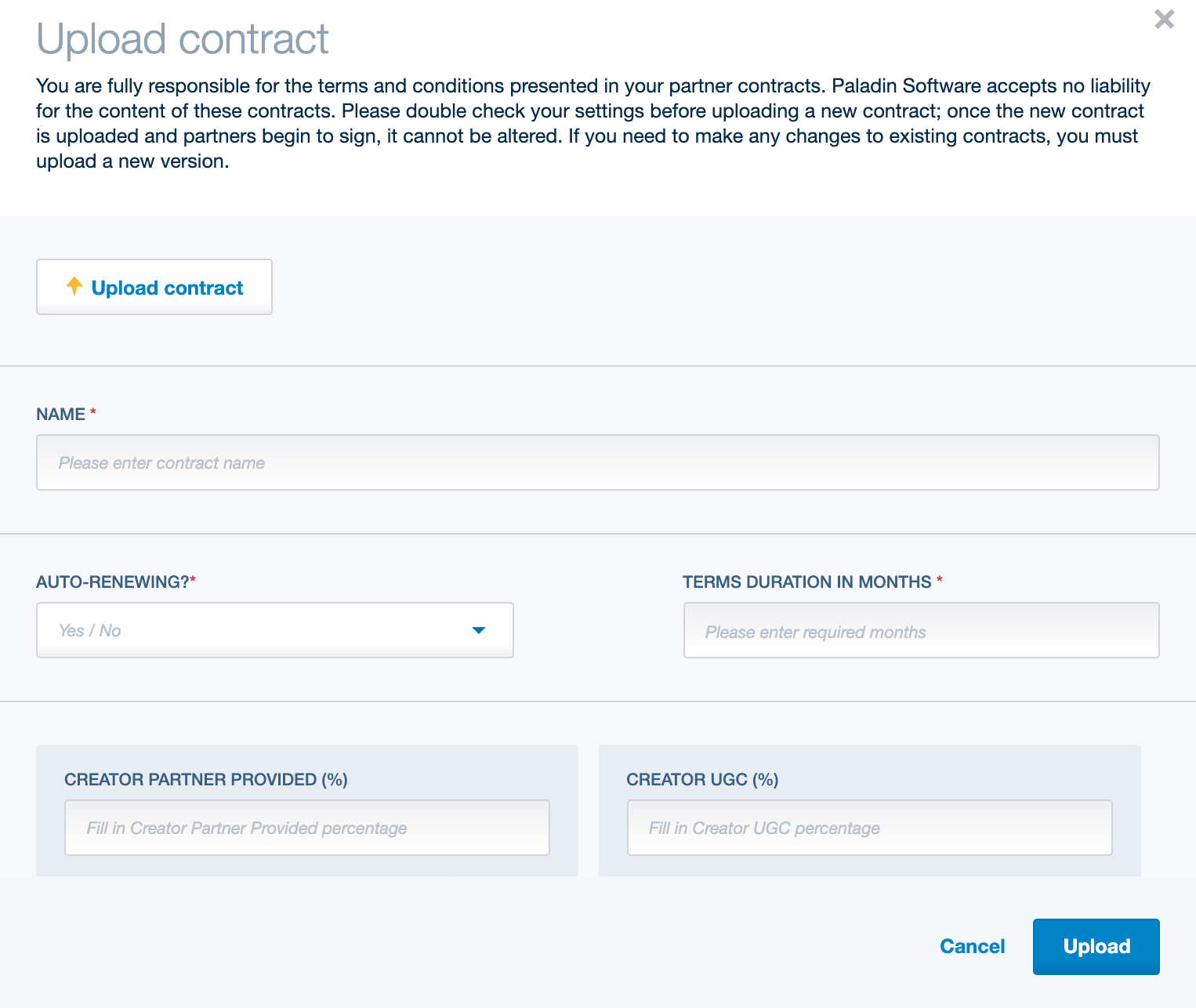 Removing or deactivating contacts
Deactivate template contracts from being used by clicking the gear icon to the right of a contract and then selecting Deactivate. This will change the contract's status to Inactive and it will not be an available contract to select when onboarding new influencers. You can reactivate inactive contracts at any time using the gear icon again to the right of a contract.

Alternatively, you can click Remove next to a contract to remove it entirely from Influence.
Viewing expiring or expired contracts
To view expiring contracts, click the View expiring contracts button at the top-right of the Standard Contracts tab.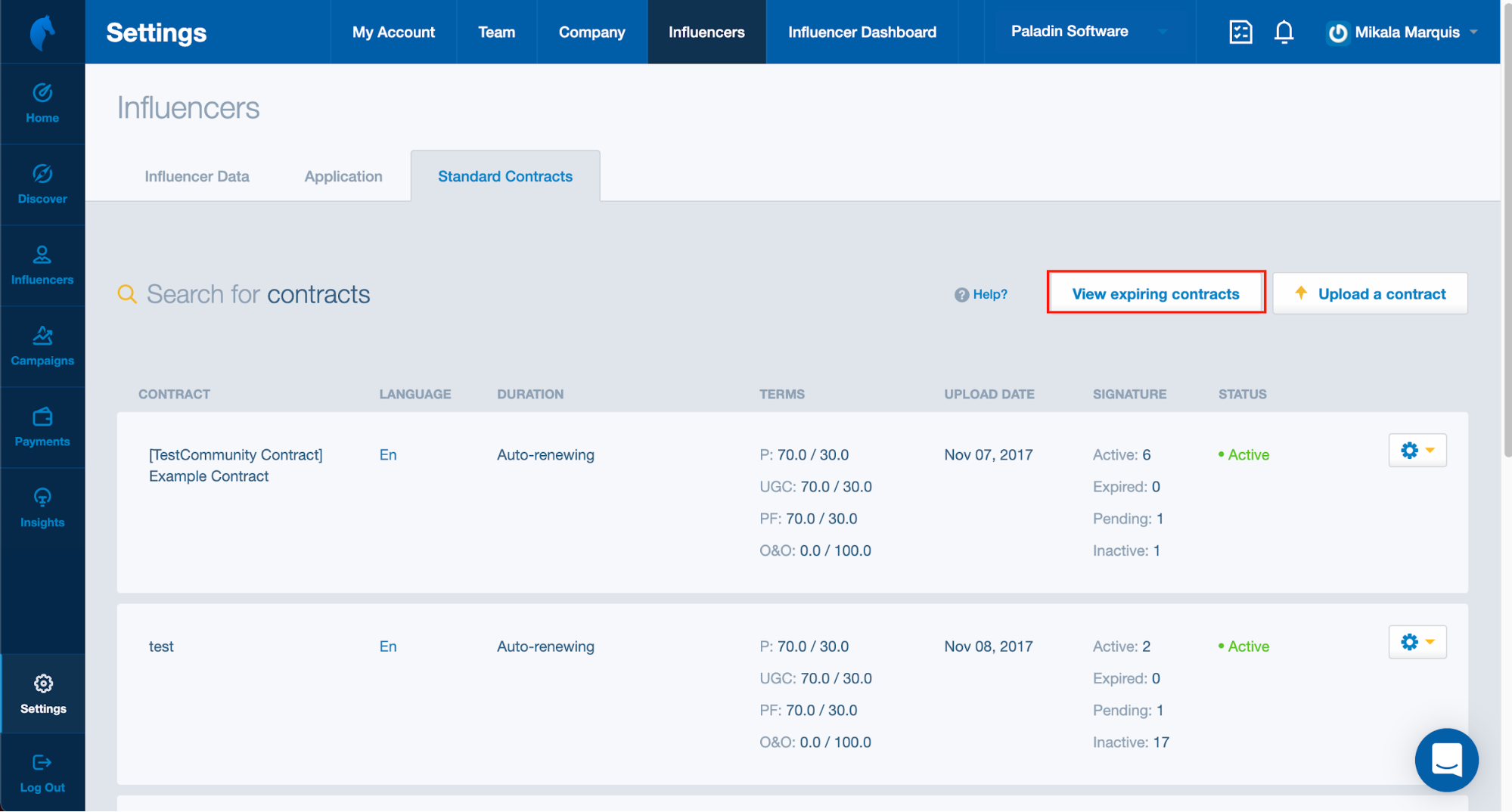 You can choose to view any contracts that will expire in 30-90 days, or view any contracts that have already expired using the drop-down menus at the top of the screen.
---
Influencer Dashboard Settings
The Influencer Dashboard tab offers several options to customize your influencers' dashboard experience, such as uploading a logo, customizing your influencers' dashboard domain, providing influencers apps to use, and uploading guides for your influencers. For more information, see our article on Accessing and Customizing Your Influencers' Dashboard.
---
Shopify Settings
Under the Shopify tab, you can connect a Shopify account to Influence to track your sales performance in your campaigns. See our article on Connecting a Shopify Account for full instructions.
---
Campaign Settings
Customizing campaign styling
Under the Styling tab, you can adjust the default campaign styling for shared campaign links and PDF/PPTX exports. You can choose a color or enter in specific hex code color for the following areas in your exports:
Top bar and PDF/PPTX background
Text, influencer, and account labels
Followers labels
Connecting a Bitly account
The Connect Bitly Account tab allows you to connect a Bitly account to track the performance on links used in your campaign. See our Connecting a Bitly Account to Influence article for full instructions.