The Discover tool allows you to search our database of over 31 million global creators on Instagram, YouTube, and TikTok to pinpoint the right influencers for your campaign every time. Learn how you can get the most out of Discover to search for influencers, filter and save your searches, and analyze your results.
---
Searching for influencers
Tip:
Discover searches are unlimited for Standard and Premium Influence users. Trial users have an limit of 10 searches.
You can access Discover by clicking on the Discover option in the left-hand navigation sidebar in Influence.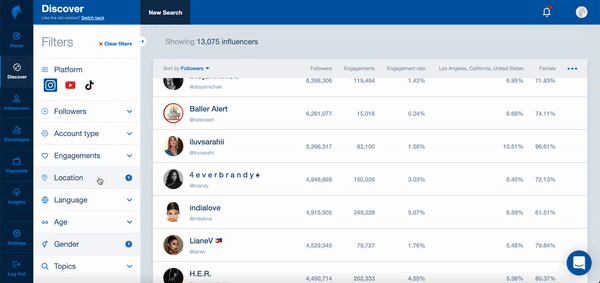 You'll start your search in Discover by clicking on the social media icon for the platform you would like to search — either Instagram, Youtube, or TikTok. Then, you can narrow down your search with the filter options on the left-hand side. Filters include audience demographics like age, gender, and location as well as interests, brand affinities, presence on other platforms, and more. Please note that different filters are available for each social network. See the Filters in Discover article for detailed descriptions of the available search filters and their associated metrics by social network. In the product interface, each filter offers a hover-over tooltip with a description about the filter.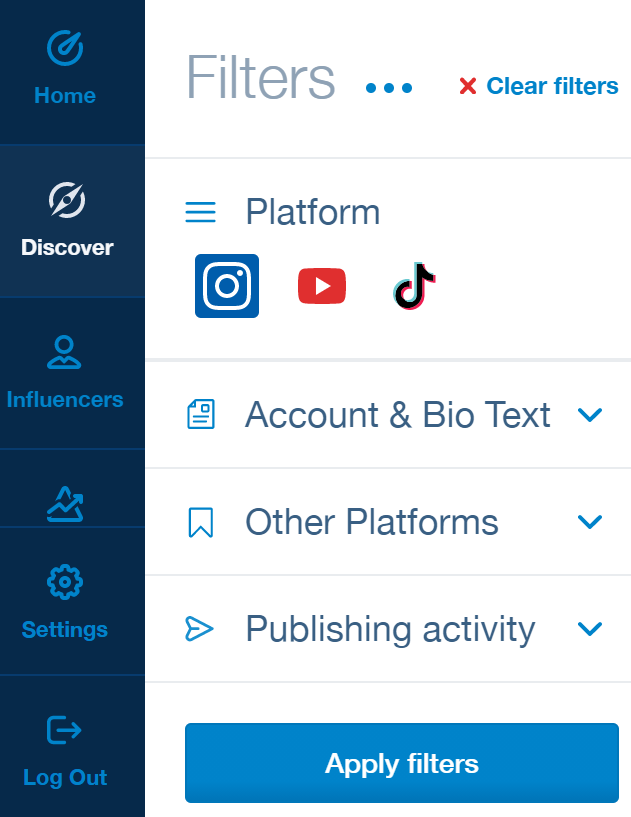 When your search results are returned, you can sort influencers based on different metrics and customize the columns next to your influencer results. See the Browsing and Analyzing Your Results section below for more information.
Saving a filter
You can save your search filters in Discover by clicking on the ellipsis (three dots) icon in the top-left corner of the Filters menu. Enter a name for your filter and click Save filters to save your filter options for a future search.

You can also find your saved searches here in future and you'll be able to edit or delete them. Hover over any saved filter and click the Edit (pencil) icon to edit or delete it.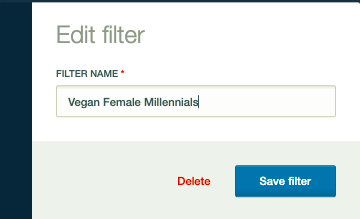 ---
Search tips for successful influencer research
Use the Audience Type filter
The Audience Type filter helps you define the type of audience that your selected filters should apply to. You can choose between Followers and Likers for Instagram, or Followers and Commenters for YouTube. Followers include all followers that follow the influencer's account, whereas Likers and Commenters are followers who actively engage with the influencer's content.
Note:
If you select Any under Audience Type, you might get results that add up to more than 100% because you are applying the rest of the filters to multiple audiences (i.e. not only followers). To get accurate percentages, toggle the audience to Likers, Followers, etc.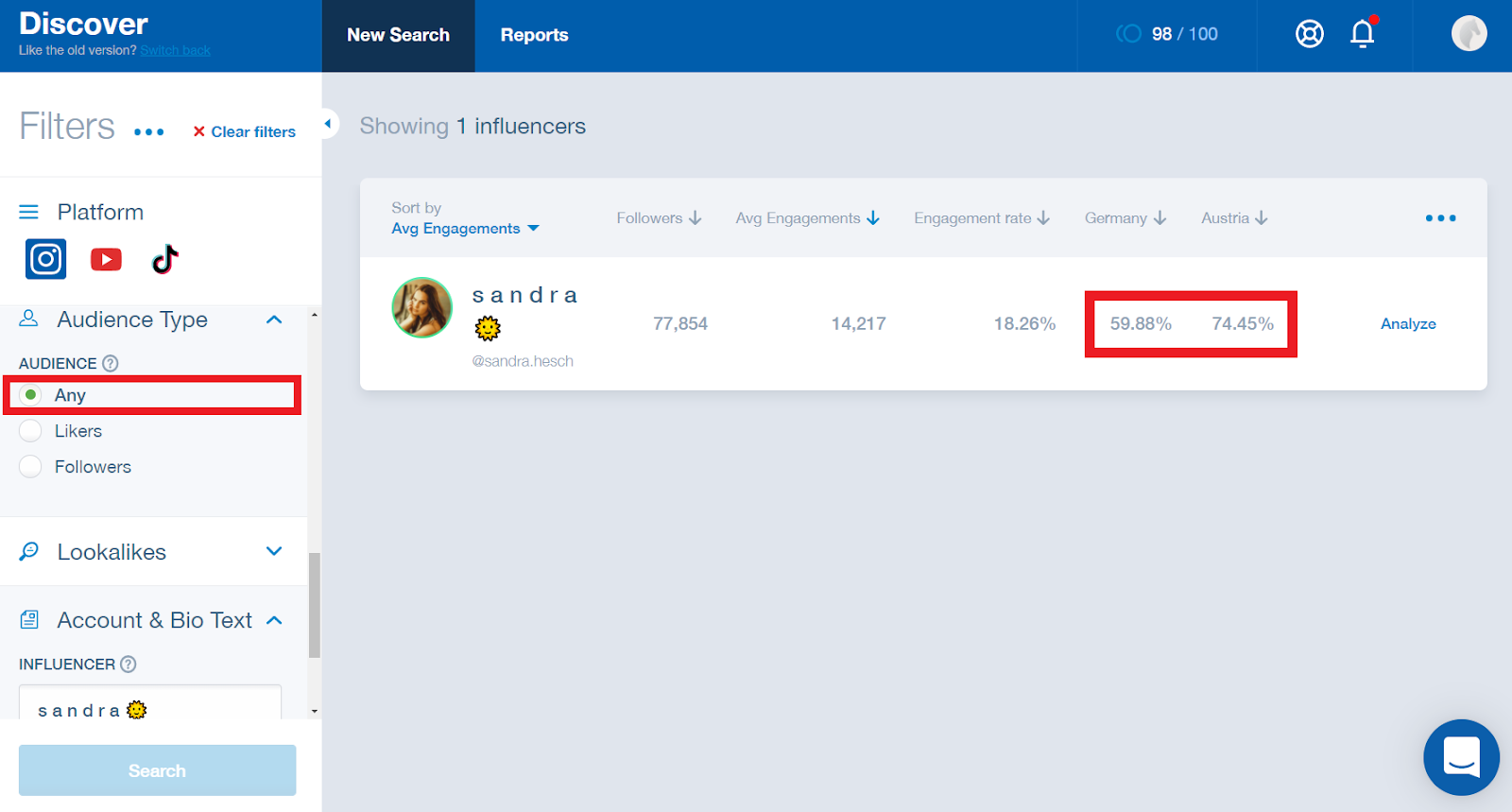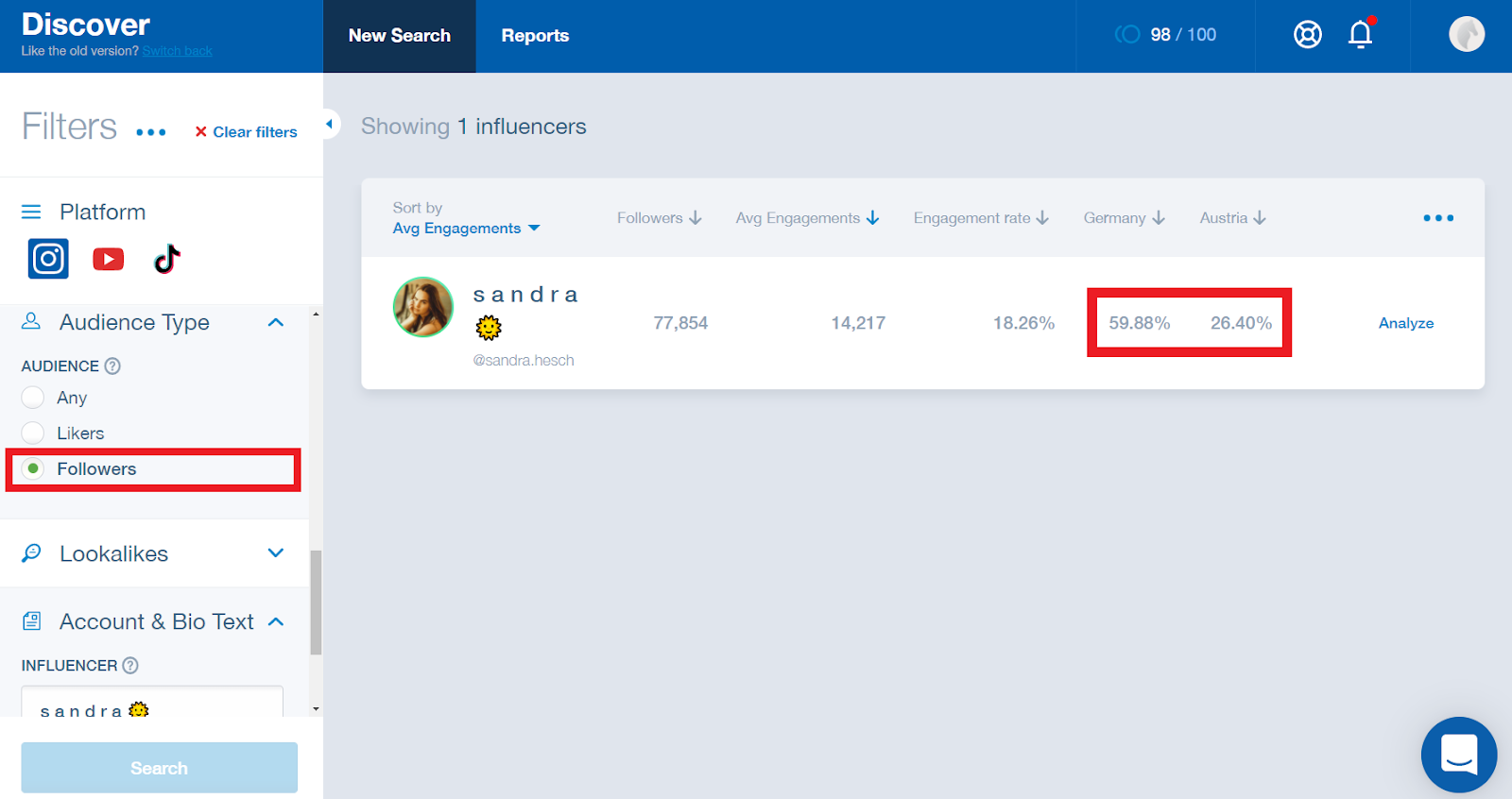 Use the Engagements and Growth filters
The Engagements and Growth filters are useful if you are looking for profiles that demonstrate a healthy engagement and follower growth. Selecting a 1% growth filter, for example, would leave out all profiles that are constantly losing followers and that are perhaps not interesting for a long-term partnership.
A good average for engagements depends on the platform, industry, and size of the influencer. It's worth checking what is considered a good engagement at the time you do your search. Here are some typical averages per platform for micro and mega influencers respectively:
Instagram:

Micro influencers: 3.86%
Mega influencers: 1.21%

YouTube:

Micro influencers: 1.63%
Mega influencers: 0.37%

TikTok:

Micro influencers: 17.96%
Mega influencers: 4.96%
Use demographic filters
If you want to identify influencers whose audience matches your target group, we recommend using our demographic filters — Location, Language, Age, and Gender — which apply to both influencers and their audience. You can even define what the minimum should be for each criterion.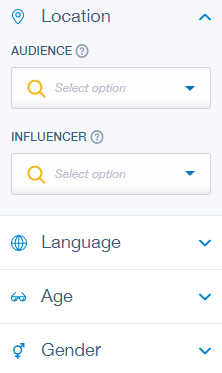 Use the Account & Bio Text and Keywords filters
Our Account & Bio Text filter is one of the most used filters in Discover. It helps you find influencers based on their username and keywords contained in their bio. Influencers include valuable information in their bios, such as the topics they post about, whether or not they are currently working with a brand, etc.
In addition to Account & Bio Text, we offer a Keywords filter for Instagram that allows you to search for influencers who have posted at least one post that includes the keywords you input into the filter. Influencers will be searched based on the keywords in the captions, mentions, or hashtags in their post text, and Discover will search for keywords in the influencer's last 100 posts available in our database. You also have the option to exclude keywords in your search.
Use Lookalikes filters
The Lookalikes filter is another very popular filter in Discover. Use it to find influencers with similar audiences or content as your favorite influencers.
---
Browsing and analyzing your results
Results based on influencer performance audience demographics will be displayed in columns next to the influencer. Information about the influencer will be displayed under the influencer's name.
You can sort for influencers based on different metrics in both ascending and descending order by clicking on the Sort by dropdown in the top-left corner of the results panel, or by clicking on the column header.
You can even customize the columns next to the influencer name based on the filters you activated by clicking on the ellipsis (three dots) icon in the top-right corner of the results panel and selecting the columns that are relevant to you.

To generate a report for an influencer that you've found via search, click on the Analyze button next to the influencer. Every report generated will open a new tab, so it's easy for you to navigate through separate reports and analyze them. Visit our Influencer Reports article to learn more about what details are provided in an influencer report.
Note:
Clicking the Analyze button next to an influencer to generate an influencer report will use one Report token (if your Influence license has a limited number of Report tokens per month). Visit our Influencer Reports article to learn more about tokens in Influence.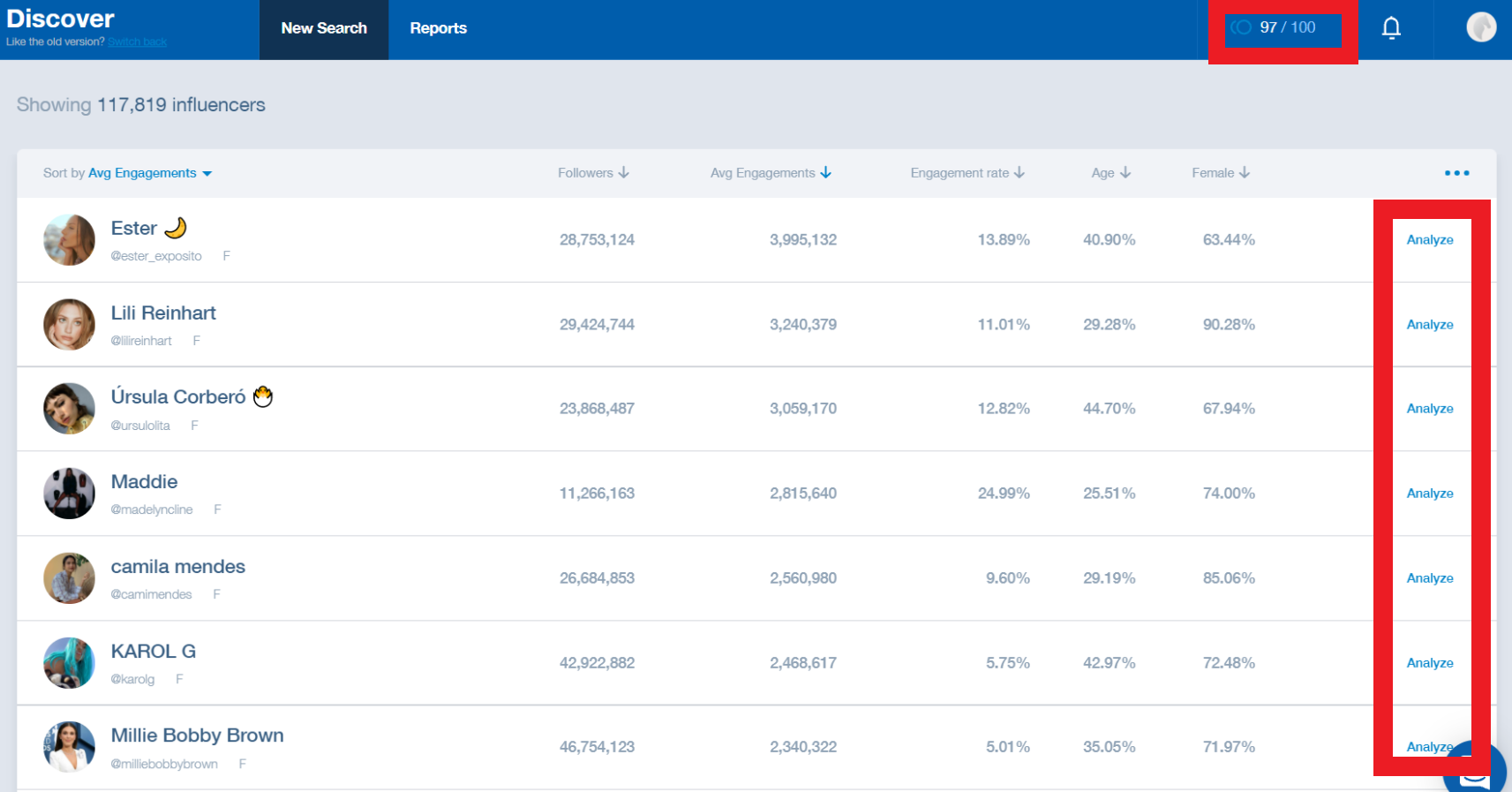 Note:
At this time, it's not possible to export a full list of search results from Discover. However, you can add influencers to your Influencers roster and then export your roster as CSV, including relevant insights for each social media platform.
---
Exporting influencer search results
You can export the top 100 influencers from your search results into a CSV file for sharing with your stakeholders. The influencers included in the export will be based on how you have sorted or filtered your search results before clicking Export.
To export influencer search results, click Export in the top-right corner of Discover.

On the following screen, select which columns you would like to include in your CSV export, then click Download CSV.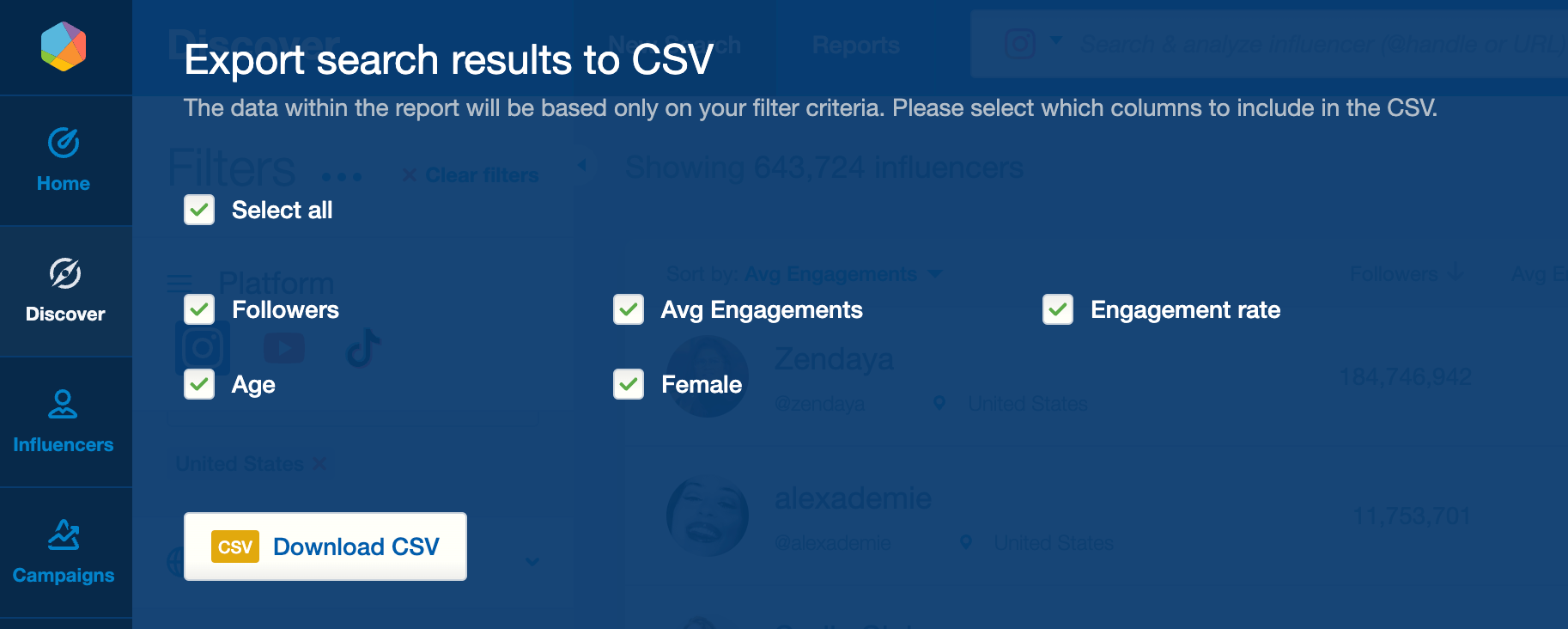 ---
Adding influencers to your roster or campaigns
If you have found relevant influencers on Discover that you would like to add to your influencer roster or to campaigns, you can click on the plus button to the right of an influencer and then select Add to Influencers or Add to Campaigns feature to directly add them to the corresponding tool.

Add an influencer to your Influencers roster
When you choose to add a new influencer to your Influencers roster, you can choose between adding the social media account to an existing influencer profile or creating a new influencer profile.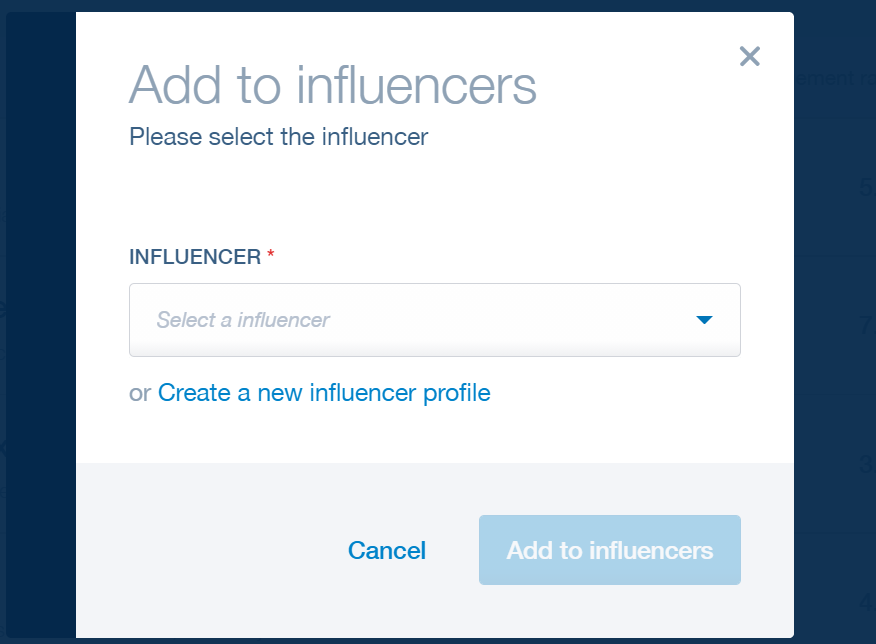 When creating a new influencer profile, the following fields will be required to create the profile:
First and last name: Will be filled out automatically if available.
Email: If available, most Influencer emails can be found on their full influencer report.
Country
Group: Select a group the influencer should be part of. If you have not created any group, there will be a default group available. Learn more in our Influencer Groups article.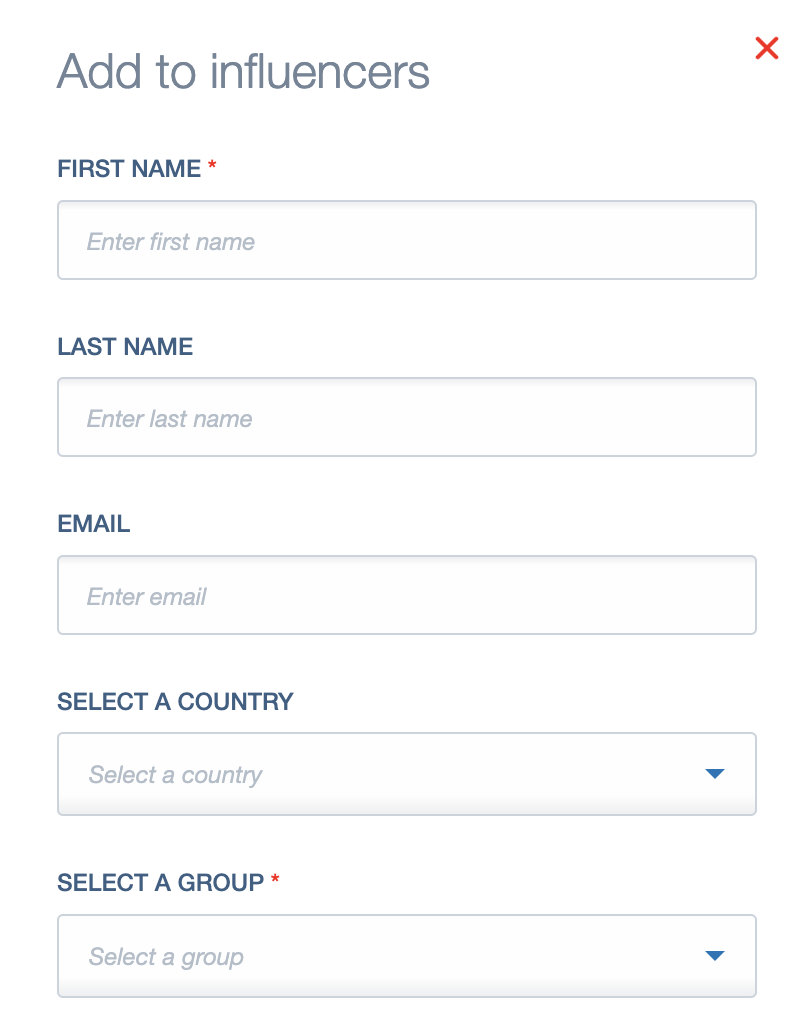 Add an influencer to a campaign
When you choose to add a new influencer to a campaign, you can choose between adding the social media account to an existing campaign or creating a new one.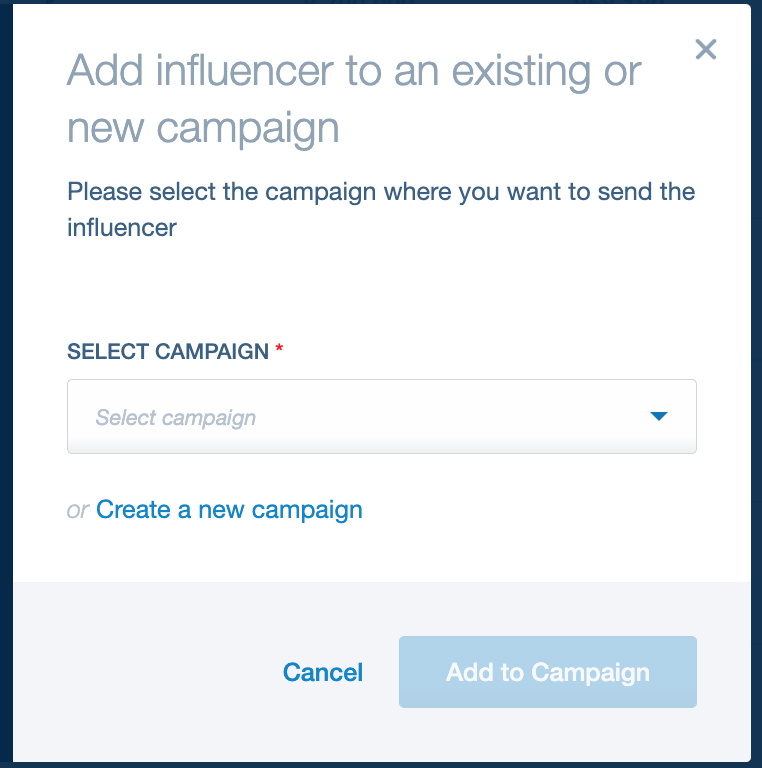 If you create a new campaign, you will be asked to fill in the details of your campaign. Once done, click Create & Add. The campaign will be created with that influencer. You'll find the new campaign in the Campaigns tool, where you can continue adding more influencers to it.

Adding an influencer to a campaign will also create a profile in your influencer roster. If you need to edit the influencer's information, open the newly created influencer card in the Influencers or Campaigns tool and start editing.