Have a look at the latest product updates we released in April 2023.
In this article:
---
Brandwatch Suite
New sidebar menu across Brandwatch solutions
Explore the brand new sidebar menu across the Brandwatch suite! The new menu will help you better navigate to our products via a modern app switcher and find help, support and settings.
This is part of a larger project aimed at providing a unified look and feel across Brandwatch products.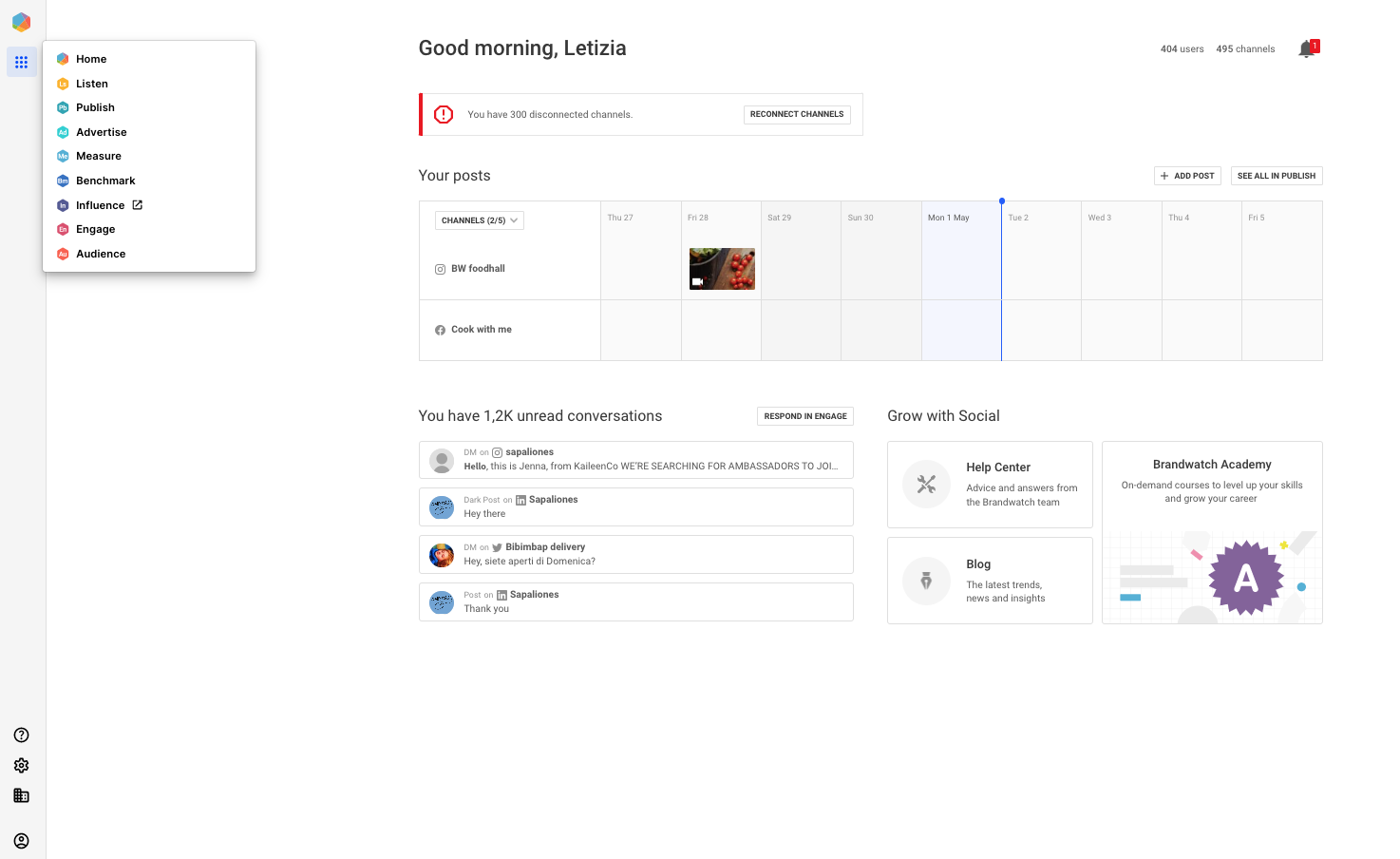 ---
Publish
Link in Bio - Open to all clients
You now have access to the Link in Bio feature, which you can find on the right menu in Publish.
Create your own Link in Bio landing pages right from Publish and customize them with logo, colors, font and to add both a Social Profiles and Links sections. Also, easily add Instagram posts to the Link in Bio landing pages, while creating a new post or editing an already published one.
Check this Academy video to quickly get started with Link in Bio:
---
Engage
Language detection filter
From today, Engage will be able to detect languages! This means you can now create feeds and automation rules based on language. This will make it easier to assign messages in different languages to your respective local teams and engage more effectively with your audiences across the globe.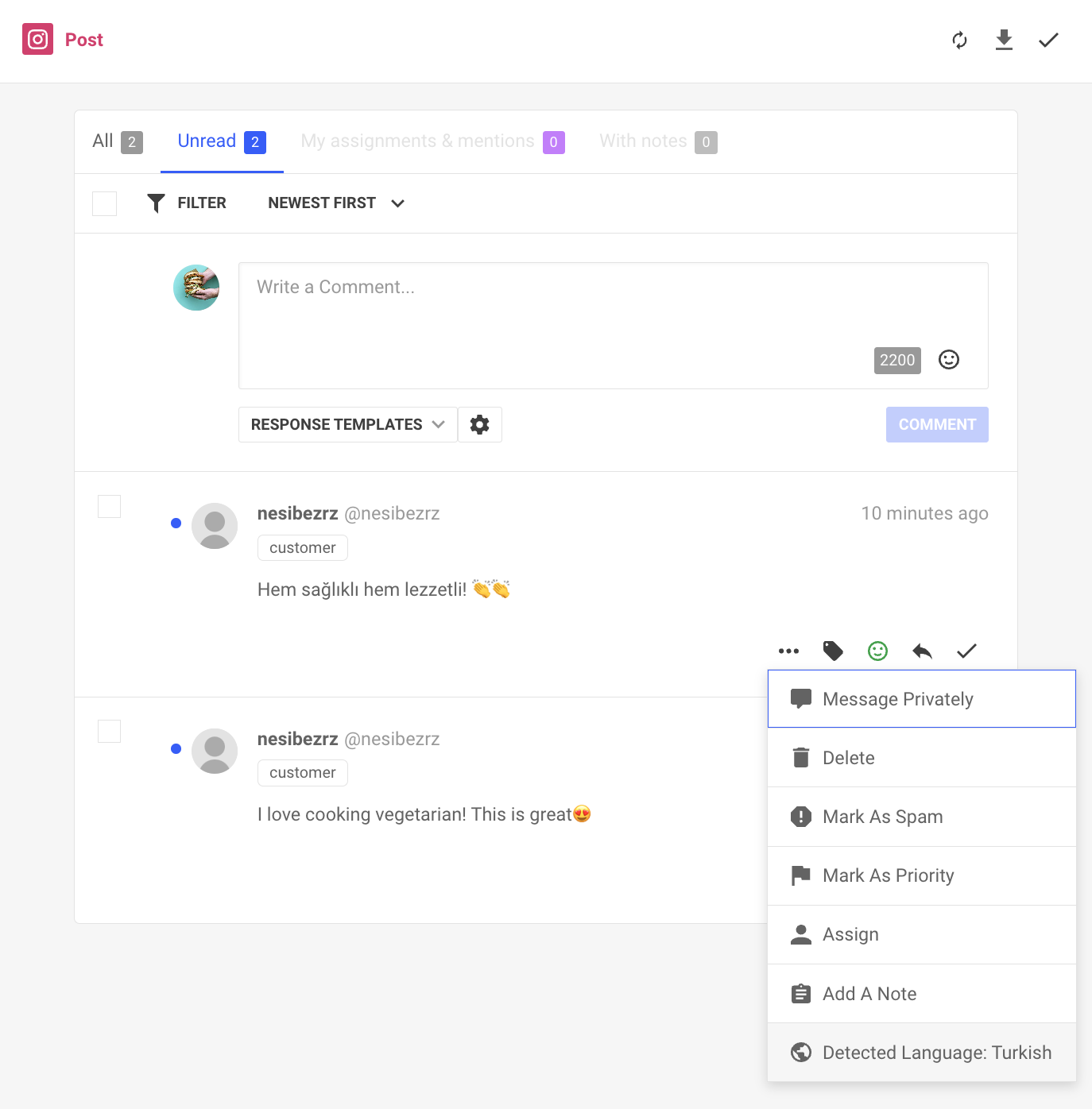 14 days rule
Although very rarely, it can happen that content in Engage is indexed by Engage later than in the native platforms. That can cause misunderstandings as it might lead you to think some messages are new and require your attention when instead they are quite old and not relevant at the moment.
From now on all the messages or comments older than 14 days will always get marked as "read" automatically, even if they were newly indexed by Engage. This should help you focus on inquiries that do demand your attention.
---
Measure
New Metrics in Measure
We have added six new custom metrics to Measure dashboards and Measure API, enabling you to get more granular read on your video views and engagement. Here are the new metrics and for which content they are available for:
New Content metrics: Video views (complete), video views (30s), non fans reach, and non fans impressions and these new metrics are available for Facebook videos and posts respectively.
New channel metrics: Interaction rate and interaction rate (reach) and these are available for Facebook and LinkedIn channels.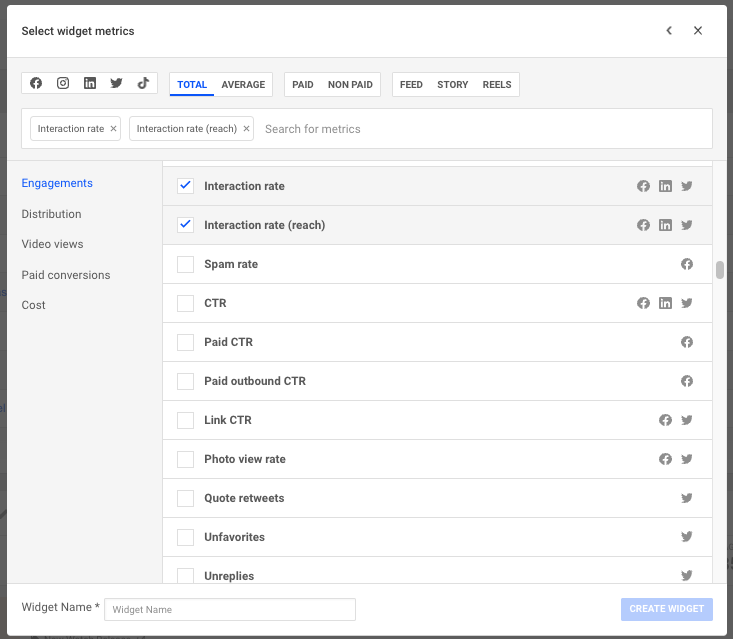 ---
Advertise
UTM parameters in ads created in Publish
When you boost a post via Publish in an existing Ad Set, the UTM parameters chosen for that Ad Set will automatically be inherited by the ad. This will make it easier for you to track and report on the ads they create from Publish in tools like Google Analytics.
Conversion domain definition improvements
You can now manually enter the domain you wish to use for tracking conversions when setting up ads in Advertise and Publish. Better track conversions and results directly from Brandwatch!
---
Listen
Expanding Facebook Coverage with Public Facebook Data
In Listen you now have access to Public Facebook Data without first having to connect (or track) a Facebook page. Currently, this means a pool of data from ~200,000 non-owned Facebook pages across a range of industries is available for access in Quick Search and Saved Searches. You have full historical access to this data pool, allowing you to analyze data from up to 12 months prior. To start using Public Facebook Data just begin a search in Listen and Facebook data will appear alongside your other sources.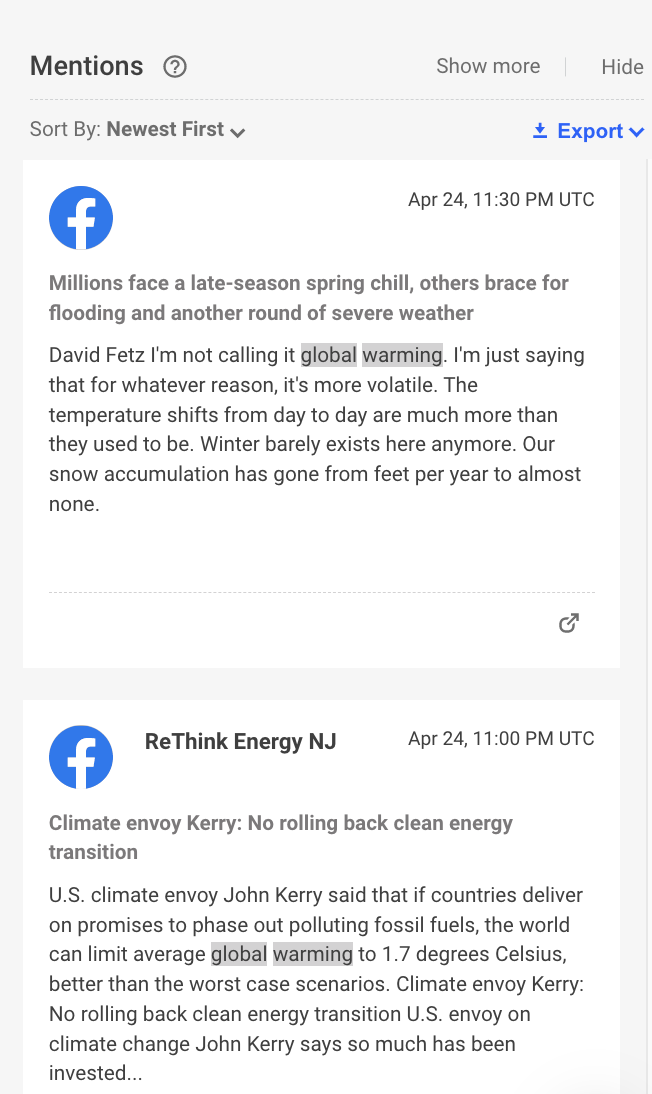 ---
Benchmark Beta
New Landing Page
We now have a new landing page to help you try the Benchmark Beta easily. You will find it when you navigate to Benchmark and you'll still have the link to the legacy platform if you want to directly go there.
New Widgets
We added two new widgets to the Content Analysis dashboard; Engagement Network Distribution and Engagement Breakdown. Both of these widgets help you get a more nuanced understanding of engagement across own and competitor brands.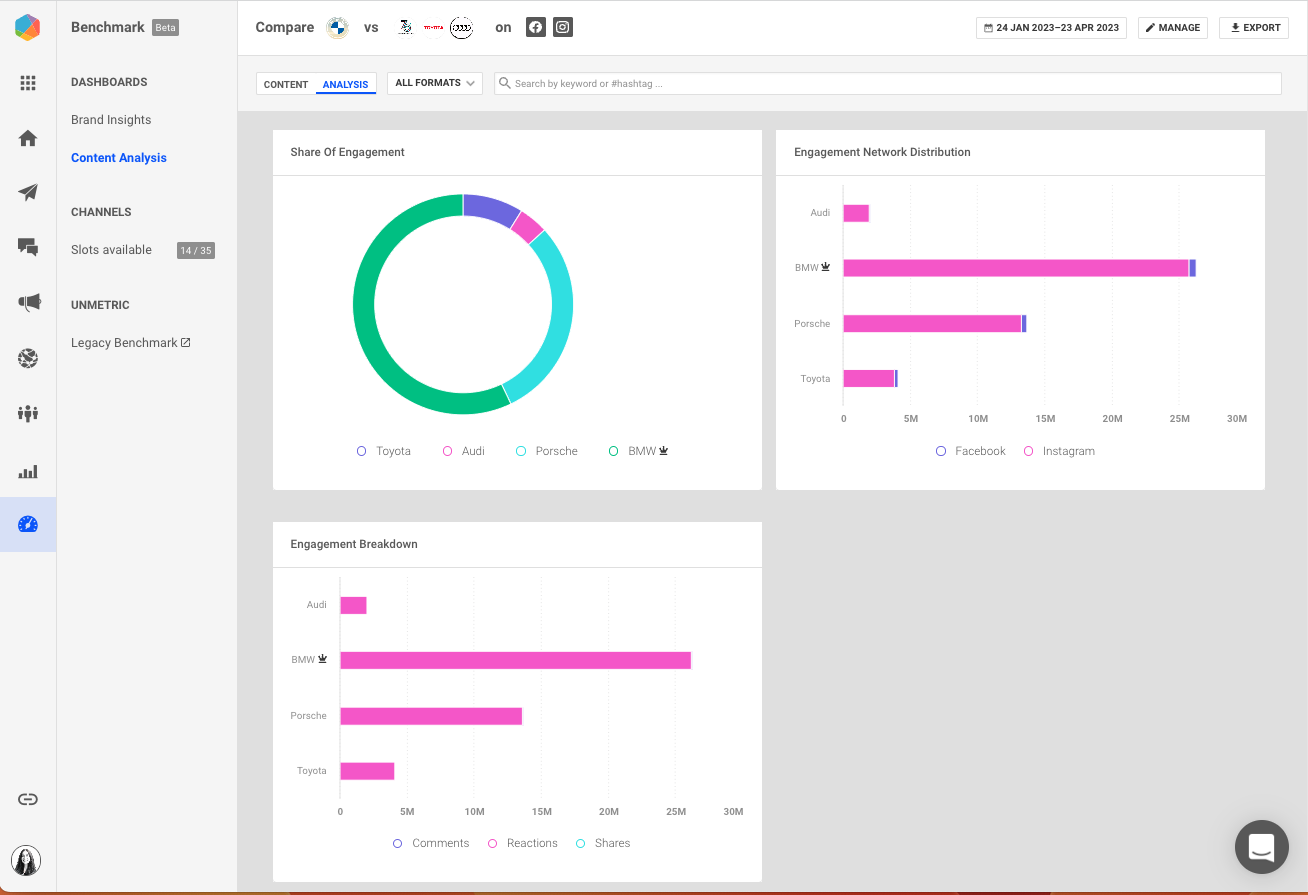 ---
Influence
Unlimited searches in Discover
Following a change in our packages, from now on all Influence users will now have an unlimited number of searches available to them. Find the best influencers for your campaigns by exploring an unlimited numbers of profiles!
Estimated Data section in influencers' CRM profiles
This new section lets you see even more analytics on influencers' Instagram, YouTube, and TikTok accounts in your CRM, even if the accounts are not authenticated. Estimated data includes valuable insights such as account brand affinity, account interests, lookalikes, and much more. You can also view audience details like age and gender, location, ethnicity, and language, as well as popular posts, sponsored posts and frequent tags.
Delete comments on submitted campaign posts
You can now delete your own comments in the post dialogue of a submitted campaign post. When hovering over the messages you have sent out, you will see the option of deleting that comment.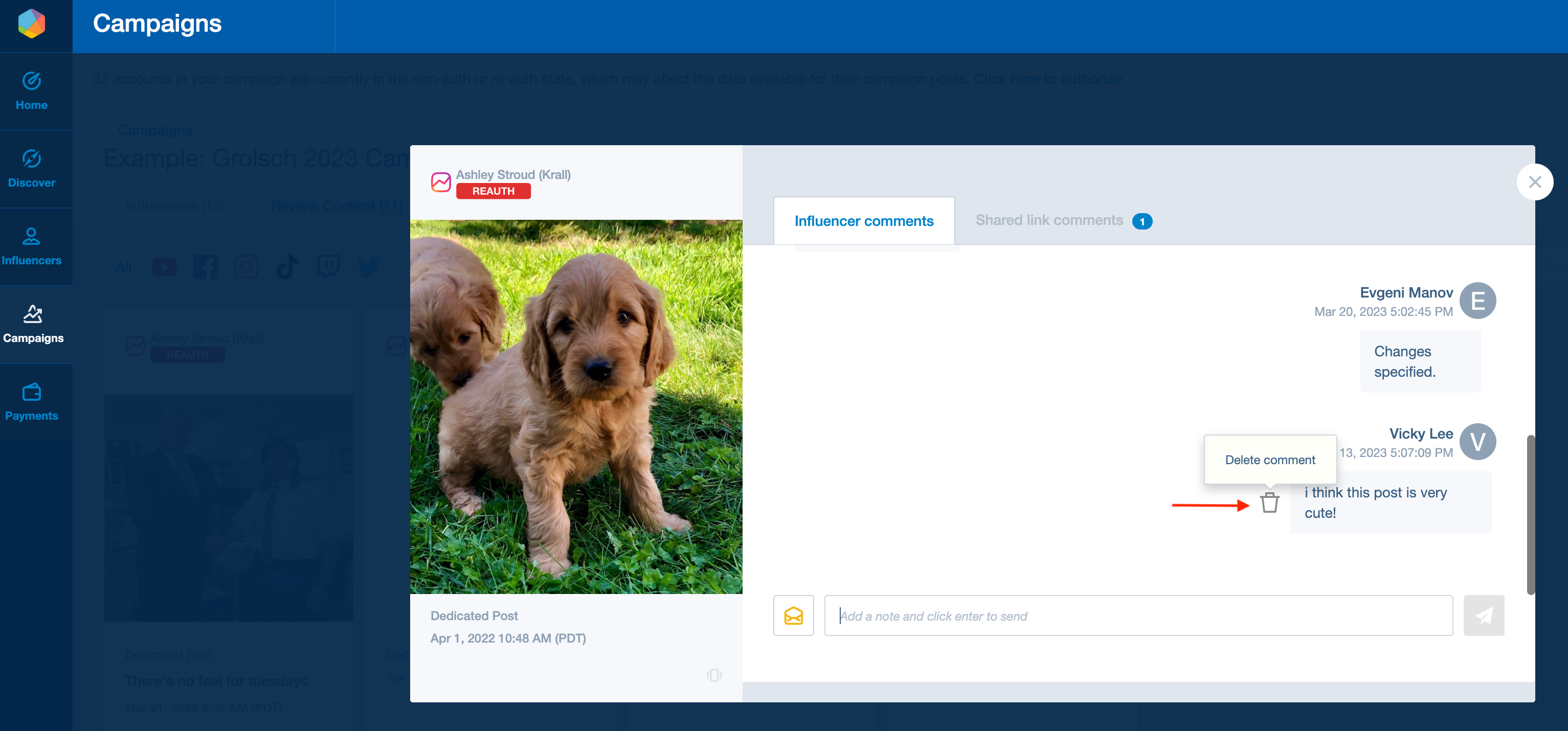 New Youtube Filter in CRM
We added a new filter for Youtube in CRM: Last Video Publishing Date. You can now utilize this to filter the relatively active Youtube influencers based on the publishing date of their latest video.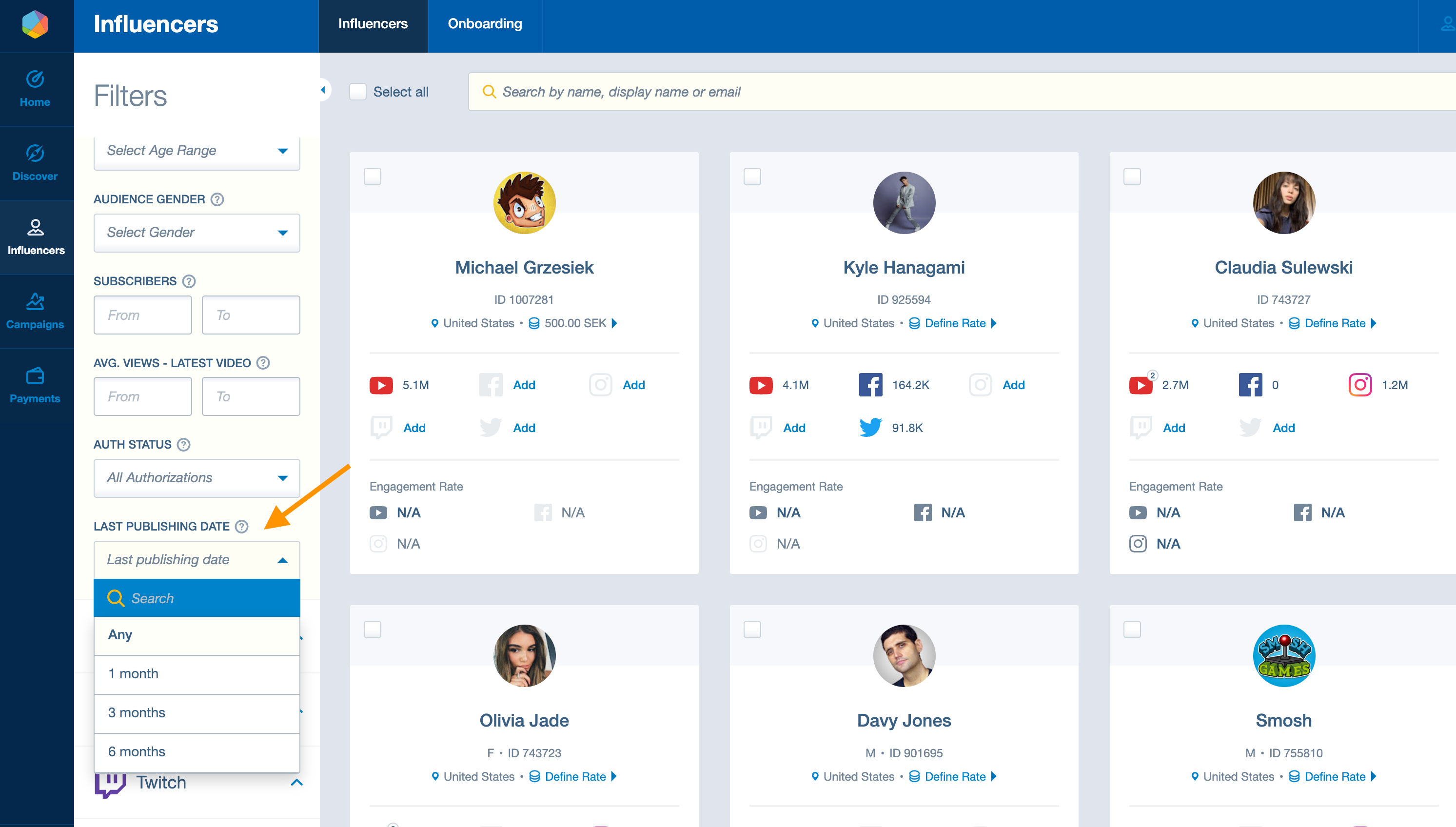 More analytics to Reels post in Campaign Reports
We have added more Reels analytics to Reels posts in the campaign report! You can now see total Reels plays, average Reels play and the daily breakdown of Reels plays for all Reels posts in campaign reporting. With this information, you can further assess the impact of Reels posts in your campaigns.
YouTube Shorts Revenue Reports
You can now upload two YouTube Shorts revenue reports to your monthly payment calculations. Covering a range of buckets to help you get a more accurate Net Amount Payable so you know the exact ROI of an overall campaign.